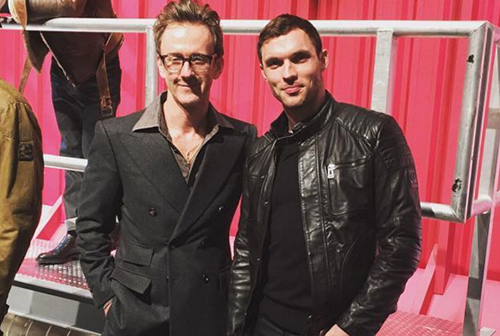 Weekly Instagram Roundup: Tom Ford, Kris Van Assche, and More
This week's complete social snapshot, distilled for your pleasure.
From the hottest celebrity parties to the regretful morning-after shots, ESSENTIAL HOMME's Weekly Instagram Roundup brings all of the hottest designer, model, and trendsetting pics from the week directly to you. After all, no one has time to scroll through anything but the best.
Tom Ford
Though the designer/director missed out on gold, Tom Ford's supporting man, Aaron Taylor-Johnson, took home Best Performance by a Supporting Actor in a Motion Picture — Drama for Nocturnal Animals at this year's Golden Globe awards. Decked out in a look by the designer himself, the film marks the second project by Ford to hit the big screen and his first time being recognized by the Hollywood Foreign Press Association for his work.
Christian Williams
Model Christian Williams captured the riotous energy that Sibling London brought to the London Fashion Week Men's runway, the brand debuting a knitwear (what else?) line of deep navy and burning maroon. The collection itself is a fervent attempt to reclaim the union jack and reinvent a coveted English punk vibe through loud and unexpected detailing.
Ed Skrein
Unconcerned with his film Deadpool's Golden Globes engagement in America, actor Ed Skrein returned to his homeland for London Collections Men's and Belstaff's impressive Autumn/Winter 2017 showing. The brand, inspired by the British Navy for a dual offering of both men's and women's lines, debuted a '60s-inspired collection with minor embellishments for a classic feel in execution and scope.
Kris Van Assche
Dior Creative Director Kris Van Assche saturated his Instagram feed with the French brand's high-brow Summer 2017 campaign prints. Starring the likes of Rami Malek, Boy George, and A$AP Rocky, a recent favorite of the designer, the images were shot by photographer Willy Vanderperre and usher in a darker, austere vibe for the fashion house.
Disney's Beauty and the Beast
Don't miss the latest look at ESSENTIAL HOMME October/November 2016 cover star Luke Evans's villainous turn in the upcoming "Beauty and the Beast" from Disney. The previous trailer shattering viewing records, this sneak peek, debuting during the 2017 Golden Globes Award telecast, features a first listen of the film's lead, Emma Watson, singing and the pitchfork wielding villagers that Evans leads with his staple collected control.
Follow ESSENTIAL HOMME on Instagram at @EssentialHomme.