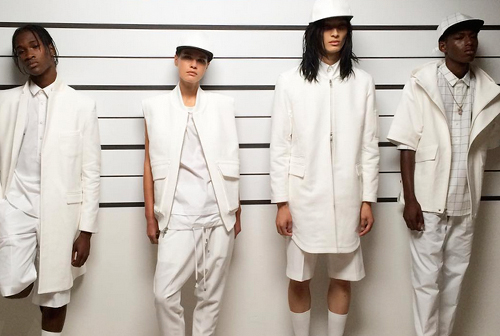 From Our View: NYFWM SS16 Part II
Can't take off 30 days for fashion? No prob, that's our job!
Each day during Fashion Month, we're bringing you exclusive images on our Instagram of your favorite brands (and soon-to-be obsessions), straight from the front of the runway. Can't keep up? That's cool too, because we're also re-capping our favorite shows here online. Ready, set, follow us at @essentialhomme, and lez go! Below is the second day of New York Fashion Week: Men's.
Public School
Mug shots never looked so chic as Public School gathered the city's baddest to the home front. Matching drop crotch pants with crisp button-down shirts and instilling masculine proportions to classic pieces, the label showed polished streetstyle done properly.
Thom Browne
Channeling "The Officeman," Thom Browne presented its signature fitted, shrunken suits tailored to New York's finest working crowd.
Calvin Klein Collection
Always been more focused on quality and fit than external details, Calvin Klein presents clean-cut cropped pants and sleek outwear in shades of black and white of its Calvin Klein Collection.
Todd Snyder
Laidback American classics resurface on Todd Snyder's collection, featuring sun-faded tanks, linen suits, and sweatshirts, finished with knotted bandanas.
DBYD @ Concept Korea
High-performance met avant-garde on DBYD's runway.
Follow Essential Homme on Instagram at @EssentialHomme.