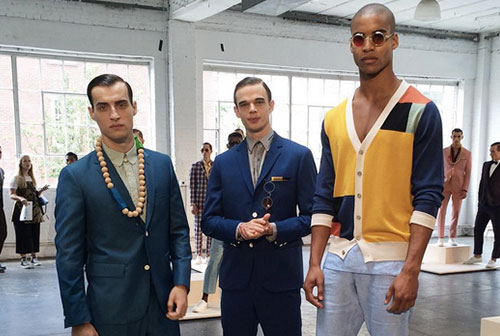 From Our View: NYFWM SS16 Part I
Can't take off 30 days for fashion? No prob, that's our job!
Each day during Fashion Month, we're bringing you exclusive images on our Instagram of your favorite brands (and soon-to-be obsessions), straight from the front of the runway. Can't keep up? That's cool too, because we're also re-capping our favorite shows here online. Ready, set, follow us at @essentialhomme, and lez go! First up for New York is the biannual New York Men's Day.
David Hart
A staple white shoe finishes each of David Hart's vibrant looks, complete with multi- colored constructed sweaters and accessorized with effortlessly round eyewear.
GARCIAVALEZ
Dive into a cool-blue world of color with GARCIAVALEZ's breezy and simply cut ensembles.
CWST
CWST knows how to make that all-black ensemble pop with a wrinkled-pleat texture and some serious layering.
PLAC
Dreary-chic takes on a whole new meaning at PLAC, where oversized outerwear pairs with striped black and white undershirts perfect to outfit a streetwear ready squad.
Kenneth Ning
Kenneth Ning revamps a classic lace styling with intricately patterned jackets and pants, confidently reinventing a traditional look for today's contemporary market.
Follow Essential Homme on Instagram at @EssentialHomme.