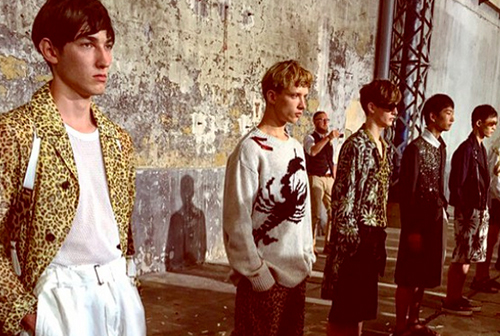 From Our View: PFW SS16 Part I
Can't take off 30 days for fashion? No prob, that's our job!
Each day during Fashion Month, we're bringing you exclusive images on our Instagram of your favorite brands (and soon-to-be obsessions), straight from the front of the runway. Can't keep up? That's cool too, because we're also re-capping our favorite shows here online. Ready, set, follow us at @essentialhomme, and lez go! Paris Fashion Week: the start.
Louis Vuitton
Global style is minimized to an individual scale with Louis Vuitton's colored-camo jackets and shirts with a clean visible edging.
Valentino
Valentino repurposes the thrift aesthetic with silk jackets and coats of pieced denim construction, brought together through retro fitted denim bottoms.
Carven
Carven showcases Barnabé Hardy's debut collection of delicate masculine cuts, complete with cropped pants and light-brown suede outerwear.
Dries Van Noten
Staying true to the brand's eccentric personality, Dries Van Noten pairs loose bottoms with an array of patterns from the animal kingdom for a look that is positively primal.
Follow Essential Homme on Instagram at @EssentialHomme.