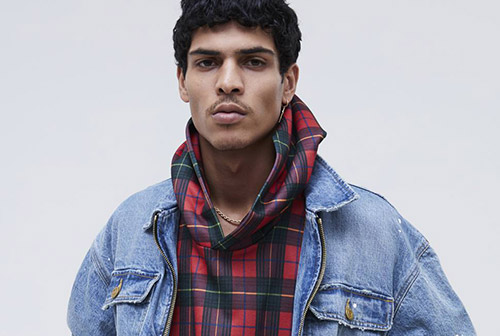 Fear of God Drops Fifth Collection
[slider_pro id="114″]
Images: Fear of God.
After providing a tantalizing tease of its new drop in a behind-the-scenes campaign video, streetwear savant Fear of God unveils its latest line in its entirety. Following the previous plaid-heavy, light-wash iteration of its fourth offering, the Fifth Collection disproves today's common "messy as cool" trope to provide clear focus on tailoring and cut, two foundational pillars for the '90s grunge/hip-hop hybrid. With a sportier aesthetic, referencing a storm-colored palette shot through with flashing scarlet, the line diverges on its own with intentionally clashing textiles—crushed velvet sits comfortably beside heavy denim, silk jackets cling to eye-grabbing mesh tanks, and relaxed sweats fit below oversized corduroy. Though founder Jerry Lorenzo originally concocted the Kanye West-backed brand on principles of religious depth and underdog aggression, the latest collection sees a slight progression to a more interpretable aesthetic, side-stepping Christian iconography to imbue a muted, haunting ferocity more akin to contemporary trends. A drop that offers a new testament for a brand brimming with fiery angst, Lorenzo has found his creative market niche and shows no sign of letting go.
Fear of God's Fifth Collection is available online now.