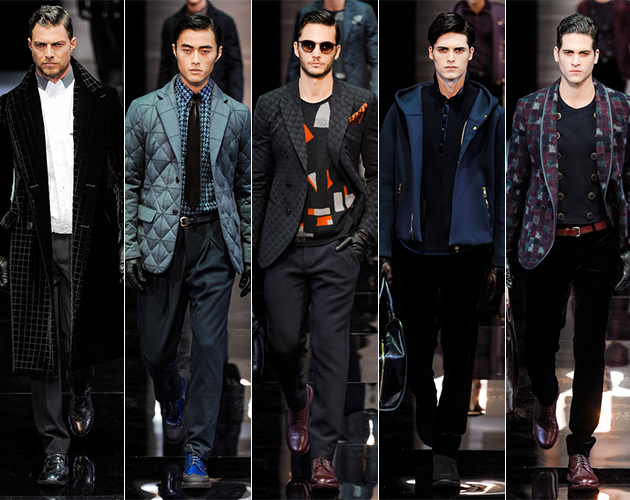 Favorite Five: Giorgio Armani Fall 2013 Menswear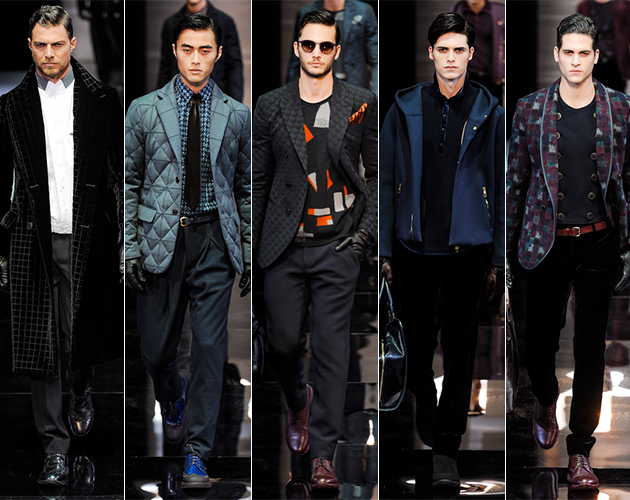 A strong and precise image. No flirtatious provocations that often amount to little more than sly trickery. Clean and essential styling portrays a virile man, defined by broad silhouetted outerwear, and trousers with a clean cut. Surfaces are opaque and warm, and underline the precious nature of the collection. Research into craftsmanship is key and is evident in the fabric treatments and tailoring of the pieces. It is this quality of craftsmanship that brings together the contrasting aesthetics of sportswear and classic menswear. Thus, neoprene envelops precious materials such as velvet and suede – a contemporary combination that makes one re-think definitions of techno and sartorial. Sportswear enters a new phase without renouncing to high-performance technical fabrics and treatments; luxury is expressed through the focus on precious fabrics and the practicality of the clothing. Leather is treated using traditional methods practiced at great Italian tanneries where hand dyeing is done with sponges and brushes. The refined knitwear is lightweight. There are complex pieces created by the interweaving of cashmere and mohair in a sensual geometrical game of colors. The color palette is drawn from the established Armani code, and is composed of tried and trusted hues, such as warm grays and shades of brown (including cocoa and colors referencing precious woods), which fuse with intense tones such as Wenge, before passing to absolute black. Ruby red is a key color for this season. Aristocratic and precious, it runs through the collection following an elegant narrative path, standing out in the male wardrobe and reaching the pinnacle of an original, rich and magical chromatic pyramid.
The jacket's lapels are subtle and inconspicuously flare outwards towards the bottom. They play unexpectedly well over the more rigid martial buttons beneath.

Sporty and cultured— The combo dark blue tonal and unassuming curves in the jacket make this a sturdy show of elegance.

Depending on how you look, the jacket's pattern is both deeply textured and supine. With the abstract angular shapes on the sweater. you've got a decidedly virile take on contrasting patterns.

Similar idea to the last look, though a hair more daring with the blubbery sneakers.

Analyst, engineer, pilot, architect…Tron. Sharp contrasts (too)—it's all there.
Related: Emporio Armani and Swims