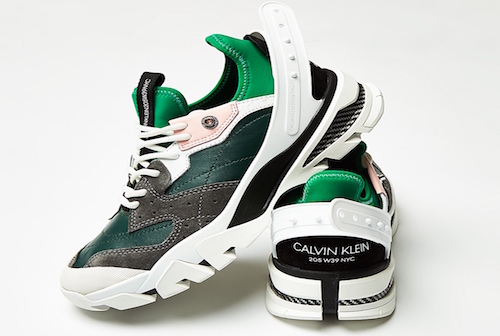 Calvin Klein Releases its Latest Chunky Sneaker
Calvin Klein continues the chunky footwear trend with the release of its Carlos sneaker. While contributing to the growing fashion movement, this release marks the first Calvin Klein 205W39NYC sneaker designed by Raf Simons, who was appointed chief creative officer of the classic label last year — watch the latest show for FW18 here.
The new model fits the dad sneaker mold perfectly, whether you're on the court or picking up the kids from school. It's available in four different color options, including vintage-inspired green and red embellishments in addition to the classic black and white palette. The shoe itself is a soft leather and velvet suede pairing with rubber wing accents. The gripped rubber sole makes them just as athletic as urban — a perfect blend of athleisure and streetwear.
The Calvin Klein Carlos sneaker is available at StyleBop.com now.
[slider_pro id="182″]