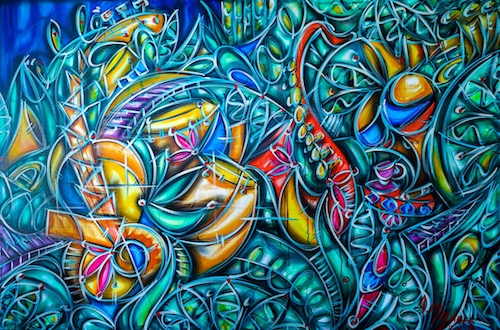 Alexander Mijares Does Monochrome for his First NYC Show
An artist of all trades, Alexander Mijares describes himself as "that one artist who uses too much color" on his Instagram. Paradoxically, his first NYC show is entirely devoid of color after an inspirational three-day rumble through the city. No Distractions, Mijares' new exhibition at Hub Seventeen is open to the public through November 4th, with several pieces already sold prior to the opening.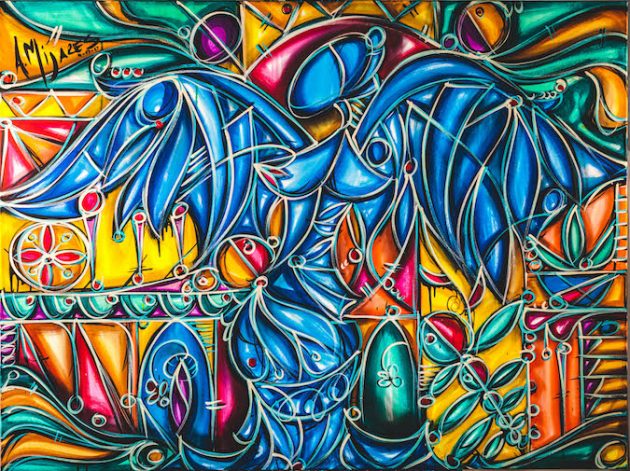 Photo: Courtesy of the artist.
For someone who seems to have a way with color, Mijares confesses, "I have a hard time expressing myself with emotions and feelings and stuff internally. My way of expressing myself is that my paintings are journal entries. Every time I sell a painting, someone tears a page out of my book." His journal pages are full of travel inspirations, spiritual hikes, Latino background influences, and, of course, Miami, where he is based. But he also knows how to work the market. With over 300k Instagram followers, he says that 90% of his sales happen via social media. So how does one acquire that sort of engagement? 
Mijares' path to success wasn't necessarily paved from the beginning — he earned a degree in business seven years ago. Out of desire to decorate his empty bedroom wall and unable to afford expensive art, Mijares decided to make a piece himself (a flashback to days of school doodling with ADD.) And so he made a piece. "I literally took the display and price tags, and I drove home." Mijares recalls about his first visit to an art store. "I set it up so I had the display of all the brushes, display of all the things, and I just started painting." Fast forward to seven years later and Mijares is selling artwork to Maluma, collaborating with David Beckham and his MLS soccer team, Pitbull, Luis Fonsi, Kevin Hart, and many more. "I kind of just know how to play the market — this is where my MBA comes in," he says. "I know that if I want to sell art over here, I need to work with these guys over there so that people take me seriously."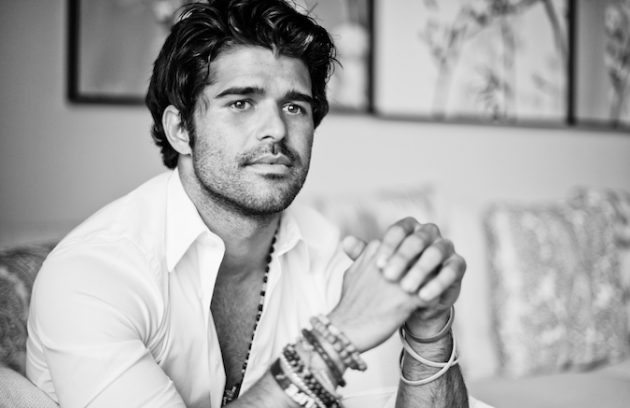 Alexander Mijares | Photo: Courtesy of the artist
Versatile with his clients and approaches, he is just as adaptable to new styles.  "I think the moment I finish the show [in NYC] and I go home, I'll learn how to carve marble," Mijares jokes. But he's done just that and then some. He's carved clay, painted a 5,000-square-foot mural, Ferraris, ginormous blowup ducks, a cellulite reduction machine, and more. Still, the practice does not come easy to the artist as he always starts a new piece frustrated. He doesn't sugarcoat that it is hard work for him and in those moments he travels to places like Cuba, Thailand or Brazil to soak up inspiration that he incorporates in his signature style of stark lines, vibrant colors, and seeming intentionality. 
With an increasing profile in the industry, Mijares has his familiarity and sensibility to thank. "You can put me anywhere — you can put me in a favela," he says. "I'll be best friends with every single person until I come out." His art conveys a similar emotion — it isn't a cold, but instead cozy and inviting. Whether the audience knows from his social media or feels an amicable connection in the art, Mijares is a good guy. He works with orphanages, non-profits, and international organizations for constant collaborations and fundraising. He's a good guy that makes good art, and it works. 
Alexander Mijares' first NYC exhibit titled " NO DISTRACTIONS" is open Oct 12th – Nov 4th at Hub Seventeen (114 5th Ave inside the Lululemon Flatiron store).