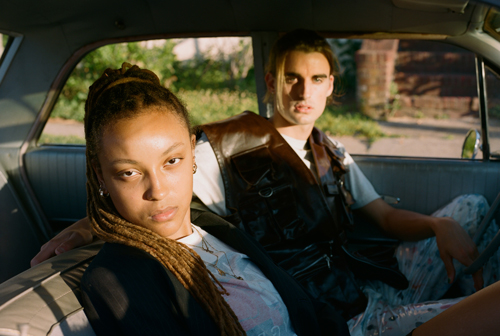 5000 is a New Type of Creative Collective
5000 is a new type of art directive that launched in 2017, but don't underestimate it due to it's young age. Founded by creative director Taylor Thompson, the New York-based entity has already made covetable strides, being worn by Cordell Broadus, featured on HighSnobiety, and sported by Anwar Hadid (the other other Hadid) – a last name that's become emblematic with dictating a generation's fashion and cultural markings.
Beyond positioning itself as the next brand to cop, 5000 aims to establish a relationship between its consumer and their clothes by creating a sartorial narrative between collections. The signature turtleneck, (as seen on Hadid), is as distinctive as it is timeless, retaining its core appeal while adapting with the times.
Not only are the clothes important to Thompson, but the entire philosophy of the brand is to create visual stories that merge 5000's apparel and lifestyle. As he explains, the Fall/Winter 2018 collection, "A System of Thought" is "about the self conscious development to sustain and handle adverse situations throughout one's life. This editorial portrays finding a getaway from a rural suburban life to find one's freedom."
Comprised of slouchy tailored two-pieces, leather vests, and (obv) the 5000 turtleneck, the Fall/Winter collection creates a timeless narrative that can be worn by anyone. Check out the lookbook below.

Creative Director: Taylor Thompson
Photographer: Mateus Lages
Stylist Assistant: Jacob Ptolemy
Models: Mimi Jung, August Johnson, Jada-Renee Bland
Producer: Jacob Gottlieb

[slider_pro id="249″]