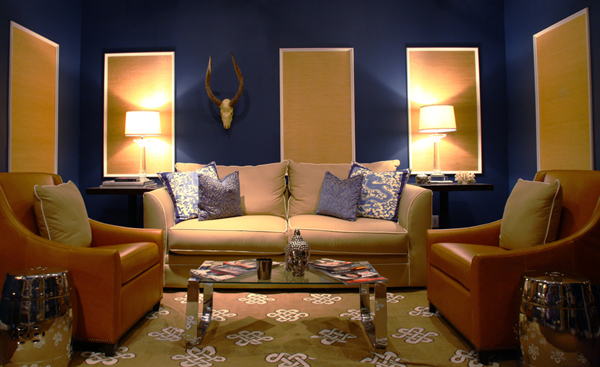 Windsor Custom at the Ainsworth
It's a little known fact that Manhattan's best place to fill up on sports TV—and March Madness in particular—is also home to one of the city's newest custom mens boutiques. As guys put away beers and feast upon steaks while watching the game at the Ainsworth (122 West 26th Street), a select few watching the game and creating their next sartorial masterpiece at Windsor Custom, tucked away below.
Windsor Custom is the brainchild of Director Ryan Grayson, who earned his chops at Ralph Lauren Blue Label, Matt Shendell and Brian Mazza, both of Paige Management Group, which runs and operates the Ainsworth Sports Bar and Restaurant upstairs. "We wanted a place where guys could feel comfortable shopping and get the quality and attention that they want," Mazza, who studied fashion design in Italy and previously worked at Generra tells us.
The idea to put Windsor in the Ainsworth came from the attention that Mazza's style at Paige Group garnered from customers at the restaurant. Pretty soon the three realized they could make a viable business out of giving detail-loving sports fans the kinds of handsome high-end clothing they feel proud wearing. "We've gotten people from Wall Street to nightlife," Grayson, explains about the wide berth of people who have discovered Windsor Custom since it opened in late 2011.
Actually, the space is just about impossible to find for anyone not in the know. You have to be led past the employees only door to the kitchen, down some stairs, make a few nebulous turns and into the middle of a "Men's Custom Clothing Living Room." Read that as an unintrusive space with a pool table, whiskey bar and TVs tuned to whichever sporting (or other televised) event you desire to look upon. You can even bring your own music—once you've got an appointment, the space reserved for your and your buddies (Girls are allowed by the way).
The room plays home to a seamless kind of customized and personalized shopping, (ironic given that every seam in the custom shirts, pants, blazers and suits are given utmost attention) where you are able to take your time picking out fabrics, styles, patterns or any other detail that is possible to customize. With over 1000 fabrics to choose from, Mazza and Grayson both serve up style advice and have already put stellar looks together for the likes of Todd English and a few Steelers and Giants players.
For all of its exclusive garnishings, Windsor Custom is surprisingly accessible. Shirts start at only $120 and suits at $750 and there's no minimum to reserve your time. An appointment (which can be had by emailing a request via their website or simply by asking at the Ainsworth) nets you about an hour in the room.
March Madness is upon us and spring is in the air. We can't think of a more perfect time to snag some time at Windsor Custom, or even make a small party out of it for you and your crew, and get some business done!
To book an appointment go to windsorcustomnyc.com