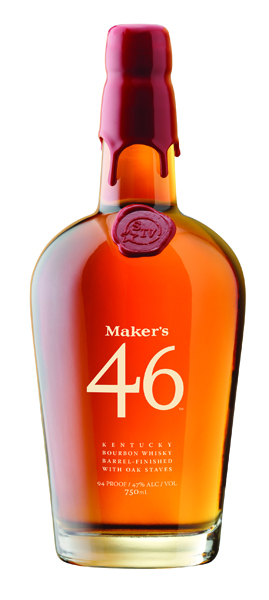 Maker's 46 is Maker's Mark on Steroids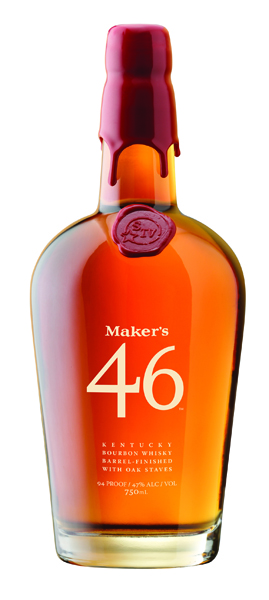 Most companies look at things in terms of brands, which typically means putting out a number of related products under a single brand name. Maker's Mark has always seen things in terms of products, and they're one of the few major companies that for years was a single product company. When you referred to Maker's, you meant one and only thing: Maker's Mark Bourbon.
Maker's Mark established itself as a kinder, gentler bourbon – one with a lot of flavor but no kick, no harshness. Critics have often noted that the easier nature of Maker's comes at the expense of a nice long finish. After running Maker's Mark as a single product company for over 33 years, Bill Samuels, Jr. decided he wanted to leave behind something new as his legacy. To do this, he set out three criteria that would guide any new product: one, it needs to be yummy; two, it needs to be Maker's Mark "on steroids"; and, three, it needs to have a long finish. Maker's Mark was built on the ideal that whiskey could taste better, but a sweet, affable bourbon with a long finish was long considered impossible. Bill Samuels, Jr. really wanted to leave his mark on the bourbon space by figuring out how to accomplish this.
After a tremendous amount of experimentation, Bill Samuels, Jr. along with Master Distiller for Maker's Mark, Kevin Smith (who is now the head of production for Jim Beam), came up with a way to take Maker's Mark and build on it. To make Maker's 46, they take bottle-ready Maker's Mark and put it back in the barrel along with ten 'roasted' French oak staves. The whiskey is given an additional 90 days to age, during which time it takes on a lot of the wonderful qualities of the French oak. The result is a bourbon that is distinctly Maker's Mark, on steroids.
Maker's 46 takes all the wonderful front palate flavors of Maker's Mark, including vanilla, caramel, and light oak, and adds a deeper vanilla note along with deep, sweet, cinnamon. Even though it's higher proof than Maker's (94 proof vs. 90 proof), it's actually soft and easy, and you don't taste the additional alcohol. With all that flavor, you get a nice long finish. Maker's Mark has always shined when served neat, over ice, or with a simple mixer. Maker's 46 expands Maker's sweet spot, performing much better in cocktails like the Old Fashioned and Manhattan.