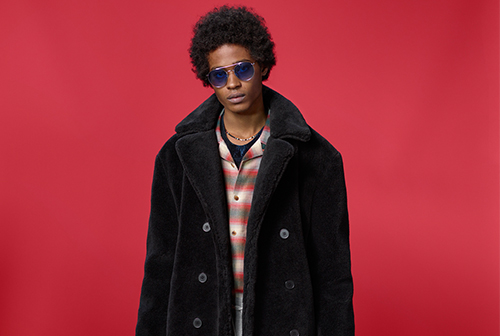 TOPMAN launches Holiday Campaign with Gosha Rubchinskiy
[slider_pro id="94″]
Images: TOPMAN.
TOPMAN – a brand familiar with imbuing filmmaking into its fashion launches – announces its holiday campaign with a video and photography series by edgy Moscow artist Gosha Rubchinskiy. Shot in an abandoned factory, Rubchinskiy's images showcase the TOPMAN 2016 Holiday collection. The valiant line is winter-focused and includes a variety of bold patterns, such as floral prints, bright colors, wool outer-layers, and stained denim. One model pairs a leopard-print faux fur coat with a candy-red hoodie while another wears a diamond-print shirt beneath a leather trench coat, the collection proving its style adaptability with a pink camouflage touches, gray tartan suits, and oversized, light-washed jeans.
TOPMAN and Rubchinskiy style most looks in several layers, basing turtlenecks and sweaters beneath button-up shirts, challenging conventional fashion rules and creating new ways to construct your winter wardrobe. The video and images are distinctly the designer's, who's famous for saturating his work with his own self-expression. His previous menswear collections feature Russian tropes, such as vintage Soviet Olympic sportswear and Cyrillic graphics, though here he makes the TOPMAN campaign his own. Casting boyish models that mirror his Spring/Summer collection, the campaign's youth and expressive nature evokes rebellion and abandonment to complement the derelict warehouse backdrop.