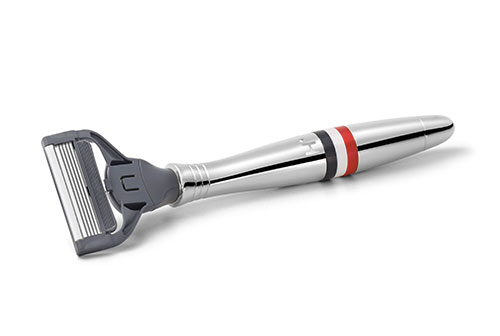 Thom Browne and Harry's Release Ultra-Luxe Razors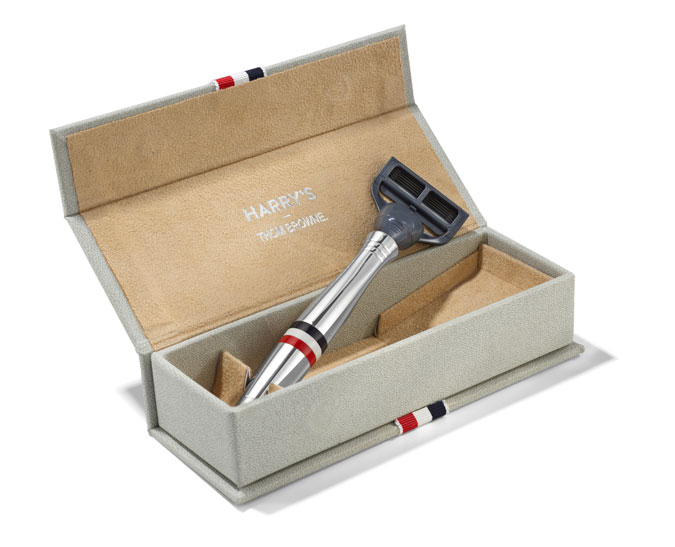 Image: Thom Browne.
That famous red, white, and blue triple band design is poised to invade shaving bags worldwide as Thom Browne ventures into uncharted facial care territory with Harry's razors, collaborating on the sophisticated new collection, Thom Browne by Harry's. The perfect combination of eye-candy and function, one of two razors–electroplated with either 24 karat gold or sterling silver–arrives in a triple-striped leather box of charcoal black or icy silver for an opulent skincare addition that displays on the bathroom vanity just as well as it shaves. Topped off by Harry's legendary precision-angled blades–including the 60-degree flex hinge and gothic arch shape that make for a cleaner, more comfortable shave–the collection is a daring statement of affluence and a testament to the inherently masculine touches of both brands. Past collaborations by Browne, including the popular Brooks Brothers Black Fleece Line, and projects with online retailer MR PORTER and Nissan Infiniti, prove that the Thom Browne label is just as strong and virile as ever since its 2003 inception, this Harry's collaboration no exception. With a portion of all proceeds going to support Browne's favorite charities, God's Love We Deliver and St. Jude's Children's Research Hospital, each razor is a celebration of quality in upscale branding and proves that designer vanity never felt, or looked, so good.
Thom Browne by Harry's is available exclusively at Barneys New York for a limited time.