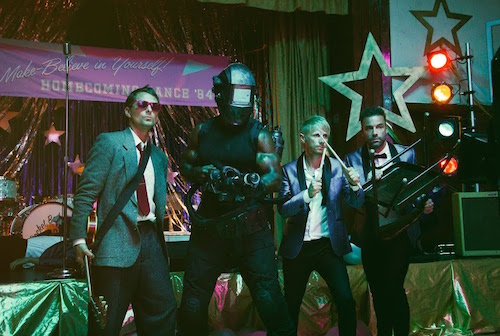 This Week in Music Releases 9/30
Muse's new single, "Pressure"
One of the most exciting releases of the week is Muse's new single "Pressure," making it the fifth track to be released off their upcoming album Simulation Theory. According to Muse frontman Matt Bellamy, this is also the last single to be released before the album is out in November. 
The music video is a full 80s throwback, with the band performing at a 84' high school homecoming dance, with Bellamy's guitar bearing an uncanny resemblance to Marty McFly's red guitar in Back To The Future, and a guest appearance by Terry Crews.
Robyn's "Honey"
After  much anticipation since releasing a snippet in an episode of Girls, Swedish pop enigma Robyn finally released 'Honey.' The new track is sensual, thought-provoking yet seductive, and intensely liberating — not to mention insanely catchy. Her album (also named Honey) is due to be released October 26 via her own lablel Konichiwa Records. Robyn herself described the album to Variety as "this sweet place, like a very soft ecstasy. Something that's so sensual, and so good. I danced a lot when I was making it. I found a sensuality and a softness that I don't think I was able to use in the same way before. Everything just became softer."
Young Thug ft. Elton John, "High"
Young Thug's final track off his On the Rvn EP features autotuned samples from Elton John's renowned hit "Rocket Man,"came out earlier this week. In as early as 2016, rumors circulates about a possible collaboration between the two artists, according to Rolling Stone. A photo of Young Thug with Elton John appeared on Instagram only further fueled those rumors. After the track was leaked on SoundCloud last month, it was promptly taken down — not to mention the two week delay in the song's anticipated release due to Young Thug's drug-related arrest. But it's finally here!
Lil Wayne's "Tha Carter V"
The long anticipated Tha Carter V by Lil Wayne  finally dropped on his 36th birthday.  In legendary form, Weezy's 12th LP is replete with superstar features, including Nicki Minaj, Kendrick Lamar, Travis Scott, and Snoop Dogg to name a few. One of his tracks, 'Don't Cry' features the late and controversial XXXtentacion and the song 'Dedicate' samples a notorious speech from former President Barack Obama in which he said "Our kids can't all aspire to be LeBron, or Lil Wayne." Power move if I ever saw one.
Long-overdue, this album comes a whole seven years after the release of "The Carter IV" due to a four-year delay pending on a feud between lil Wayne and his Cash Money label boss Birdman. The multi-million dollar lawsuit came to a settlement this past June, allowing the album to finally be released.
Cher, "Dancing Queen" 
Cher is the dancing queen. Her 26th album, Dancing Queen, is her first tribute-album to a single artist, ABBA. Following her cameo in Mamma Mia! 2 it really was no surprise that Cher would inevitably be back in the limelight. She worked alongside producer Mark Taylor to update the ABBA classics to match her and 2018, while still beautifully maintaining the essence of the pop classics.