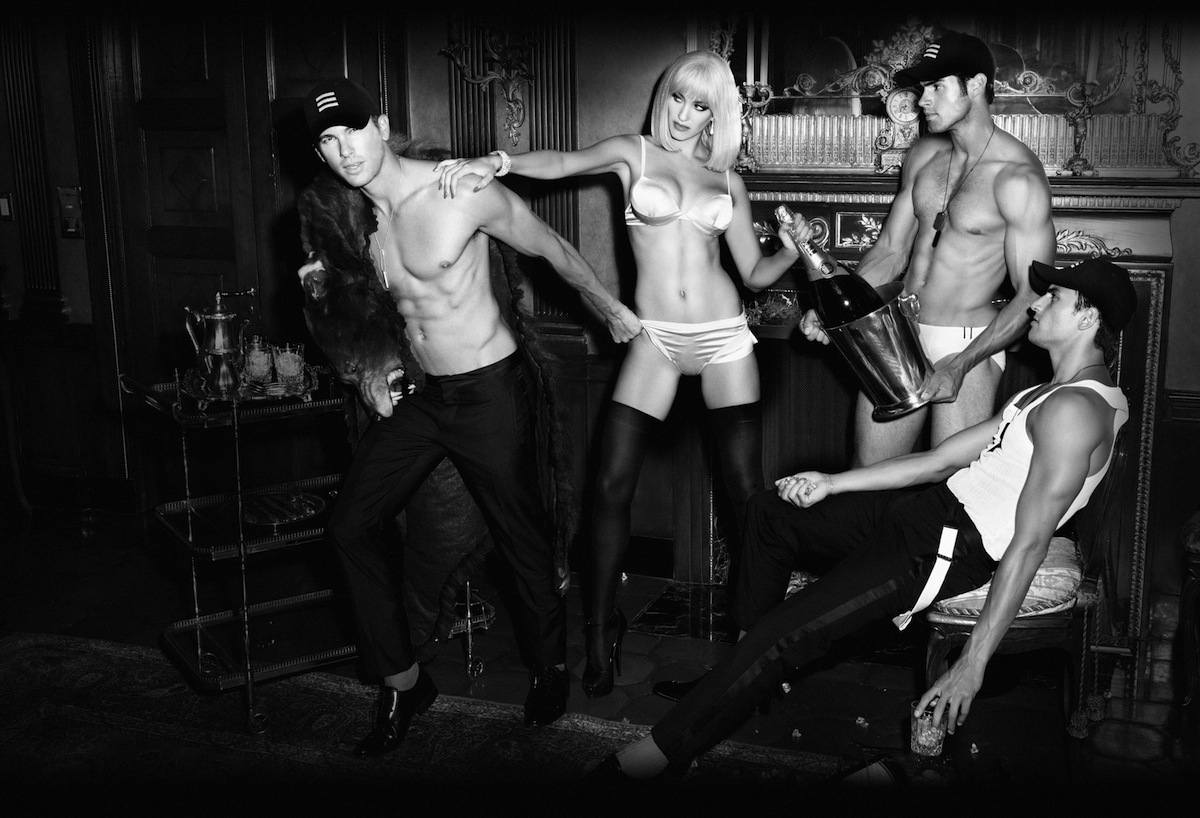 Launched Today: Hats off to Menswear's Newest Label—Gents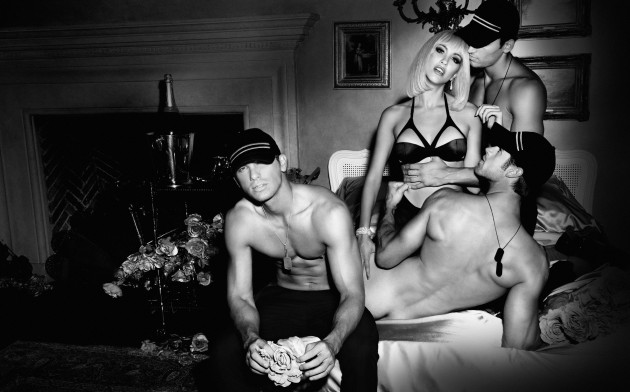 There's been a lot of buzz about today's launch of the newest brand in luxe menswear essentials—Gents. The line, currently centered around a well-fit collection of smart looking baseball caps, is a well conceived project from a man who is no stranger  at all to things luxurious and/or essential—former Director of Public Relations at both Calvin Klein and Gilt Groupe, Josh Reed. At 34, he's spent the last two years meticulously brewing his own vision of men's basics, combining his unique understanding of the market with his own personal taste. The result? Epicurean basics, friendly prices and, finally, baseball hats we can wear with a suit. A niche has been filled! Anyway, we sat down with Mr. Reed to talk some Gents, baseball hat shop and of course, that steamy ad campaign you see above (yes, there's a video component). So ladies and gents, click on through…
Essential Homme: Congrats on starting your own menswear line! How did you make the jump from PR to designer? Had you always wanted to be in the design aspect of men's style?
Josh Reed: Not at all. I always wanted to have my own business—that was my dream and vision. In what capacity that would take, I did not know exactly but I wanted to use my experience and professional background. After working at Calvin Klein and Gilt Groupe, I moved to Los Angeles to be a commercial talent agent and at that moment, it all came together. I began conceiving the idea of a men's brand with an e-commerce platform and special customization. From there, I saw the need for other niche men's products and had the vision for Gents; not necessarily as a traditional designer line with seasons and collections, but as a men's lifestyle brand offering the best of specific men's categories that are aren't currently available in the marketplace. Items that are really well made and designed; still luxurious, but more affordable and attainable.
EH: You've initiated the line with a sharp collection of baseball caps. Not the usual starting block for a men's brand. What gave you the idea to start there?
JR: I didn't primarily conceive of Gents as a full brand. Initally, it was going to be only a line of baseball caps, something I've always loved wearing. I'd wear them as often as possible and as much as I could. I think many guys do. I wanted to wear them more than just for working out or running around town. When I moved to LA and worked as an agent, I worked with a lot of talent that would wear caps as well. I always had trouble finding sophisticated, more fashion forward caps. When I realized some of the biggest names in the world had the same problem finding a great cap, I realized there was a big gap in the market and decided to fill it. I had learned from almost 15 years in the business that you only need to offer one great product, but make it the best so that's what I set off to do with a traditional baseball cap. Once the design and aesthetic of the caps were received well and started selling, that is when I decided to expand.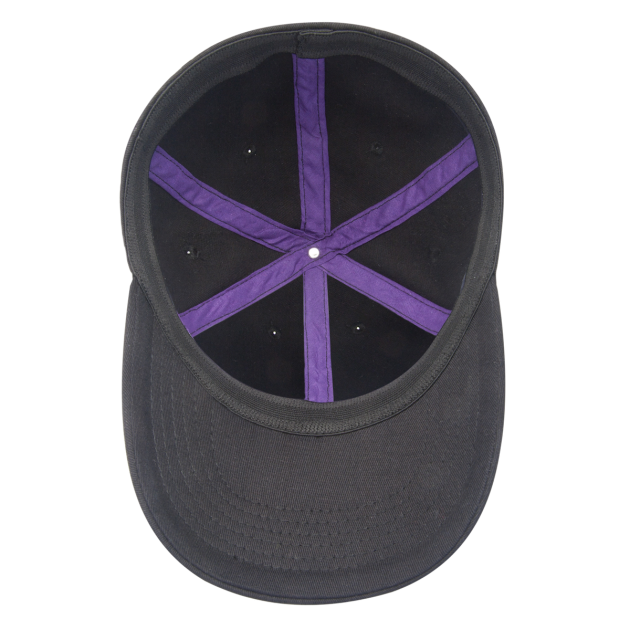 EH: What makes your caps different than the rest?
JR: First and foremost—the fit and structure. I spent almost 2 years making a cap that would mold perfectly to every sized head without loose space or gaps to give a very sleek and fitted look for any guy. This is why there are only two sizes. Secondly, the design aesthetic. I developed the stretch fit band outside the US because I wanted to make it my own to perfect the fit AND look good (ed note: currently, only one brand has the rights to make the stretch fit band in the US). Royal purple is the color of the Gents brand and I made the taping straps on the underside of the cap to match the purple band, the signature of all Gents caps. I made the rear of the front panel and the underside of the brim the same color as the rest of the cap, surprisingly something many other caps don't do, so there are always only two colors on your cap—the color of the cap and the royal purple. The fabrication was important as well. I tried so many combinations of materials before the primarily cotton blend proved to be the best to breathe in warm weather AND keep your head warm in the cold, at the same time as providing a strong structure and foundation.
EH: So lets talk about cap style now. Seems like you're either a curved brim or a flat brim guy. Can a guy get away with wearing both? Flat brims seem to be quite trendy these days but do you see the curved making a comeback or is it more like a good denim jacket, just a classic. What would you say to a customer who asked why Gents doesn't have a flatty?
JR: I think there are some guys who wear both..but I think most prefer one or the other. I see the curved brim as a classic and not a trend so it never went anywhere and never will. The flat brim became a big trend and that's why you started to see the classic curve brimmed cap less, but, yes, I definitely think it is coming around strong again. Gents doesn't make a flat brimmed cap because it is so well served in the market already. My intention was always to serve the customer that wouldn't wear a flat brim cap with a great curved brim, fitted cap…. But I never like to say never….
EH:  What were you looking for in terms of the embellishments on the design of the hat?
JR: I was really inspired by a few different themes when designing this first round, which is why I decided to turn them into collections. The Collective and Lone Star designs in the All Star collection were definitely inspired by the political climate this year and American pride. Universal symbols and iconic imagery helped to shape a lot of the designs like the Neutral, Maltese and Fleur De Lis. You will also feel a heavy military influence in designs like Uniform, which is one of my favorites. Royalty and symbols of strength (like the falcon and lion) round out the collection. Everything was designed to be fashion forward, but in an understated manor.
EH: We know that basics like T-shirts are the next step – can you tell us how those will stand out of the pack?
JR: I used 40 singles fine combed jersey 100% cotton from US origin—and made in the USA—for all the crew and v neck t-shirts and long sleeve v-neck shirts which makes them so soft and comfortable. The grey is heathered and a deeper shade than many T-shirts out there. There is a lot of attention to details from cut to cloth, they are fitted but not tight which I think is great for a lot of guys. They are pre-shrunk with smaller collars that don't wrinkle or wither. For the quality and construction, the price points are really great compared to a lot of designer t-shirts ($38 crew and V-neck, $48 long sleeve, V-neck and raglans). I'm really love the updated version of the classic baseball raglan Gents has in heather gray & white and black & white, it uses the finer materials and design and gives a really sophisticated spin to a very masculine, athletic, classic men's piece.
EH: What are you thinking of doing after that?
JR: The Gents beanie will be on sale on the site later this month. It's designed to be worn a bit more back on the head and more material in the back (think the way David Beckham or Ashton Kutcher always sport them.) I'm thinking about the Gents gym back, travel bag and dog tags next.
EH: Can you tell us how you came up with the name?
JR: I didn't want to use my name as I wanted the brand to have more mass appeal and not be a designer line but a brand. I was looking for a name that really communicated sophistication since I was launching with baseball caps. I needed something that really expressed the juxtaposition between such a sporty category- baseball caps- and high quality design. I was on the bathroom line in a restaurant in London when I saw "Gentlemen" on the door it hit me. It was the perfect word that represented all I was looking to say. I shortened it to Gents and that was always it, I loved it.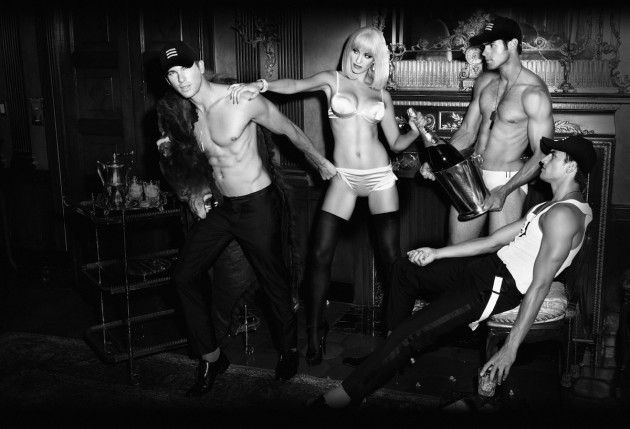 EH: The advertising campaign—both print and film—is very slick, very sexy and features model Chad White who's been kinda MIA for a minute. How did the whole thing come together? What inspired the art direction? Did you always know you'd make a video component as well, or did that come about after?
JR: The photographer Yu Tsai had a lot to do with the entire campaign from conception to end result. We worked together to create a campaign that was sophisticated, sexy and provocative, but very masculine and athletic at the same time. Yu Tsai cast Adam, Chad and Kevin and I thought they were the perfect representation of a Gents man. We added in Melissa Bolona, to have an object of desire and she was perfect—she's just starting out modeling and I think she is going to be really huge. The campaign was inspired by classic Helmut Newton sensual images. It was very important to me to communicate the brand as a whole, not just focus on the caps. As a new brand, the goal was to communicate through imagery what Gents represented and I think Yu Tsai nailed it with the final images… and the video just blew me away with how sexy and sophisticated it is.
Video campaign:
[kaltura-widget uiconfid="535″ entryid="1_730ej6xj" width="630″ height="502″ addpermission="" editpermission="" /]
Making of the campaign:
[kaltura-widget uiconfid="535″ entryid="1_d5hn2kbl" width="630″ height="502″ addpermission="" editpermission="" /]