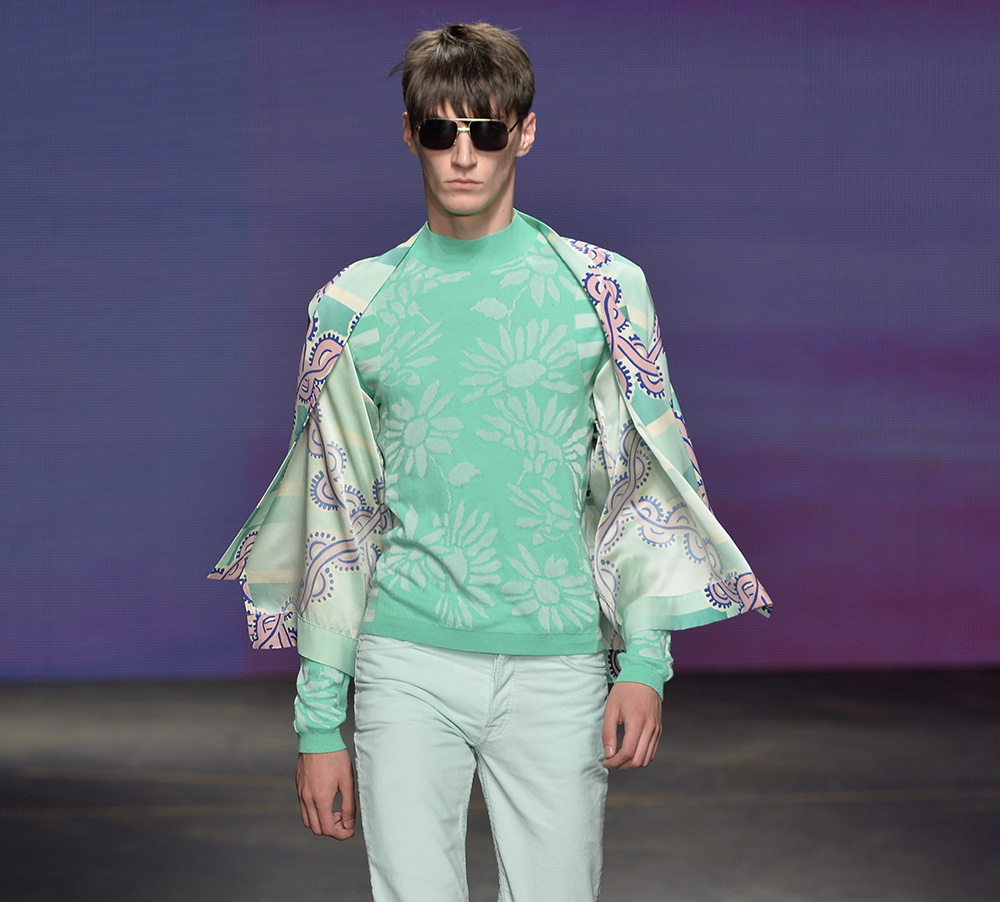 LCM: Reviewing TOPMAN Design SS15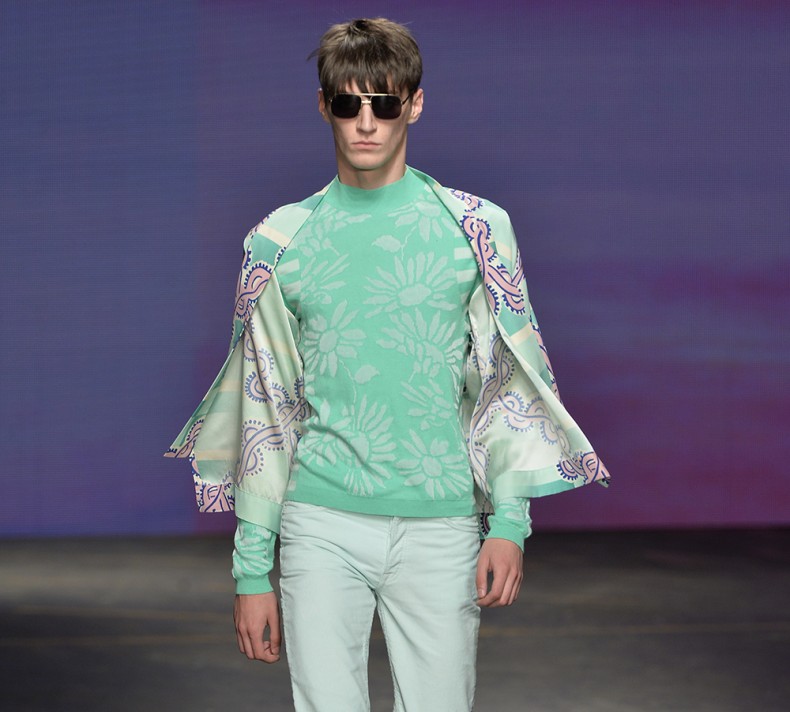 Image: TOPMAN Design. 
A contrast to last season's industrial monochrome, TOPMAN Design's Spring/Summer 2015 collection was a playful and vibrant hybrid of 1970's Woodstock and 1990's Brit Pop. Bell-bottom trousers, sharp tailoring, Gallagher-inspired Parkas, and psychedelic prints all came together in an extremely relevant collision at the height of music festival season, with Bonnaroo just the past weekend and Glastonbury only a week away.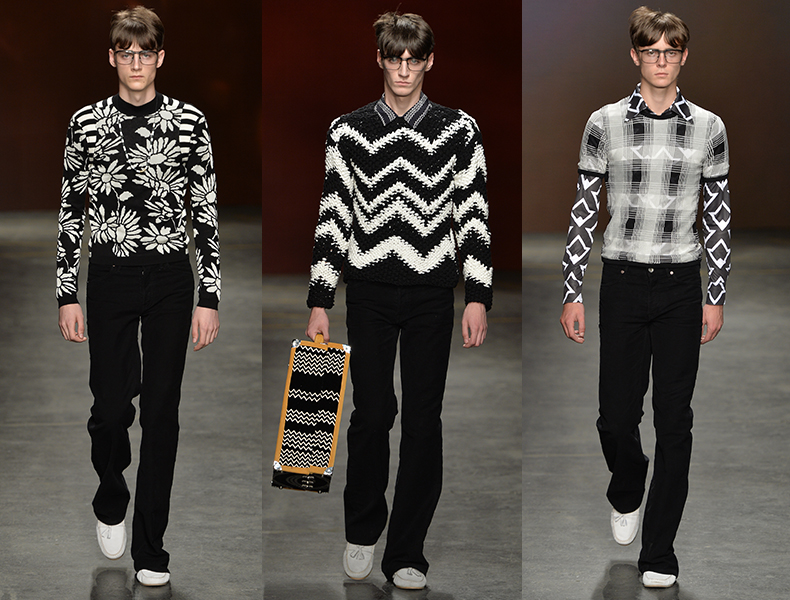 Image: TOPMAN Design. 
Daring black, white, and yellow psychedelia and floral motifs opened the show and lead to casual denim tones paired with orange and blue stripes, cereal printed graphic shirts, and, finally, candy-coloured pastel tailoring that finished the show. Sports knits and patchwork were used as well as pinstripes and suede.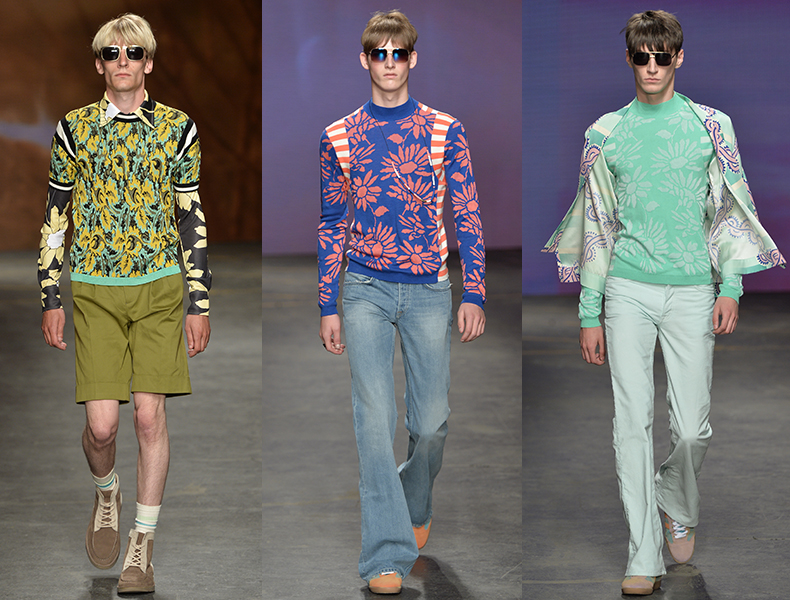 Image: TOPMAN Design. 
Later, shirts in bold patterns and oversized collars were worn over mock turtlenecks. Looks were finished with velvet printed suitcases and square aviators. Some models even sported shaggy wigs as they casually strutted down the runway to the sounds of Brit rockers like Tame Impala and Blur.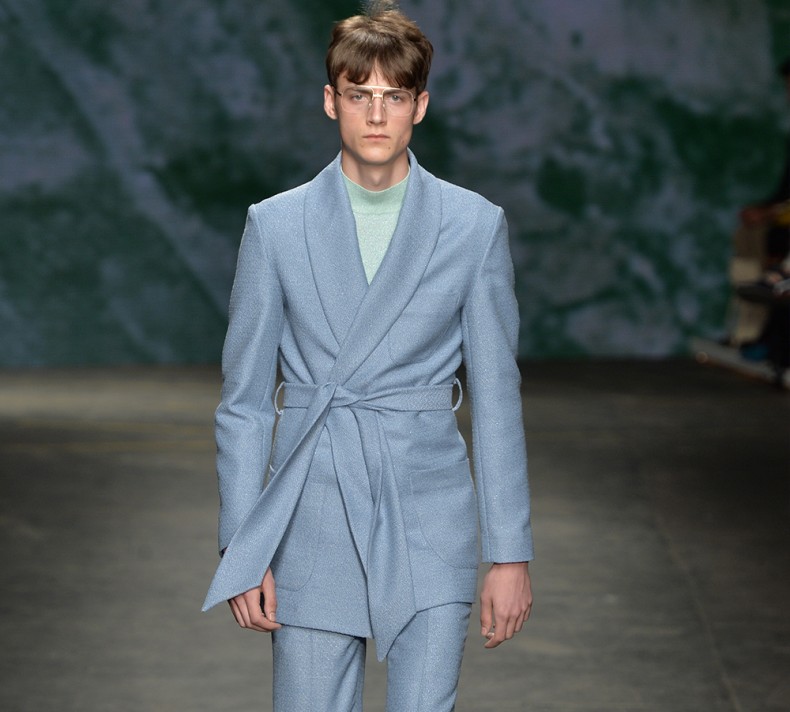 Image: TOPMAN Design. 
Saturday Night Fever saw a new glammed-out sequel with a Brit Pop makeover as parkas lined with bold prints and fur trimmed hoods were worn over waistcoat and flared suits. And although a glitter, double breasted, bell bottomed suit in pale blue may feel a bit outrageous for the average consumer—unless you're Mick Jagger—it does give a clear indication of the continued development of the menswear industry in London, and the TOPMAN Design SS15 collection—with its dynamic homage to Woodstock and loud Brit Pop—was perfectly at home.
Want more London Collections: Men?
See our backstage coverage from TOPMAN Design SS15.