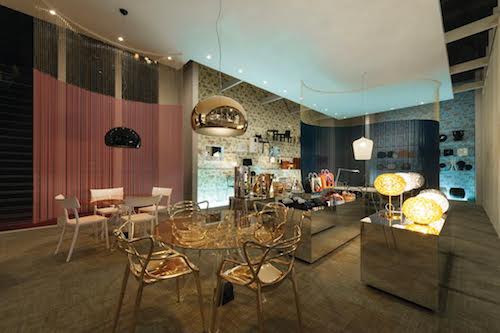 Kartell's Plastic Fantastic History with Claudio Luti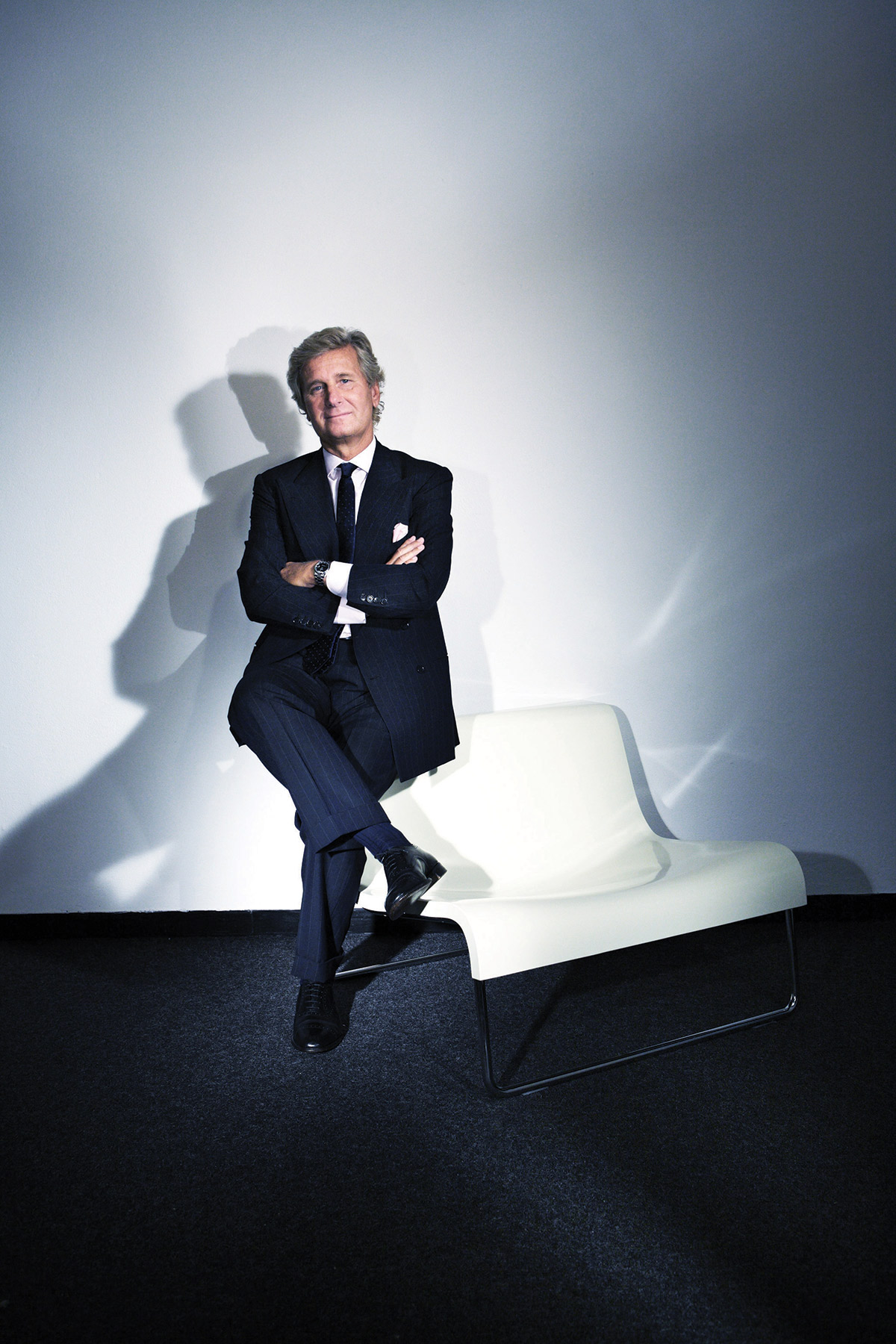 Images: Kartell.
A see-through Louis XVI armchair, nearly invisible, yet unignorable. A bookcase that spirals across a wall like a snail's shell, and threatens to send its contents to the floor. A corrugated, shaded table lamp, whose base is baroque and the deepest black. These plastic-fantastic confections are the work of renowned Milanese company Kartell, a hits factory of interior design since turning its eye from auto accessories to home décor in 1963.
Kartell's success, including flagship stores in 130 cities around the world, comes in large part from its keen eye for partners. The designers who imagined the pieces above—Philippe Starck, Ron Arad, and Ferruccio Laviani, respectively— share shelf space with work from Joe Colombo, Patricia Urquiola, Tokujin Yoshioka, Marcel Wanders, and dozens more. The broad portfolio is a testament to Kartell's historic respect for innovation and willingness to take risks, a legacy that owner and president Claudio Luti continues to this day, updating classic pieces and launching new ranges of shoes and handbags (in plastic, naturally) with fashion partners like Paula Cademartori and Alessandro Dell'Acqua N°21. Designers clearly adore him: in 2008, he convinced everyone from Moschino to Vhernier to create Kartell installations at Salone del Mobile, the world's largest design fair. In 2017, the fair appointed him president. "In a collaboration," he says, spruce and suited in the eye-popping, bustling SoHo flagship, "I try to give back what I take in. Designers have to be clever and generous. And we offer them the best of technology and the chance to take a risk."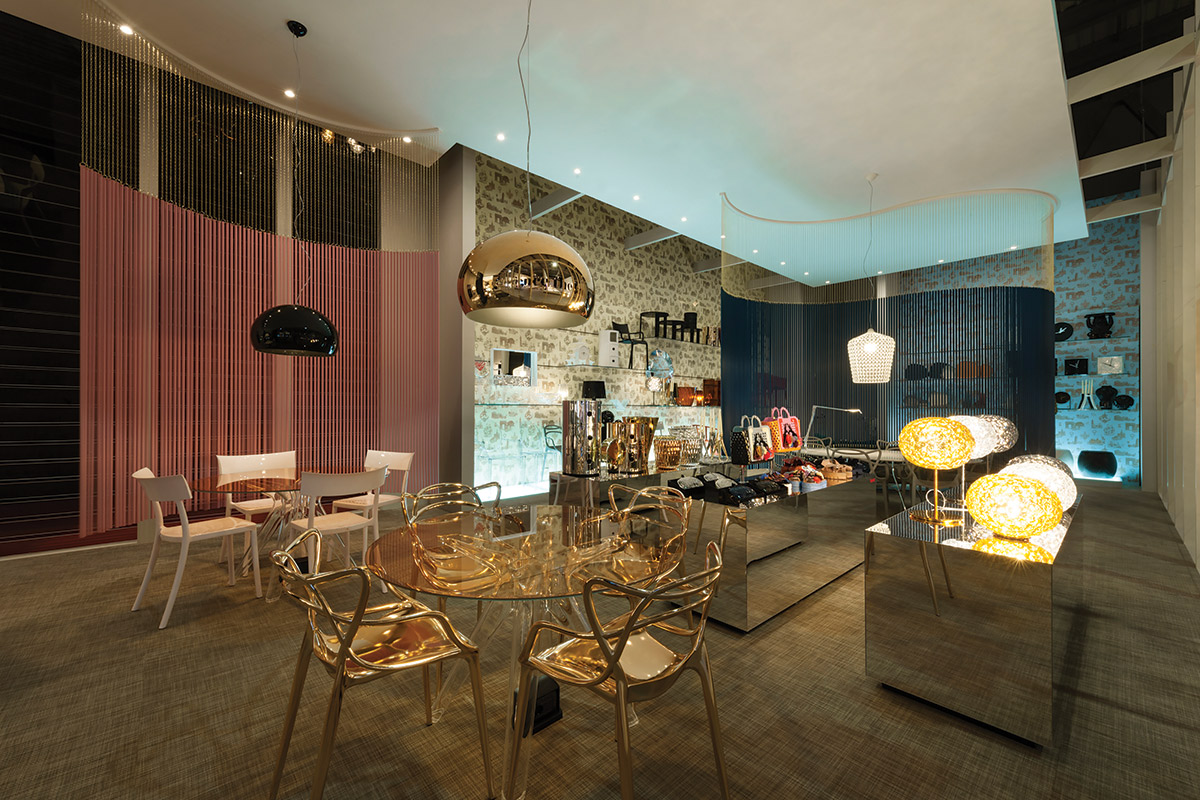 Kartell's new worldwide retail concept shown at Salone del Mobile in Milan.
In 1988, Luti joined the company, which was originally owned in part by his father-in-law, Giulio Castelli. He'd spent the previous decade working with college friend Gianni Versace to remake the fashion world in Versace's multo-maximalist vision. Kartell, meanwhile, was still best known for groovy units like Anna Castelli Ferrieri's Componibili storage columns, which boasted rounded-corner drawers operable via a simple, circular hole. In the buff glass-and-chrome '80s, such cheer looked more retro than retro-futuristic. Now, it just looks timeless. Design spirits lifted with the arrival of the zany Memphis movement, but such flights of fancy from Ettore Sottsass et all just weren't Kartell. "The philosophy was fantastic," Luti says, "and I liked the strength of the Memphis movement's color and form. But I was against it, because it was not industrial."
It took a new kind of plastic to manifest Kartell's mix of the one-of-a-kind and the readymade. "We began experimenting with the material of police shields," Luti reveals. "It was not so transparent, but strong. We worked on it for a year and a half, and in the end found a polycarbonate that was very clean and resistant. And it was exclusive [to us.] I thought, 'Who is the best designer to use this innovation?'"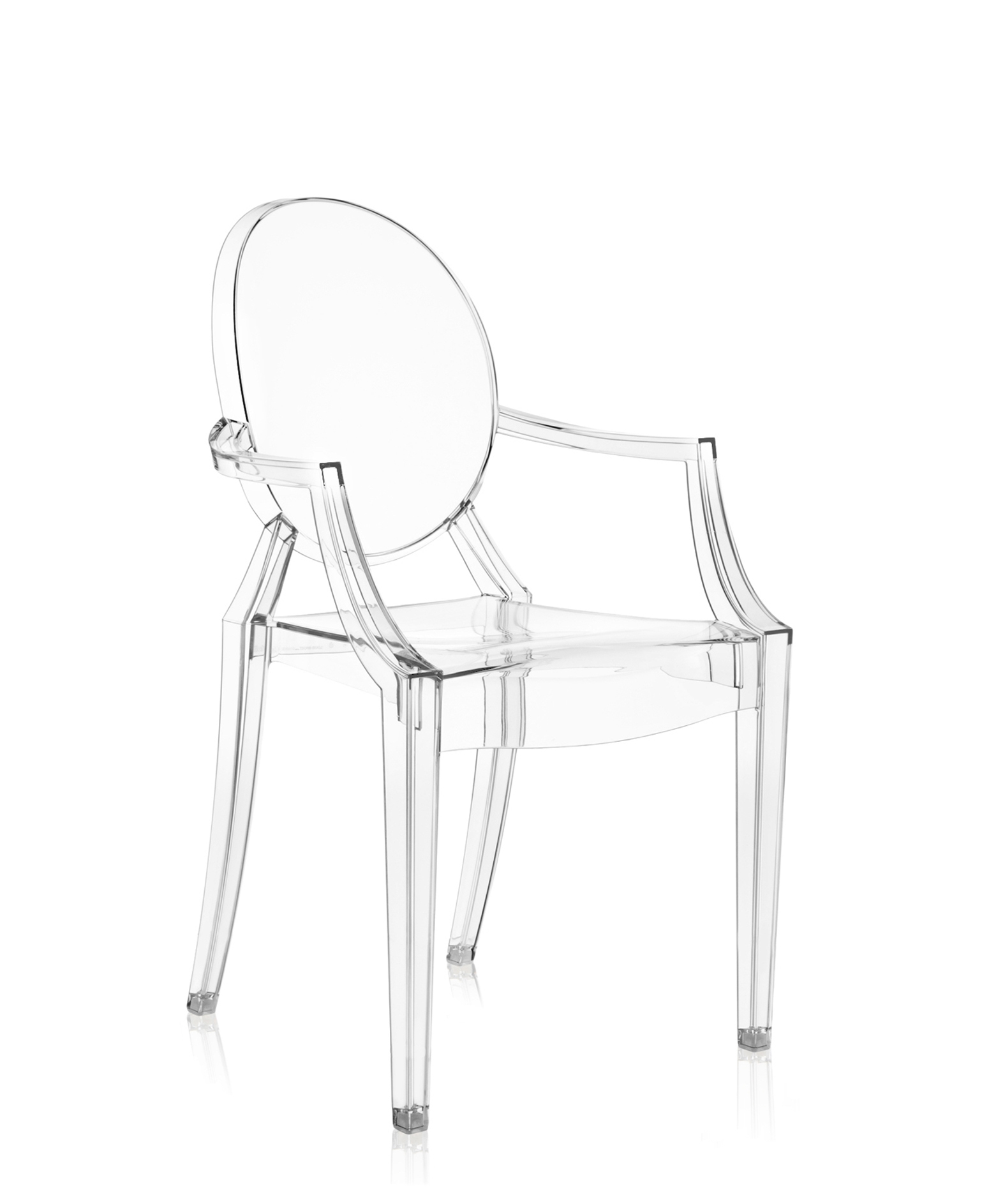 The answer was the French polymath Philippe Starck, who in 2002 boiled the neoclassical Louis XVI armchair, maybe the most famous seat in the world, down to a few essential lines. Kartell made a mold capable of producing the Louis Ghost chair in a single piece, then made a mint, reportedly selling more than 1.5 million copies. Free of joints that might crack from heat or cold, and easy to clean (Kartell even marketed its own spray), the various iterations of Starck's indoor/outdoor seat—armless Victoria, child-sized Lou Lou, and barstool Charles—still haunt chic dining rooms, lobbies, and lofts. In 2016, the notorious Fiat heir Lapo Elkann updated its Ghost model by wrapping its backs and seats with stripes and numbers inspired by his beloved racing cars; he suited others up in houndstooth and tartan, and similarly remixed the old favorite Componibili. Barneys showed off the results in a pop-up installation this past January.
The 21st century has seen Kartell looking back quite a bit: beyond the Starck and Laviani remixing, there was 2013's massive Taschen monograph Kartell: The Culture of Plastics. In 2015, the Kartell Museum observed its 15th anniversary with a complete renovation to house a definitive corporate history and a rotating exhibition space, currently filled with a retrospective of its partnership with the peerless Italian mid-century masters Achille and Pier Giacomo Castiglioni.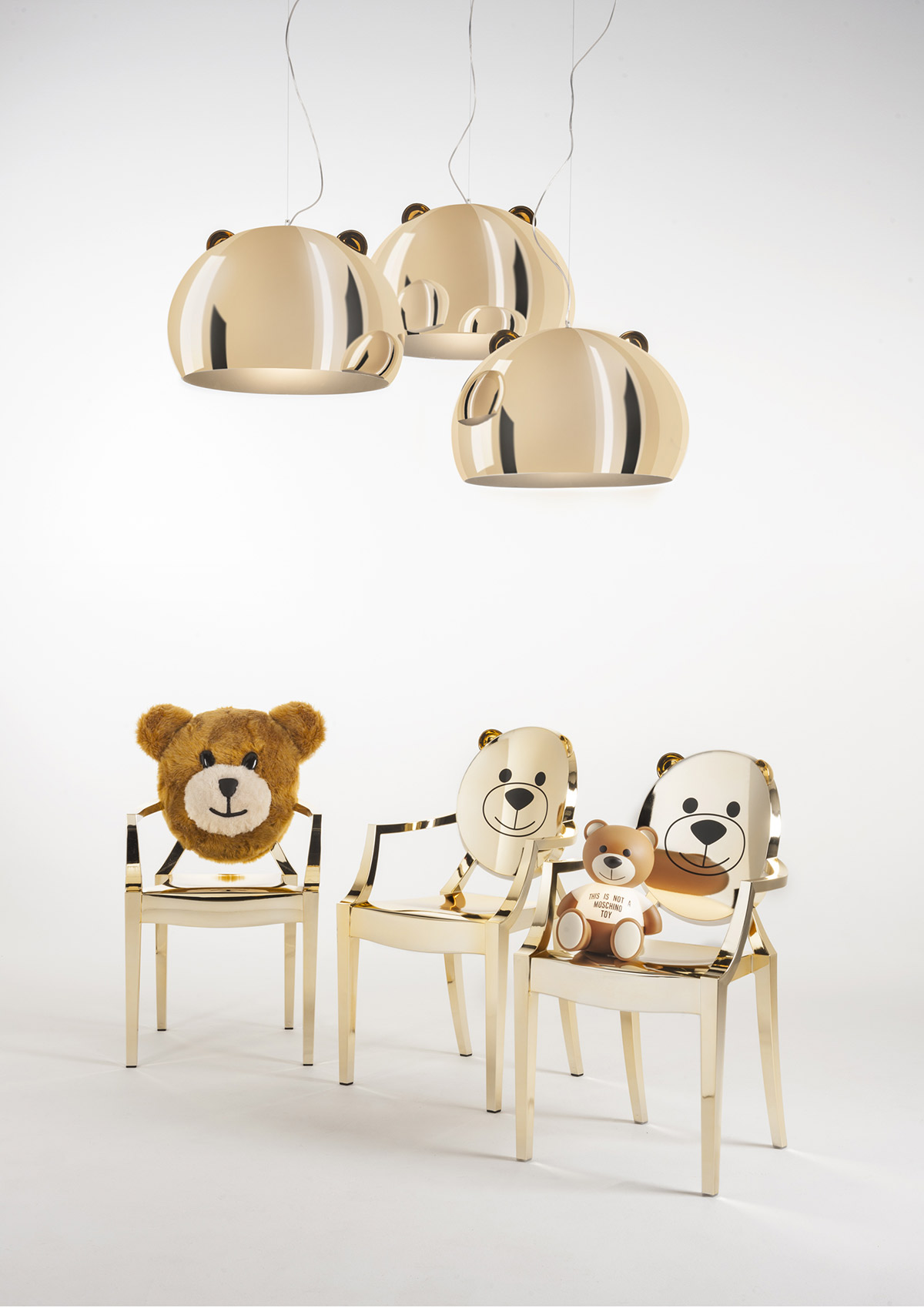 Kartell toy design by Moschino seen at Salone del Mobile.
But Luti is also looking ahead. At this year's Salone del Mobile, Kartell debuted a new collaboration with the Milanese print devotee La DoubleJ, a wild combination of dizzying geometric repeat and floral motifs encasing Kartell's signature framework. The collection's charm is undeniable, installed in the entire front half of the SoHo location with a verve that spills out through the windows and into the streets—and, of course, into the backdrops of selfies around the world. This is no accident, for Luti is well aware an Instagram post is at least as influential as a window display. And that's not the only change: manufacturing technology is constantly updating.
"Maybe one day a robot will make everything," Luti says with a laugh, "but someone must still provide creativity. Products must have a strong personality that can give emotion. It's not like fashion, which is consumer- based. We make pieces that remain—10 years, 20 years—because we imagine them with such strength." Such strength ensures a bright future for Kartell. That much is clear.