Enter the Habitas Clubhouse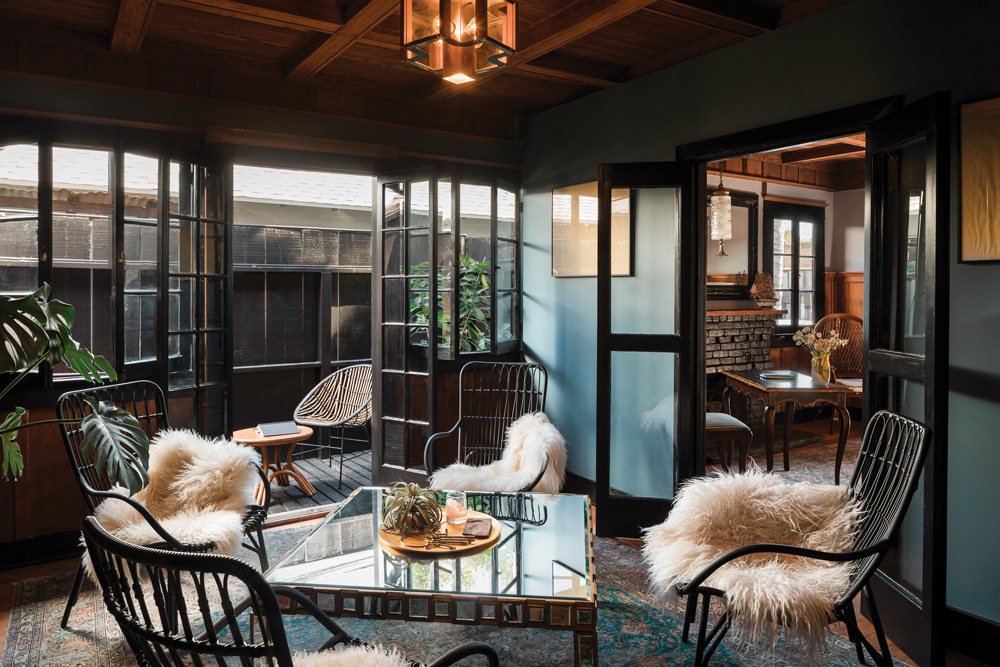 Images: Habitas.
The jet-set lifestyle of luxury escapes is fine and all, but sometimes you just need a home away from home. Somewhere to see old friends and make new ones, with the comfort of a dream house and the amenities of the grandest hotel—a clubhouse, in other words. Fresh from finishing a glass-box-and-palapa resort in Tulum, Mexico, global hospitality company Habitas has opened two stateside.
For the East Coast location, Habitas transformed a six-story 1895 firehouse in midtown Manhattan into an urban hideaway. Upon entry, members are greeted at a reception desk made of repurposed luggage from a famed 1940s jazz singer, whose repertoire they can make their own at the 1955 Steinway Upright Studio piano by a fireplace in the ground-floor living room. Patrons can also enjoy a communal wet bar, refuel with espresso, and enjoy some snacks and tea service from House of Waris. Should they bring down the house, guests can set up shop in a state-of-the-art recording studio in the former firehouse stables across the courtyard, or access additional workspaces in the second-floor creative lab, break-out suites, or The Nest—a private event space for dinners and performances.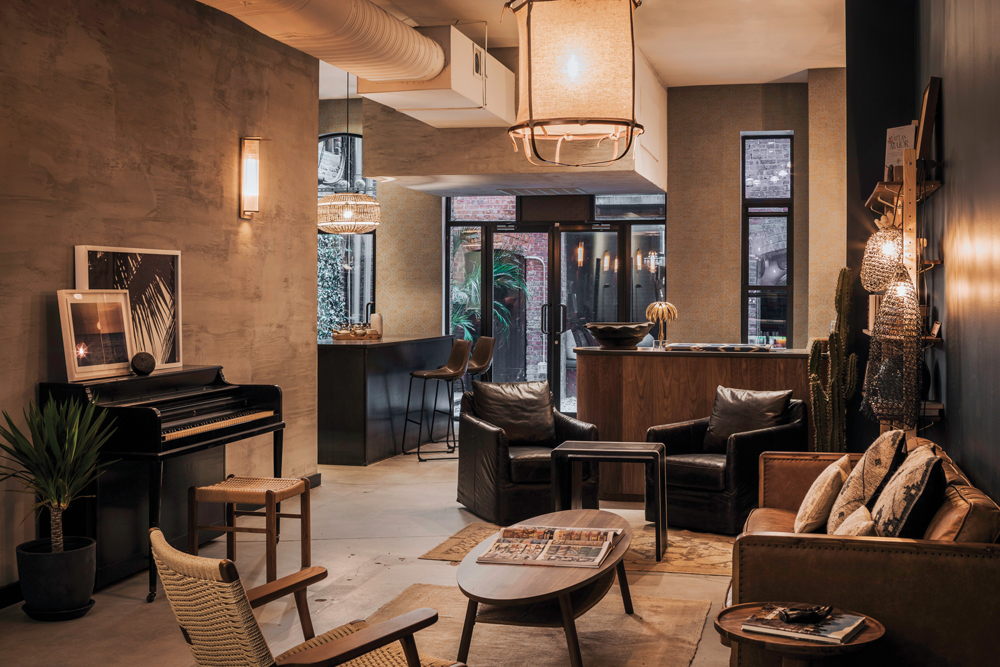 Additionally, Chef Jared Dowling of Anglophilic farm-to-table hotspot The Fat Radish has set up a program of de rigueur grain bowls and chia puddings freshened up with seasonal goodies. Plus, he regularly orchestrates full dinner events with one-of-a-kind menus served family style.
The Venice Beach branch, fittingly, is a little less about indulgence and more focused on health and fun in the sun while networking and socializing. The 1940s beach house on Abbot Kinney Boulevard has been furnished in a bohemian mix of Hollywood Regency and hippie-chic décor. Safari chairs and chaise lounges relax in pools of natural light pouring through antique windows still framed in their original redwood. An upstairs loft offers meeting and brainstorming spaces lined with Tatami mats; brainfood comes courtesy of the kitchen's array of healthy snacks and an honor-system bar hidden behind a bookcase. Local artists installed pieces throughout the house, all overseen by an exterior mural nearby courtesy of the beloved Portuguese graffiti and street artist Vhils.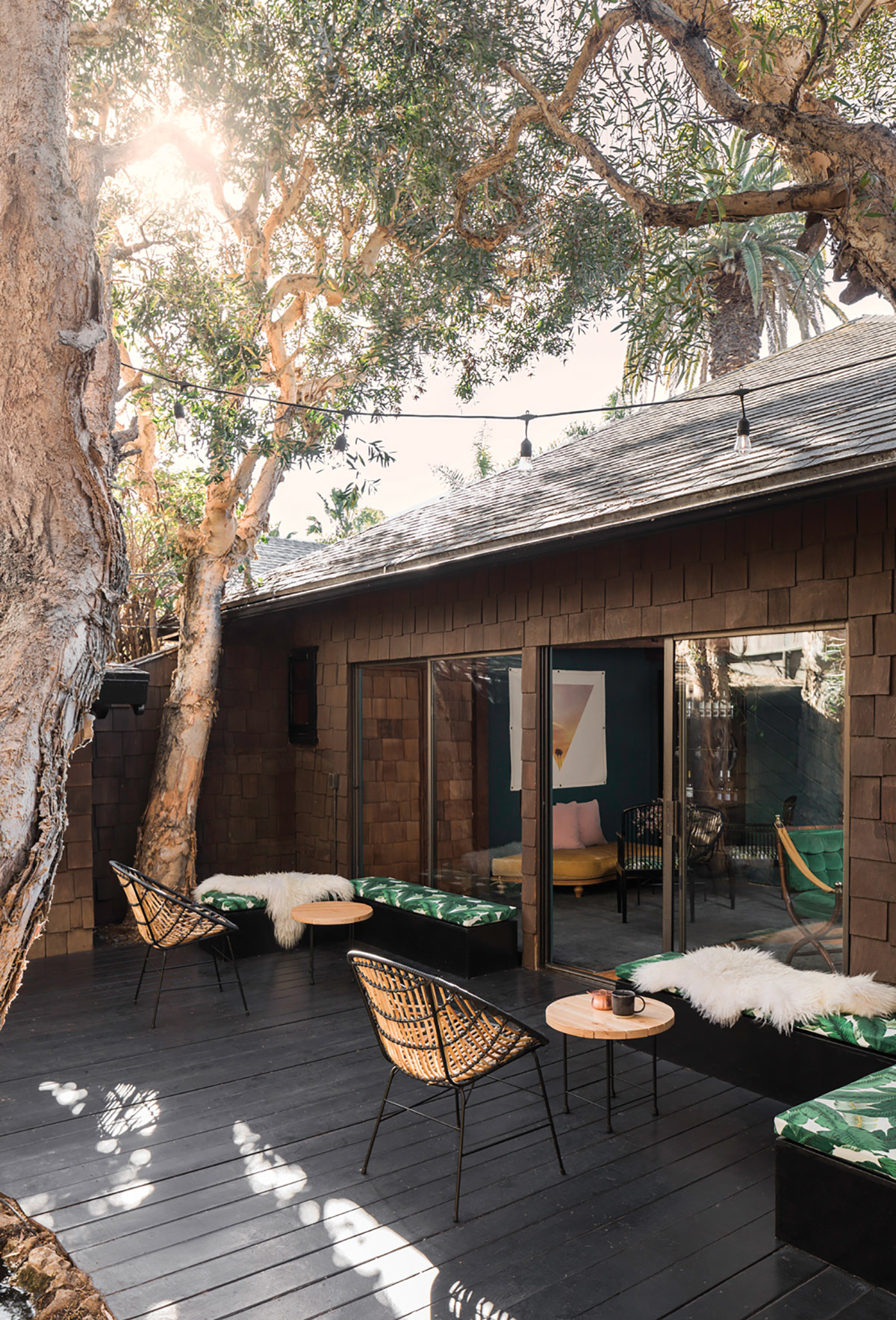 But the real star is the garden, with its glossy black benches and bright floral seating. Members can grab a complimentary surfboard to hit the waves or a beach cruiser to take a spin, then return and wash off the heat in the outdoor shower. Once the body is nurtured, guests can focus on the spirit in the wellness center, housed in a converted garage: some yoga, some meditation, and a little om sweet om.