J.Crew Opens Ludlow Shop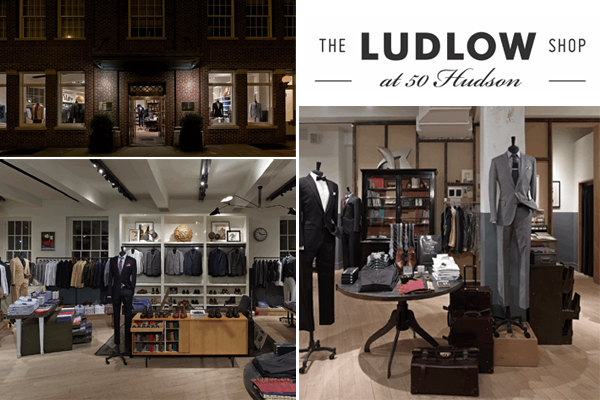 The opening of J.Crew's new Ludlow Shop today has us thinking that the world of men's suiting is home to a new enfant terrible. Ok. So J.Crew is hardly new to men's formal attire—for many its been an open secret for years that the label made perfet go-to suits—but they'd yet to arrive to the table of suiting prestige. As of today, you can go to the Ludlow Shop (at 50 Ludlow in Tribecca) for a j.Crew suit shopping experience that tailor-makes whatever it is you are looking for.
This shouldn't come as a shock. J.Crew's renown Ludlow suit's mix of old world charm and modern shape, have made it one of the most popular items at the Liquor Store, their men's shop over on West Broadway. The suit became so popular that J.Crew has had to expand its operations and give the suit its very own store. At the Ludlow, you'll get a personalized experience with in house suiting experts helping to match you with the perfect suit. (They'll also tailor, monogram and deliver door-to-door via courier).
Inside the copious space, a mish-mash of slick design pieces from almost every generation since the Civil War (a vintage Meis van der Rohe sofa, an original 50s George Nelson Omni shelving unit, a 19th century shelving unit, a turntable from the 70s) make the space perfectly comfortable for shopping and will certainly leave you inspired. Indeed, J.Crew suiting has arrived.
J. Crew Ludlow shop is located at 50 Hudson Street at Thomas Street . New York, New York 10013 . 212.587.3139