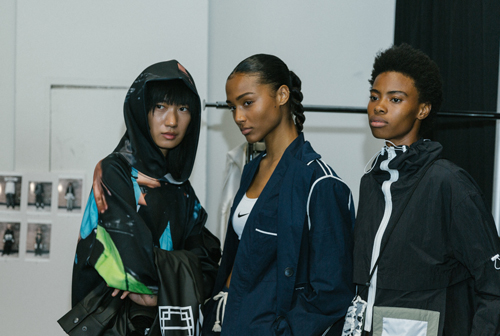 IISE Makes Stunning Politically Charged NYFW Debut
Images: Justin Ryan Kim.
As part of Concept Korea's initiative to introduce Korean designers to a global audience, IISE made its fashion week debut with an aggressive Spring/Summer 19 collection. The Seoul-based label, founded by brothers Terrence and Kevin Kim (born and raised in New Jersey), incorporated distinct elements of riot gear in the presentation inspired by the demonstrations in Seoul that led to the impeachment of the former president just last year. We should take note.
"We're traditionally a menswear brand and more streetwear focused," Kevin tells me in the studio, two days before the inaugural show. "But every season it gets a little more refined." While it's their first official presentation as part of New York Fashion Week, the designers cast male and female models to walk the show.
The brand originated in 2012 as a vehicle to merge the style influences of traditional Korean elements with streetwear edge and high-performance materials. "East and West, and old and new," he clarifies. "It's a true reflection of our identity 'cause we're not 100% American or 100% Korean, but a mix of both cultures. That's what is shown through our product."
An example that stands out is the hanbok (a Korean kimono) made with a type of a nylon-like material. Additionally, the brand makes a case for the utility pack (a more literal reference to police uniforms) as the new fanny pack. The various interpretations being worn on the shoulders, arms, and legs almost like holsters is a welcome interpretation of the larger workwear trend. Mixing streetwear and workwear with a message of political dissent shows that now is the perfect time for IISE to introduce itself to the world.