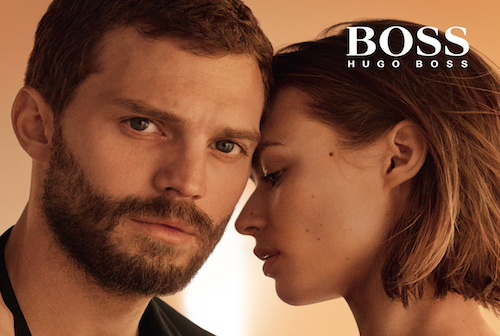 Jamie Dornan Talks About BOSS The Scent
Epitome of cinematic sensuality, Jamie Dornan was chosen as the ambassador of BOSS THE SCENT, which focuses on heightened senses of seduction in a highly disconnected world. In a short film by Drake Doremus, Dornan and co-star model Brigit Kos, grace the lines of seduction in a virtual world where the couple gets hot and steamy in a VR environment only to transcend that connection into the real world through the power of fragrance.
The sensual existence embraces each of the senses to heighten the experience on another level. In the film, Dornan and Kos learn that by pulling out of reality and letting go of their sight they increase the sensuality of other senses, forcing them to be enamored with each other even more.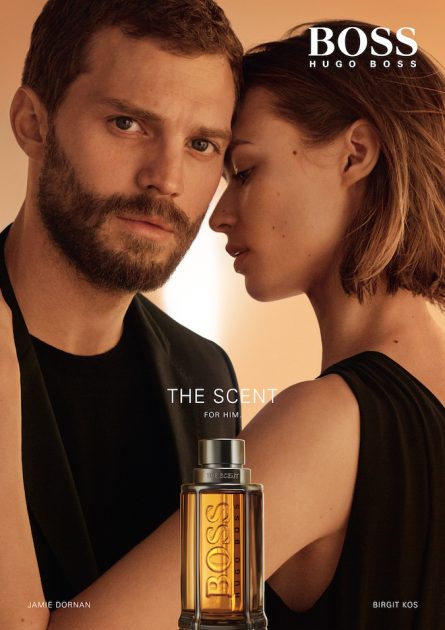 Photo: Courtesy of BOSS
"How do you depict sensuality now in such a technological world? Something that can't really be faked is scent and smell, and all the senses are sort of needed to create seduction," Dornan says, as we sat at the Gansevoort Hotel watching the rain pour buckets over New York's Fashion Week. Dornan would later attend the BOSS show himself before flying out to Toronto Film Festival. Between now and December, he has three movies and a TV show coming out. 
The filming of the advertisement took place in Baku at the new arena built exclusively for Eurovision several years back. "We were in Baku in Azerbaijan three days before Christmas. I've been working in Jordan doing A Private War and suddenly I had to get to Azerbaijan three days before Christmas and shoot this out. It was kind of amazing," says Dornan. Baku Crystal Hall is in of itself a contemporary, sleek building with soft lines and tender edges furthering Doremus' original idea. 
Dornan has had a longstanding relationship with BOSS since 2003, making the new collaboration an honor of the history between the two and also a chance to work on a newly ambitious project. Dornan himself is quite a minimalist when it comes to details like scent (which he now has a lifetime supply of.) He doesn't wear various scents and instead focuses on one option that covers every occasion. "It feels very everyday. It's not too overpowering. You don't need a huge amount of it," says Dornan about BOSS THE SCENT. The Private Accord for Him is built with an aphrodisiac twist on the 2015 original with the cocoa base. Scent notes are further intensified with mocha, ginger and maninka fruit.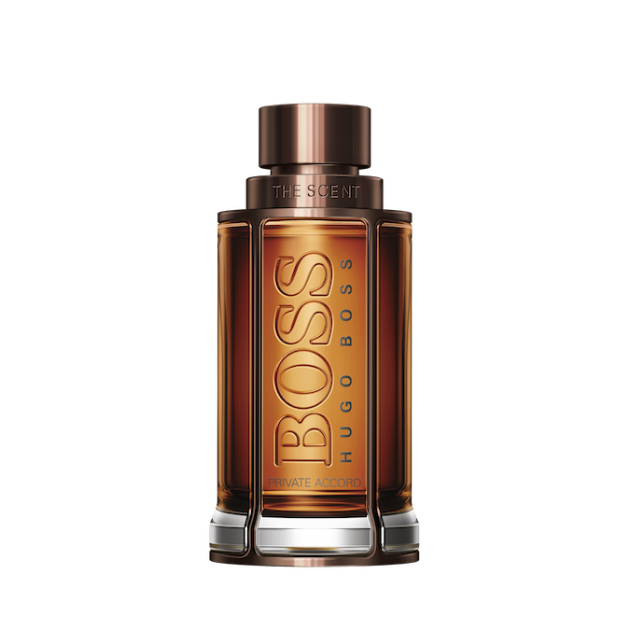 Photo: Courtesy of BOSS
The resulting eau de parfum is a light amber colored cocktail, elegantly smooth and unimposing. "It's a very important sense, smell. It's needed for the attraction and seduction, so you have custom control over that," says Dornan and BOSS offers exactly that — choice over how you feel, smell, and present yourself. 
BOSS THE SCENT Private Accord for Him is available at Macys.com.