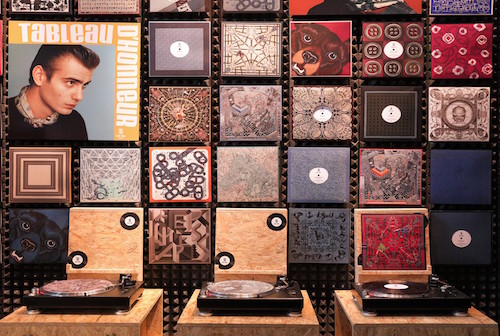 Hermès Transforms its Madison Ave Boutique into a Record Store
Hermès' Madison Ave boutique has done a complete revamp for 10 days as part of the label's men's Silk Series initiative, meant to highlight the broad range of scarves and other accessories.
The collection of silk designs is presented in store in vinyl format as album covers of records making this experience a highly interactive one. Guests are invited to browse through the records to pick the perfect design, similar to how they would pick a record that speaks to them. This approach offers guests an opportunity to explore the men's silk selection in a conceptually unique manner, while familiarizing themselves with the brand.
Christophe Goineau, the artistic director behind the collection, found this to be a way to keep scarfs and ties part of men's casual attire. His intent in making foulards with funky prints and presenting them in an unorthodox manner is part of the eight dynamic takeover animations that Hermès will host this year.
[slider_pro id="206″]