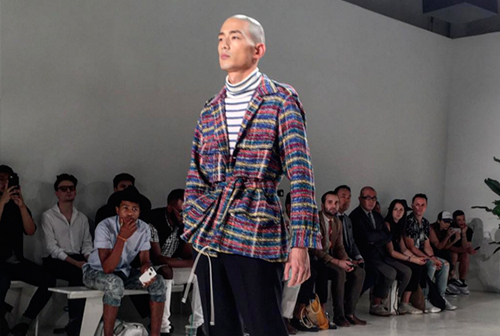 From Our View – New York Fashion Week Men's Spring/Summer 2017
The front row in the fast lane.
You've gone backstage, and followed all our favorite looks on Instagram. Show tunes? Oh right, check, you did that. But just in case anything might have slipped through the cracks, here we recap our favorite snaps from New York Fashion Week Men's Spring/Summer 2017.
Perry Ellis
Perry Ellis offers up a wide range of colors and floral patterns in super-sporty shapes, a surprising contrast that freshens up some sportswear staples.
Palmiers Du Mal
Palmiers Du Mal creates a fantastical world and set of characters through whimsical shapes and prints.
Deveaux
The Greek Islands served as inspiration for Deveaux, whose thoughtfully breezy outfits played with the relationship between structure and draping.
Tommy Hilfiger
Tommy Hilfiger's Spring/Summer 2017 collection redefined the word "preppy," sticking to the brand's signature red-white-and-blue color palette while creating some of its edgiest and most modern silhouettes yet.
PLAC
PLAC's silhouettes are so wrong they're right, placing minimal pieces in slightly off-kilter positions to create a new kind of visual interest.
David Hart
The '60's are alive and thriving in David Hart's interpretation of retro, California surfwear.
Follow ESSENTIAL HOMME on Instagram at @EssentialHomme.