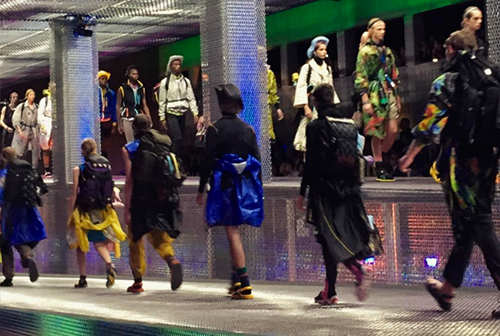 From Our View – Milan Fashion Week Spring/Summer 2017
The front row in the fast lane.
You've gone backstage, and followed all our favorite looks on Instagram. Show tunes? Oh right, check, you did that. But just in case anything might have slipped through the cracks, here we recap our favorite snaps from Milan Fashion Week Spring/Summer 2017.
Gucci
Gucci continues to broaden the context of the brand with its Spring/Summer 2017 presentation, with bold colors, prints, and seemingly endless detail—making the case for maximalism.
Dolce&Gabbana
Dolce&Gabbana combines early-20th century swagger with '80s and '90s silhouettes, highlighting musical imagery and summery animal/pineapple prints.
Moncler Gamme Bleu
Moncler Gamme Bleu re-imagines the Boy Scout in a fantastical play on functionality, where excessive pockets became a sculptural tool and materials like corduroy and plastics lose their occupational histories.
Prada
Offering a new side of the fashion house, Prada's Spring/Summer 2017 collection outfitted models for a high-fashion camping trip, backpacks included.
Dsquared2
Dsquared2 draws on Britain's various historical subcultures, decking each model out in unmistakably Ziggy Stardust boots and a series of style hallmarks from punk, skinhead, and ska culture.
Follow ESSENTIAL HOMME on Instagram at @EssentialHomme.