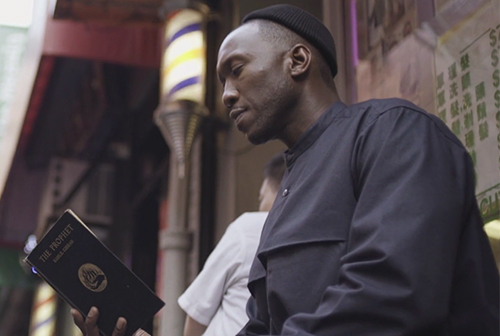 Death to Tennis Releases Short Film Starring Mahershala Ali

Video: Death to Tennis.
Growing menswear brand Death to Tennis has released a new short film, "Gangsters & Explorers," for its online "Death To" videography series. Releasing alongside the brand's Autumn/Winter 2016 collection, the film stars Mahershala Ali – "The Hunger Games" and "The Curious Case of Benjamin Button" – as he walks the streets of Manhattan's Chinatown, reading a poem from the seminal classic "The Prophet" by Kahlil Gibran. The collection is inspired by underworld gangster-style with bold, masculine silhouettes, high-waisted trousers, pleats, and cropped jackets. Ali models the range, pairing a monochrome navy overcoat and trousers with white sneakers and a black beanie. As he passes Chinese restaurants and street vendors he seems moved by the poem from which he reads, a verse exploring the theme of life governed by time and love. "Who among you does not feel that his power to love is boundless?" he laments. Unified by a shared artistic vision, Death to Tennis was founded in 2011 by British designers William Watson and Vincent Oshin, veterans of the industry with previous roles at Ralph Lauren and as a stylist, respectively. The new collection epitomizes the brand, which is known for its strong cuts, oversized fittings, and A-line coats executed in a minimalist, modern style.
The Death to Tennis Autumn/Winter 2016 collection is available in select stores now.