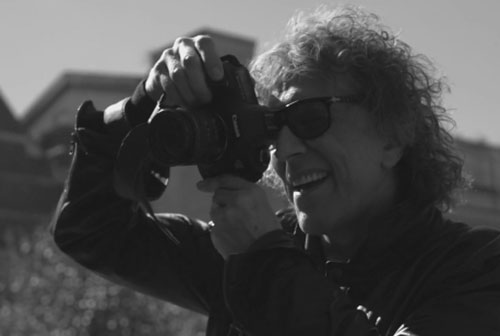 John Varvatos Presents Short Film with Photographer Mick Rock
Video: John Varvatos x Mick Rock
Two rock 'n' roll aficionados, designer John Varvatos and legendary music photographer Mick Rock, reminisce on music, style, and their friendship in the new documentary "Long Live Rock." Though they walk the streets of modern London, they see them in a '70s hue – in all of its bacchanal "sex, drugs, and rock 'n' roll" glory. "Do we need to talk about sex and drugs?" the photographer asks as he walks between the Blakes Hotel, the Wetherby Mansions, and the Dorchester Hotel, where he took some of his famous photographs that earned him the moniker "The Man Who Shot the Seventies." Several of his images, including Queen's "Bohemian Rhapsody" cover and the iconic Ziggy Stardust collection, were shot nearby. "I was on an acid trip when I first picked up a camera," he says, thumbing through photos of Mick Jagger, David Bowie, Lou Reed, and Iggy Pop. In one tender photograph, Jagger laughs as he wraps his arms around the fellow musicians like they were brothers. The photo was taken on the night of Bowie's last performance as Ziggy Stardust.
"Mick has created emotional and powerful images that transcend time, while defining pop culture history," Varvatos relates, discussing how they bonded over their mutual passion for music. Their relationship has blossomed, and the two have collaborated to work on respective books about rock 'n' roll and music's intimate relationship with fashion, celebrating them in conversation in London. Varvatos draws artistic inspiration from both Mick and the epoch he captured, evident in his designs, which often boast edgy, yet classic styles. Even in his latest autumn/winter collection, Varvatos declares: "Rock is dead. Long live rock." Directed by Benjie Croce and washed in gorgeous, high-contrast black and white, the elegant cinematography honors the photographer's style where the chiaroscuro, reminiscent of the classic Bohemian Rhapsody shot, carves out faces from shadow. "Long Live Rock" is the latest episode in Varvatos' "JV on Tour" series, which explores the world and signature style of John Varvatos.
The Long Live Rock series is available online now.