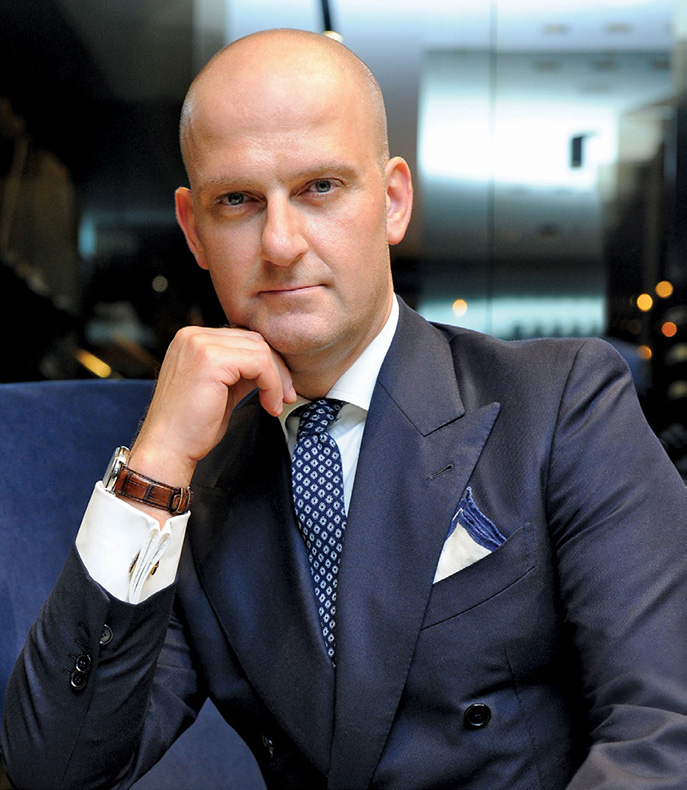 CONVERSATIONS: Giuseppe Santoni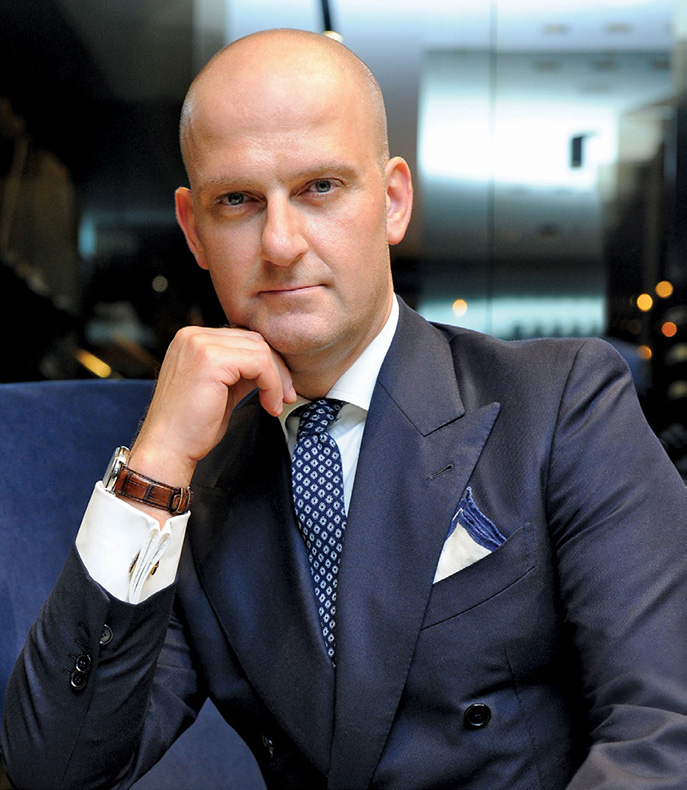 Image: Santoni.
Building off his father's footwear legacy, Santoni CEO Giuseppe Santoni expertly walks the line between traditional technique and forward reaching style—in handcrafted leather loafers, of course. 
EH: Italians have the historical reputation of being quality shoemakers. Where did that come from?
GS: In Italy, we have an important tradition of handmade goods in general. Our attitude towards handwork is very strong and has strong roots. This is also true for shoes—some districts are even dedicated to shoemaking, like [my family's] region, the Marche.
EH: Have men's perspectives on the importance of shoes changed throughout the years?
GS: Men have always been very keen to shoes, but [now] we are assisting to a clearer process: the growing importance of shoes and accessories in the definition of one's style. [Today], men start with their shoes to decide their outfit.
EH: What can you tell about a man from the kind of shoes he wears?
GS: When you look at a man's shoes, you really get an idea of the kind of person you are speaking with. [They] really distinguish a man's taste level and the energy he has in doing things. When he takes great care in selecting and keeping up with his shoes, it's noticeable. Clothing is important, but for many men—especially those in business—it's hard to dress very different. With shoes you can really give a distinguished touch.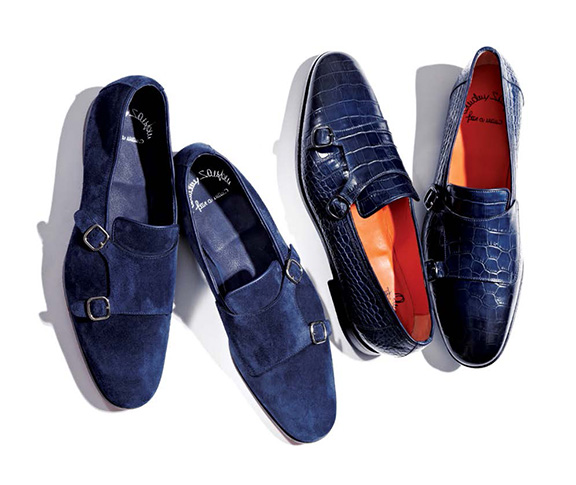 Image: Santoni.
EH: And what do your shoes say about you?
GS: For myself, I like double-buckle monk strap shoes or moccasin loafers—very traditional. [But I] wear many other types, because I personally test every Santoni shoe before it goes into production. I'm really a shoe fanatic, so I love it.
EH: More than any other garment or accessory you could argue that shoes need to be especially comfortable, since we're on our feet a majority of the day. How important is comfort for Santoni's shoes?  
GS: It is important to have comfort in your shoes: to not walk around and have two weeks of back pain after only one day of wear. My father gave me the passion for details and quality, but he was most famous for his fit. Today, Santoni has a style specially made with a latex sole—100 percent pure rubber—that is a classic shoe, but feels just like a sneaker. We also use shell cordovan as a material. This leather has been specially treated with a traditional tanning process so that when you wear it, the heat of your feet regenerates the leather, allowing it to become softer and warmer.
EH: It seems to me that Santoni is tethered between heritage—in terms of craftsmanship and technique—and modernism, especially when it comes to design. 
GS: We've created a mixture of cultures in the company. Still keeping the workmanship from my father and the workers that have stayed with the company for the past 30 to 40 years, I've added a very young and innovative team of designers from all over the world. We mixed these ideas to reinterpret our classic shoes in a young point of view. I myself am the balance between these two worlds. I worked the line since I was very young, so I know how to make the shoes, but I also know how to direct my team. I can put together the two elements of innovation and tradition.
EH: Do you think that balance reflects men's taste?
GS: Our vision reflects the evolution of the market, and our goal is to combine classic and contemporary—or better, to make the classic contemporary and stylish. This is possible only if you offer a quality product, made by the rule of book, with an extreme, and maniacal attention for details, which I know really makes the difference.
EH: This sort of balance of tradition and innovation applies to your literal infrastructure as well. You've been able to transform the company into an environmentally friendly operation.
GS: I've remade the company in a very green way. We finished construction for our new offices in 2011 using 90 percent recyclable materials. Now, a "double skin" facade allows our building—which is completely transparent—to function as a real greenhouse during the winter months and as a solar chimney during the summer. We've been able to cut down energy by 40 percent. We also have solar panels on our roof and through their work, we actually produce more energy than we require. We recycle rainwater for our toilets and production use. We are sensitive to the environment, sensitive to the future, and we try to be responsible in order to protect the planet as much as we can.
EH: Santoni started as your father's local workshop and is now an internationally known brand. It's been said that one of the first stages in becoming a respected shoemaker is to "learn the shape" of the shoe. Where would you say you are today?
GS: When I started, the company was very small. We had maybe 15 to 20 people. Now the dimension of the company is a little bit bigger. We are very proud to still have complete quality and production control, but now we have about 400 people making shoes every day. The business is a bit more complicated. When you compare yourself to the global world, there become new stages of where to get to, and new challenges and possibilities for my family and me. This is my personal passion. I consider myself really happy now, because I'm doing what I always dreamed of doing.
EH: Which trends do you see in footwear for the future?
GS: A less-traditional division between classic and casual, and much more attention to details and quality. Value for money will be more and more important—even in high-end products—because people can recognize the true value of a product and are ready to pay if they are sure they are getting quality.
EH: Speaking of the future, what are you most excited about in Santoni's upcoming spring collection?
GS: One of my favorite styles is the slipper with a double buckle. [It's] a good example of how we combine a classic element, like the double buckle, to a very trendy shape. [Another] version—crocodile and colored by hand—is definitely a shoe for connoisseurs: super chic, effortless in the shape, precious in the material. This kind of combination is what we like, and what we can do very well! Or at least we hope so.