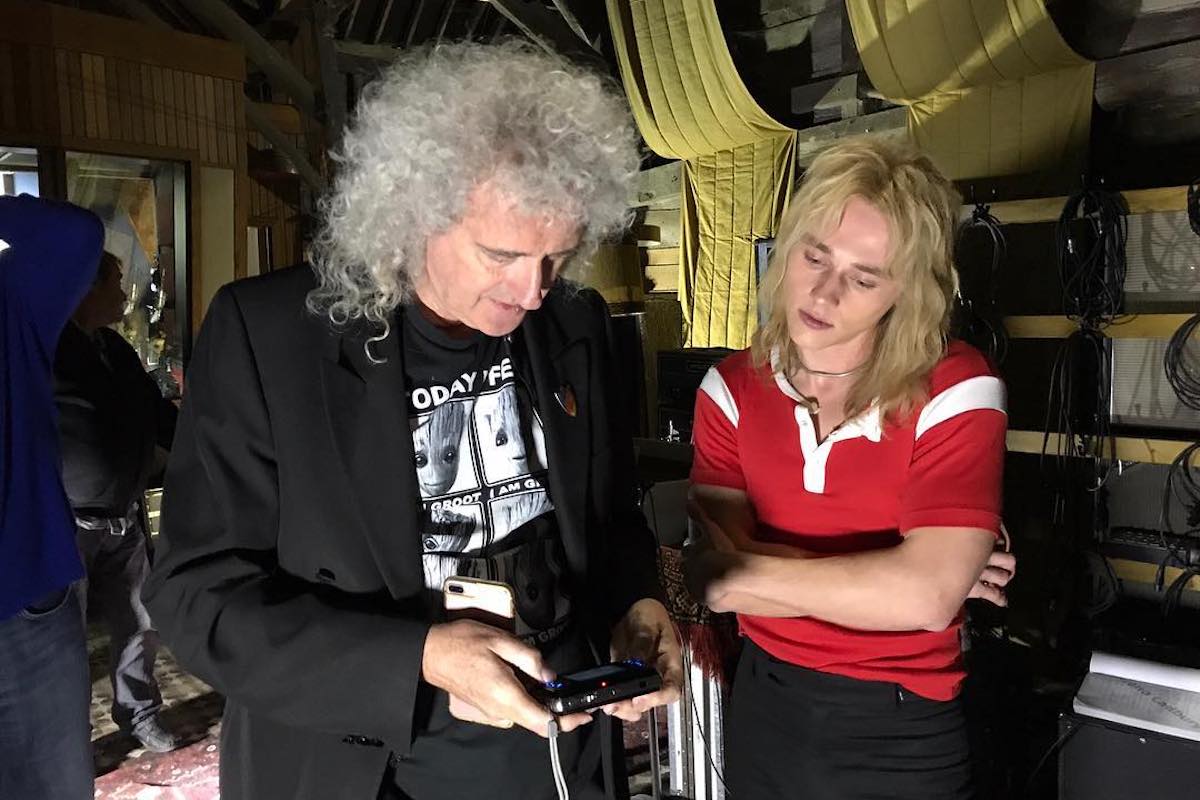 Ben Hardy: Under Pressure
English actor Ben Hardy, known for his role as Peter Beale in the BBC soap opera EastEnders, made his film debut in 2016 as Archangel in X-Men: Apocalypse, and has now escalated to the mainstream as Queen drummer, Roger Taylor, in the electrifying Freddie Mercury biopic, Bohemian Rhapsody. Though the film is largely polarizing, Ben Hardy's portrayal of Roger Taylor is dedicated and genuine, additionally serving as a large part of the film's comic relief. From his depiction of Taylor's prickly relationship with Mercury (Rami Malek), to the multitude of takes of the renowned "Galileo" falsetto in the title song (one that risked a vocal injury for the harmonizing drummer), and the coin-bouncing on drum skins in the recording studio, Hardy dived head first into the portrayal of one of the world's greatest drummers.
When it came to preparing for the role, the 26-year-old actor began with the most obvious kind of research. "I spent hours researching online," Hardy says over email. "It was a different experience – with most jobs you have to build the character from scratch, but with Bohemian Rhapsody there was a wealth of incredibly useful information online to tap into."
Though he doesn't come from an especially musical background (with the exception of having played "the very rock and roll instrument of the clarinet as a teenager"), Hardy admits that it was impossible to grow up in the UK without being at least moderately acquainted with Queen – though he only delved into their albums fully when he was "already in the mix" to be cast as Roger Taylor. But, Hardy considers himself a big fan of Queen's music – especially the albums Queen I and Queen II, with "White Queen (As It Began)" as his favorite song. "I think one of the many keys to [the band's] continued success is their ability to evolve within their music," Hardy explained. "You see, many bands have one or two great albums, [with] a really interesting, unique sound, but then they dip off, as they don't know [how] to evolve that sound and keep what is so great about them [while still] continuing to explore. Queen did this so successfully, which is why their music spans generations."
And generations it does. Unlike many biopics, Bohemian Rhapsody is worth seeing to hear Queen's beloved hits on the theater speakers, at the very least. The veracity of the depiction of the ins and outs of Freddie's life in the film may perhaps be debatable, but the film gives full justice to every fathomable Queen hit. Naturally, one wonders about the struggles of depicting a legendary musician such as Taylor (who is still alive and well, probably with his own opinions on Hardy's portrayal of himself) in a motion picture where music is one of the few universally acknowledged aspects that lived up to the expectations of both viewers and critics. But apparently, Roger Taylor was a pleasure to work with. "Meeting Roger was an incredibly nerve-wracking moment," Hardy admits. "But, an absolute privilege. He was nothing but supportive from day one."
Looking back at the making of Bohemian Rhapsody, Hardy recalls that arguably the most difficult part of the process was learning his way around the drums in such a limited amount of time. "Whilst I could never be as good a drummer as Rog in the short space of time (if ever), I wanted to do my best to do justice to the man's talent." And few would dispute that Hardy's Roger Taylor does not fall short of the drummer's skill, devotion to his craft, and tempestuous propensities during the era of Queen.
In his spare time, Hardy likes to play guitar. "Not that I'm very good at it," he shares. Other than that, the actor likes to box when unwinding from filming and rehearsals. "And I like to head to the pub with my friends," he added.
Bohemian Rhapsody premiered in US theaters November 2, 2018, one week after the UK release date. Check out the trailer below.