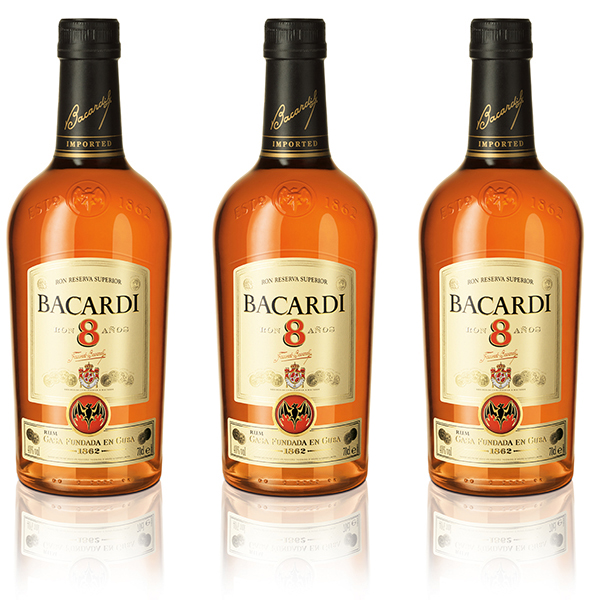 Bacardi 8 Year Rum – Time to Sip your Rum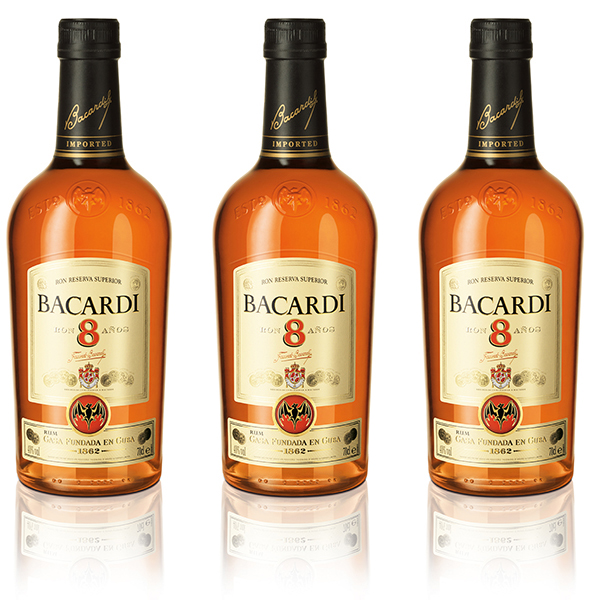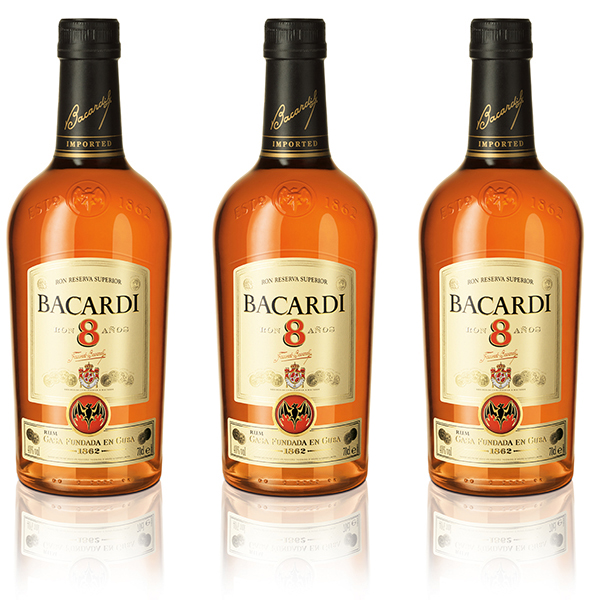 When most people think about Bacardi, they think Bacardi Superior white rum. This is the rum that you'll find behind most bars, and typically it's you'll get when you order a 'Rum and Coke." Bacardi Superior is very light, slightly sweet, dry and clean, perfect for mixing into cocktails, and it goes well in Coke.
The universe of rum is vast with a tremendous number of different kinds of offerings beyond the basic white rum. Bacardi 8 Year Aged Rum is a great way to begin your exploration of rum beyond the standard white rum. It maintains many of the same easy qualities while adding to the mix flavors that come from the aging process.
Bacardi 8 Year Aged Rum has a light and soft nose with vanilla, brown sugar, and the slightest undercurrent of oak spice. The entry is soft and sweet with the vanilla and brown sugar leading and a subtle, charred oak note underneath. The oak spice builds slightly in the midpalate where it picks up the slightest bit of heat for a solid and clean finish.
Bacardi 8 Year Rum performs solidly both as a sipping rum served neat or over rocks, and as a mixing rum. Perhaps the best way to enjoy Bacardi 8 is in an Old Fashioned where the soft and flavorful qualities all come together.
Rum Old Fashioned
2 oz of Bacardi 8 Year Aged Rum
1 sugar cube or 1 tsp of sugar
3 dashes of bitters (Angostura, Cherry, or Chocolate Bitters all work well)
A dash of water or soda water (no more than 1 tsp)
Orange and Lemon Zest
Put the sugar in a glass and add the bitters and water. Stir together until the sugar has completely dissolved. Add the Bacardi 8 Year Rum and ice and stir well (at least 30 stirs). Add both a lemon and orange zest.