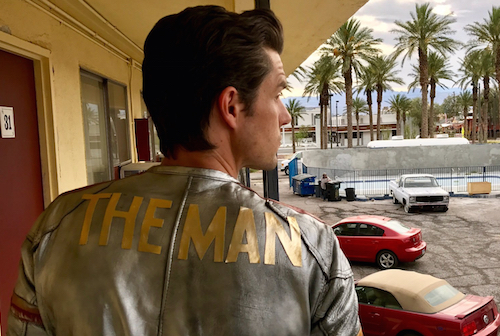 5 Videos that Show The Killers' Signature Style
Throughout their career, Las Vegas-born rock band The Killers have given us a whole canon of new rock standards. Additionally, their neon-garage-arena-rock hybrid has been perfectly encapsulated in a series of highbrow music videos. Here, we chronicle the band's (and our latest cover star Brandon Flowers) signature new age Western style and its growth over their 13 year career.
The whole band is dressed like a renegade cowboy posse, which no doubt helped establish their signature Western look. Some takeaways are the slightly baggy belted pants and the loose jacket with gloves and a Western scarf. The overall effect is an ironic and charming cowboy getup whose remnants can still be seen today — remember the Calvin Klein SS/18 show? New Americana lives on.
Flowers fulfills his Bowie fantasy with a structured feathery red and black spacesuit with dramatic shoulder pads that wouldn't seem out of place in a Bjork video. There's a lot going on here — chandeliers, printed full body suits, and a party on a Wicker Man-like structure, oh my — this carnivalesque jumpsuit takes the cake.
In this Killers new-wave classic the band jams in a Utah desert while Flowers wears a black blazer with golden feathers (he loves feathers) on the shoulder, gold details on the front pocket, and gold buttons. It is the epitome of The Killers' subversive retro yet theatrical rock style. It is perhaps one of the coolest and most daring pieces that the band has worn in their videos. And while it might be a wee bit extra for everyday wear, it shows the versatility of Flowers' signature look.
It is utterly captivating watching Flowers croon over the Vegas skyline in yet another sharp suit – the man knows what works for him. The tailoring is impeccable and the added use of the oversized bolo tie adds a dramatic country flair to a classic silhouette. It's a basic crash course in wearing the suit and not letting the suit wear you. And whoever Brandon's tailor is deserves a raise.
In one the recent video for the lead single off their fifth album, Wonderful Wonderful, Flowers plays the part of several fallen male archetypes while wearing a differently exaggerated outfit to match the tongue-in-cheek tone of the song. In one scene, Flowers dons a black leather jacket with red stitching designs in the back with subtle fringe details, in another he is wearing a sheer blue cowboy shirt with fringe details and bolo tie. Then, as an annoying playboy, he rocks a fitted black tux. All the looks manage to parody traditional American masculinity while still remaining fresh.