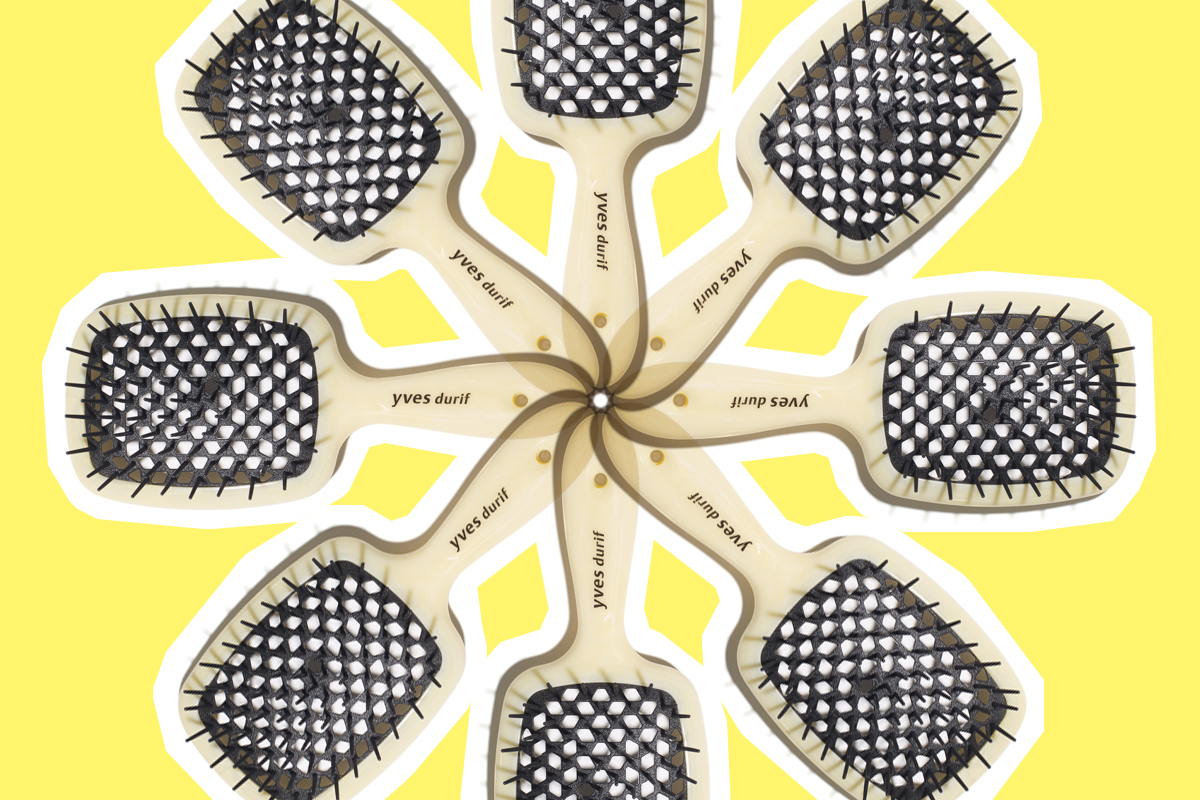 Yves Durif's New Carbon Fiber Brush is a Must-Have
Yves Durif, celebrity hairstylist and namesake boutique salon founder, has released the Carbon-Fiber Vented Brush — a new must-have essential from his hair care collection. The brush is handcrafted in Italy from natural rubber resin and carbon fiber (making it light and easy to maneuver), and is heat-resistant, glue-free and anti-static, much like Durif's signature Comb and Classic Brush. Perfectly useable on both wet and dry hair, the brush can also be used with a blowdryer, adding a noticeable difference to your hair volume for that Hollywood glow.
"The Vented Brush is a jewel in my trio of hair care tools, lightweight and simple to use," Durif said in a statement. "I strive to make it easy for my clients to take pleasure in keeping hair healthy and beautiful."
Amelie LeMoine, who joined the Yves Durif team in 2012, is not only a stylist, colorist, and professional beauty educator, but also someone who specializes in men's hair care at The Yves Durif Salon at The Carlyle. Below, she outlined some tips for men's hair care.
Immediately after shampooing AND conditioning your hair, run your fingers through your hair in the direction that you want it to go, to achieve the style you want. Then, comb with a wide tooth comb (The Yves Durif Comb, of course!). Avoid brushing wet hair, as it can be damaging.
Sideburns for a man are the equivalent of makeup or blush for a woman. They make a tremendous difference in the look of your face and hair. Make sure not to cut them too short. Depending on their length, it accentuates your cheekbones and jawline.
Remember that when a man is with his hairstylist, attention should be paid to his eyebrows as well. Another vital "accessory" for the face. They should be trimmed, if necessary.
Beards are great and trendy – no matter what shape or length. Just make sure to correctly shave your neck, up to the beard line.
For a great connection with your hairstylist, please be sure to turn off your cell phone when your hair is being cut.
Finally, remember to trim your hair regularly, even if you wear it long, as this will maintain the healthy appearance and the desired and fresh look of the haircut.
The Yves Durif Vented Brush is available online now at VioletGrey and Yves Durif.