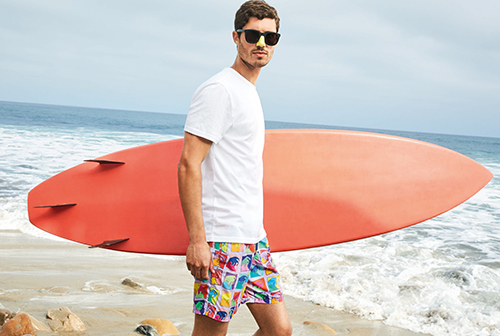 Vilebrequin & Alex Israel Find the Perfect Wave in New Swimsuit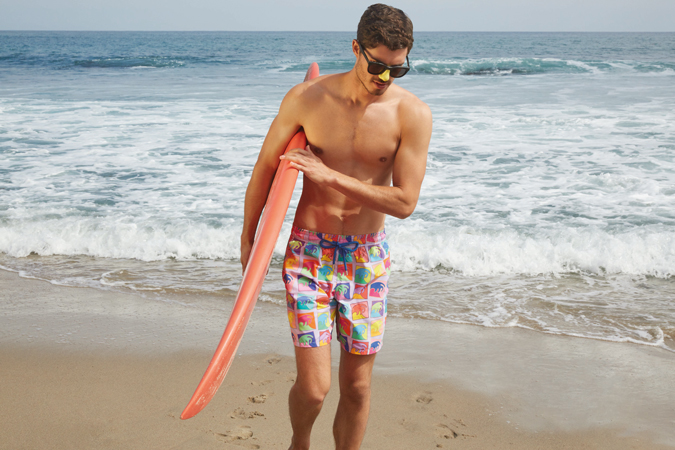 Image: Vilebrequin & Alex Israel.
With a goal to keep the California dream alive and well all year long, swimsuit label Vilebrequin and west coast artist Alex Israel team for a pop-art limited edition Moorea swimsuit of a red-hot caliber. In creating his new teen art film "SPF-18," inspired by the suntanned surf classic "The Endless Summer" by Bruce Brown, Israel crafted an animated dream sequence featuring the elusive "perfect wave," a surfer legend that evokes an unquenched thirst through obsessive chase. In his sketches, the artist found a natural pull towards fashion, aiming to cover beach goers in the same mesmerizing spirit of the mythical surfer trope. Joining forces with Fred Prysquel's Vilebrequin seemed a no-brainer, whose line of Saint-Tropez swimwear has redefined the swimmer's sect into one of high fashion and fascinating design. The resulting piece from the collaboration, an almost Warhol-ian ode to summer and the sticky-sweet dreamland of Los Angeles, is a scorching swim trunk that sizzles as it hits the surf scene. The perfect wave might always be just out of reach, but the prismatic Israel board shorts more than make up for it.
The Vilebrequin & Alex Israel limited edition Moorea swimsuit is available online now.