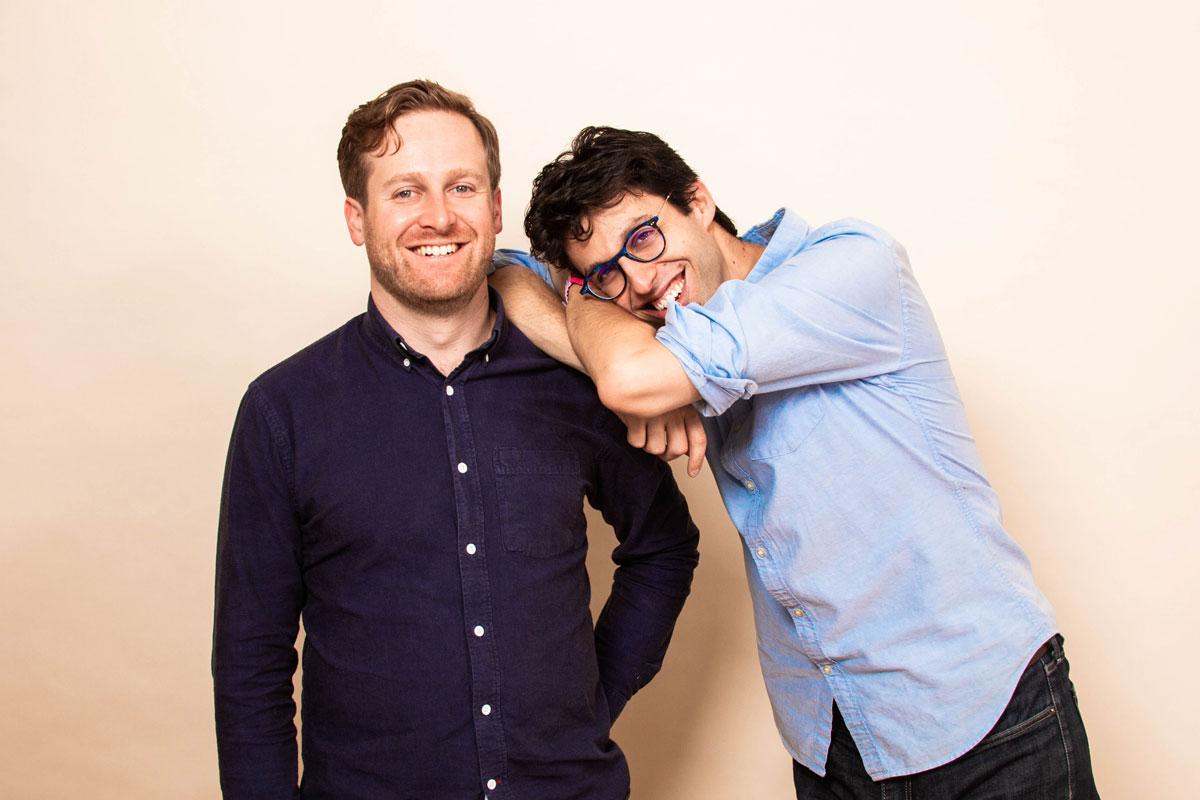 The Men Behind 'Switched on Pop' Talk the Future of Music
Last year was a huge year for popular music. Lil Nas X came out of nowhere and dominated the charts with his debut country-rap single "Old Town Road," which went from TikTok meme to the longest-running Billboard No. 1 in history. Meanwhile, Mariah Carey ended the decade by extending her own chart record after earning her 19th No. 1 (more than any other solo artist) with "All I Want for Christmas is You," a song that came out in 1994. While the 2010s may have been defined by the shift of indie music to mainstream consciousness, last year was a reminder that pop can still have maximum cultural impact.
No one is more aware of the prevailing relevance of pop music than Charlie Harding and Nate Sloan, two industry professionals who have been analyzing the success of various hit songs on their podcast 'Switched on Pop' since 2014. The pair have recently compiled some of their findings in a new book, Switched on Pop: How Popular Music Works, and Why it Matters, which highlights the technical structure of songs like Rihanna's "We Found Love," Carly Rae Jepsen's "Call Me Maybe," and Luis Fonsi's "Despacito," and how they ended up as global chart fixtures. We caught up with the duo to talk about the current state of pop, the newfound cultural appreciation of the genre, and the future of music in the age of streaming.

EH: Have you noticed an evolution over time on how popular music has evolved? What has changed and what has stayed the same?
One of the most surprising developments in popular music has been the erosion of the chorus as the focal point of a song. The influence of Electronic Dance Music (EDM)—which privileges "the drop" over the chorus—has been a big part of this change, as we outline in our book through the 2011 track "We Found Love" by Rihanna and Calvin Harris. Hip hop has also played a role in reducing the importance of the chorus, and in a track from this year like Kanye West's "Follow God," there's no chorus at all!
EH: How do you feel about the current state of pop right now?
We feel enormously excited. Artists like Billie Eilish and Lizzo are breaking the mold of what a pop star can look and sound like, and younger listeners of our show report how refreshing and inspiring it is to see their innovative, experimental sounds reaching the top of the charts.
EH: Do you think that attitudes toward pop music are changing? What do you think are some of the factors driving some of these changes?
Attitudes toward pop have changed significantly over the decade, to the point where critics and listeners alike take the music more seriously than ever. A big part of the reason for this is that social media has allowed voices outside of the critical establishment to be heard, and that has diversified the scope of music journalism. In our book, we discuss the reception of Britney Spears's "Oops!…I Did it Again" when it was released in 2000. Then, music critics tore the song apart. Today, Britney is recognized as a huge (and hugely misunderstood) artist, showing us how far we've come in appreciating popular music.

EH: The book is very thorough and explores the technical aspects of songs that influence its cultural perception. How much do you think of a song's success is technical savvy and how much is just luck? Is there a sweet spot?
There is absolutely a sweet spot between intention and intuition when it comes to writing a pop song. We quote Sia in our book, whose response when a producer criticized her for writing a song in just twenty minutes was "yeah, but it took me twenty years to be able to write a song in twenty minutes."
EH: The music industry is a much different place than 10 years ago, and even more than in the '90s. Can you talk about how you think that streaming and the way we consume music has informed how songs get made?
The economic incentives of streaming have definitely made songs shorter overall, closer to three minutes in average length than the three-and-half-minute average of a decade ago. But at the same time, there's nothing new about shorter songs, and even a track like "Old Town Road" by Lil Nas X, which dominated the Billboard charts this year and comes in at one minute and fifty-three seconds, is longer than the shortest number one hit ever, Maurice Williams's "Stay" from 1960. That song was only one minute and thirty-six seconds long!

EH: What do you think separates a good song from a great one? What makes a perfect pop song?
A perfect pop song is able to strike a balance between particularity and universality, to reflect the artist's personality while resonating with an emotion we've all experienced. A great example would be Carly Rae Jepsen's "Call Me Maybe," the first song we analyze in our book. It captures this universal experience, the nervousness of asking someone out, but does so in this very specific and appealingly awkward way: "here's my number…call me…maybe?"
EH: What do you think is the best pop song of 2019 and of the decade?
We absolutely love Billie Eilish's "Bad Guy," a song with its own unique, minimalist soundworld and a set of lyrics so expertly crafted that they could've been written by Cole Porter. Our standout track of the decade would be "Despacito" by Luis Fonsi and Daddy Yankee. As we outline in the book, "Despacito" brings together an array of brilliant compositional techniques, while also pointing to the increasingly global nature of modern pop.