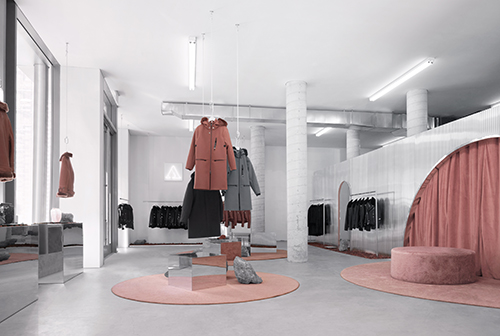 Jeff Johnson talks about The Arrivals' New Pop-Up Shop in Soho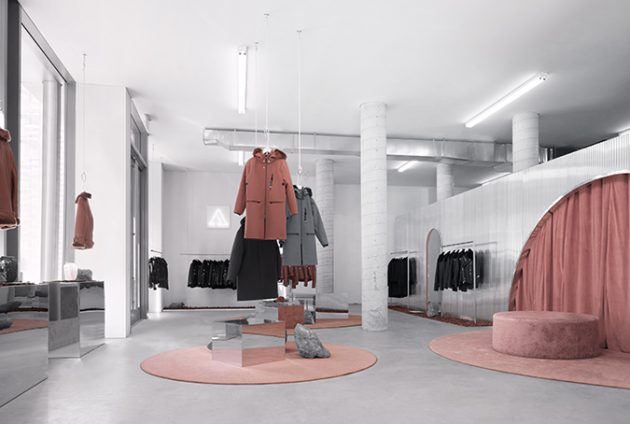 Images: The Arrivals.
Since launching in late 2014, The Arrivals has become synonymous with effortless city cool. The New York-based outerwear brand, the brainchild of serial entrepreneur Kal Vepuri and architect Jeff Johnson, rapidly blossomed from word-of-mouth digital buzz and a sleek design sensibility that combined functional design savvy with high-quality performance materials. While the brand currently retails online, its launching a series of pop-up shops in New York, Los Angeles, and San Francisco to provide a rich IRL experience for its growing fan-base. We caught up with Jeff Johnson at the launch of the pop-up shop in Soho to learn more about the themes behind the space.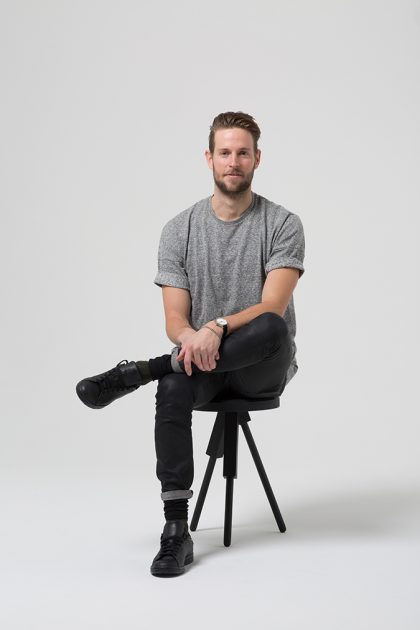 Could you describe the concept around the series of spaces?
Absolutely. Basically I think that being an outerwear brand in New York, there is this tension of performance, but also the idea of being expressive. Think about street style, outerwear is not just a functional thing, but when you put it on, you kind of know who you are and who you want to be. At the same time, it has to be functional.
I think for the store and even for the pieces themselves, it is always on this natural tension of function, performance, and individual expression. So within the store, we wanted to make apparent. And the store itself has super refined surfaces, like mirrored podiums, stainless steel hanging elements, but at the same time we have lava rock, pumice stone — this juxtaposition of the refined versus the rugged. I think that's who we are as a brand.
One of the terms we use when speaking more internally, is this idea of being 'out there.' Out there, in a lot of circumstances, you can imagine an REI or Patagonia commercial and it hints to someone on a cliff or in a tent. On the other side of the spectrum, you can go to Bushwick or some random place in Queens and there all these kids in platform shoes and they're also getting out there.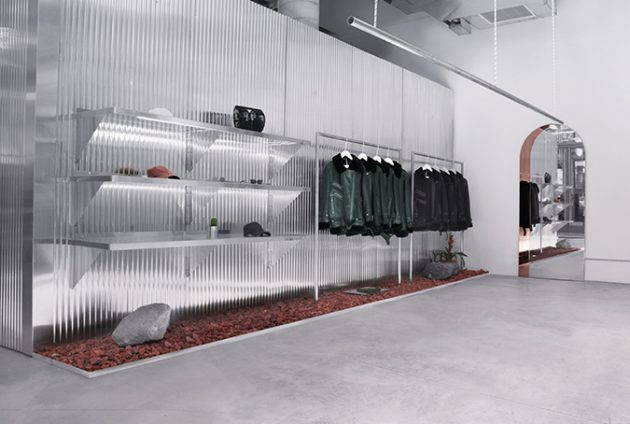 Neither you or your partner have a fashion background – how has that benefitted your brand?
I think that my background, when I studied and trained and I worked as an architect before I did this, I think that one of the biggest components of architecture is you try to create an idea that people believe in, I think that's the romantic part, and this thing has to work, it has to be a space that keeps people protected, allows functions to happen within it, so I think there is some very fundamental principles that are very related on a one to one relationship. At the same time I think there are a lot of parallels from architecture whether it's again material performance, ideas of versatility of use, is this a jacket just for one occasion? Or can we have modular elements. When we were talking about making the space, we found the space, and everyone said we couldn't do it, it's too short notice, that we were crazy. I think there's almost this thing about being from outside of the industry, being young we have this element of naïveté.
There's a little more of 'Well, why can't we do this?' Why can't we try it, maybe it's not going to work out, but we're surrounding ourselves with the most talented people, and working as hard as we can, so far it's paid off. So I think it adds this ability for us to just go for it, to try it, so I think those kinds of things, pulling from my career in architecture, and Kal coming from a business background having so much experience with a lot of these young direct-to-consumer brands but brands from so many different spectrums, and being able to observe what are the trends and tendencies of these brands that do succeed and pulling those learnings from a portfolio of 150 companies and being able to have that as a resource is super valuable, so I feel like there is a nice synergy that is made possible.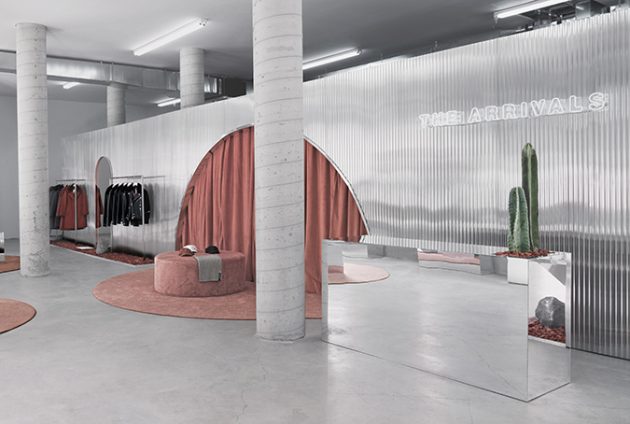 I was talking to someone else about how having a unique and outside perspective is a benefit since you don't have to follow any rules. You can make them up as you go and 'Why not?' is the key thing.
Even just in the space, it's this idea, that paradigm between performance and expressive — the rope holding merchandise is actual climbing rope. So there's really this thing of how can you bring these traditional things that have a performance-only function and weave it into this very designed space, so I think that's something that's part of it and the atmosphere.
Actually my wife, who I married a few days ago, designed the space. It's been so nice to work with her. Working with someone you don't have to communicate much with, because your design language is so similar, she has a pretty good sense and vice versa. There's so much trust, that she is going to put the pressure on herself, but it's just a fun way to create a space, with minimal time and people telling you it's not possible to come up with something pretty special.
The Arrivals pop-up shop is open at 42 Crosby St, New York, NY 10012.