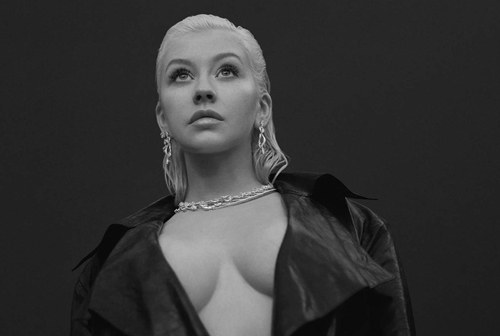 The 10 Best Christina Aguilera Tracks
The day has come — after much anticipation, Christina Aguilera's eight album Liberation is finally here. In honor of such a momentous occasion, we look back on the greatest songs from the screaming songstress' extensive catalog. Happy Pride and welcome back Xtina!
10. Elastic Love
Written by M.I.A, this gem wasn't even officially released as a single off Xtina's polarizing Bionic, yet it stands among her most striking work. The fuzzy and minimal electronic production basically salvages an otherwise static album. While the sexually charged office supply puns make up for a lack of utilizing her tremendous vocal range, this song ultimately gives us a glimpse of what the Bionic era could have been.
9. Fall in Line (feat. Demi Lovato)
Never one to shy away from messages of female empowerment, this song off Liberation is right on brand. And while this number feat. Demi Lovato might not be as danceable as her other feminist duet with Lil Kim, 'Can't Hold Us Down' (which has aged kinda poorly thanks to the video which is now taught as a prime example of cultural appropriation), a towering screaming harmony at the end is enough to convince me that Xtina means business.
8. Hurt
Xtina is a classic vocalist — after all, it was she who was asked to perform 'At Last' at Etta James' funeral back in 2012 — and it truly shines in ballads like 'Hurt.' A highlight of her short-lived but never forgotten jazz era, the string-filled ballad has her mourning the loss of a lover the only way she knows how: belting her motherfucking heart out.
7. Come on Over
I can't go anywhere in Hell's Kitchen without hearing this song and I am not complaining. Built around a playful Grease-Tell-Me-More like bassline, this bubblegum bop off her debut album perfectly encapsulates everything we loved about the pre-Y2k pop and accompanying visual aesthetic. And 20 years later it still slaps.
6. Bound to You
I have a complicated relationship with Burlesque — on one hand, give me Stanley Tucci as an affirming gay man any day of the week. But to cast Cher in a burlesque-themed musical and limit her to only two numbers is, at best, criminal. And to feature two of the most thunderous voices in pop music and deny the world a duet is absolutely unforgivable. Nevertheless, this song helps make up for that lapse in judgment — it was even nominated for a Golden Globe! And the final chorus has her voice soaring to new peaks so intense I get vertigo. It's brilliant.
5. Dirrty
The leather chaps. The dyed blonde-black extensions. The oddly large facial piercings. This video marked the birth of 'Xtina' as we know her, as the lead single of her third album and magnus opus, 2002's Stripped. Accompanied by a controversial, mud-filled music video directed by David LaChappelle, 'Dirrty' remains a staple party anthem while demonstrating the vocal flexibility and knack for reinvention that made her a star.
4. Fighter
The video looks straight out of a European fashion editorial.
3. Ain't No Other Man
What makes this song so amazing is that it perfectly marries Xtina's strengths — classic jazz sensibilities wrapped in a bubbly pop package. And that opening run has her dancing through vocal gymnastics before the song even starts — a vocal run that many have tried to cover but few succeeded. Further cementing its status in pop culture, it was featured in the first Lip Sync on season 10 of Rupaul's Drag Race, when she was a guest judge. 
2. Genie in a Bottle
This is the first Xtina song I ever heard and I instantly fell in love with and it also follows me from gay bar to gay bar and I'm still not complaining and that's all I have to say about that.
1. Beautiful
Not only has this become Xtina's signature song, but it remains one of the greatest pop songs ever written. While there's a timelessness in the production and a universality in its theme of empowerment, the accompanying music video was groundbreaking upon its release. By featuring a transwoman and two gay guys kissing, the video was heralded in 2002 for its portrayal of queer people, which validated their existence and proclaimed them as beautiful. Plus she just sounds amazing. Forever we stan.
Listen to Liberation now.