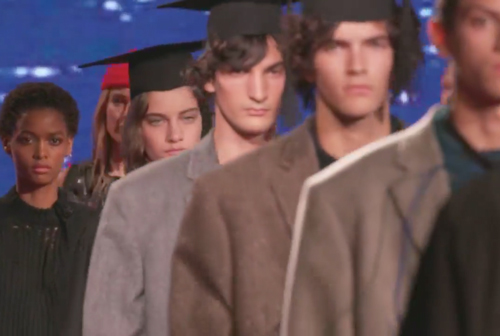 Raf Simons Chooses 'Jaws' for Calvin Klein SS19
Raf Simons continues to heavily use literal film references for his Calvin Klein 205W39NYC productions. After referencing horror films for SS18 (like Rosemary's Baby and Friday the 13th), the gritty Berlin drug biopic Christiane F. for FW19, it appears the designer was heavily inspired by Jaws — the first mainstream shark film — this time around for SS19.
Influences ranged from the literal (with shirts that had Jaws graphics printed on them) to slightly more figurative (like neoprene jumpsuits, which would be practical for shark hunting and other nautical activities). This theme was balanced by a graduation motif (fittingly inspired by The Graduate), which featured models wearing caps and gowns, in addition to the fringy tassels that have become ubiquitous with CK by Raf. Vaquera also did a school theme for its show, but we'll leave that to Diet Prada to sort out. It's definitely not a bad idea to use such mainstream references for a collection as it makes it more accessible to those who might not follow fashion as thoroughly as others, but this time it felt as though the inspiration was too literal, threatening to swallow it whole. I'd still wear the fringy pieces though.
Watch the show below and see for yourself.