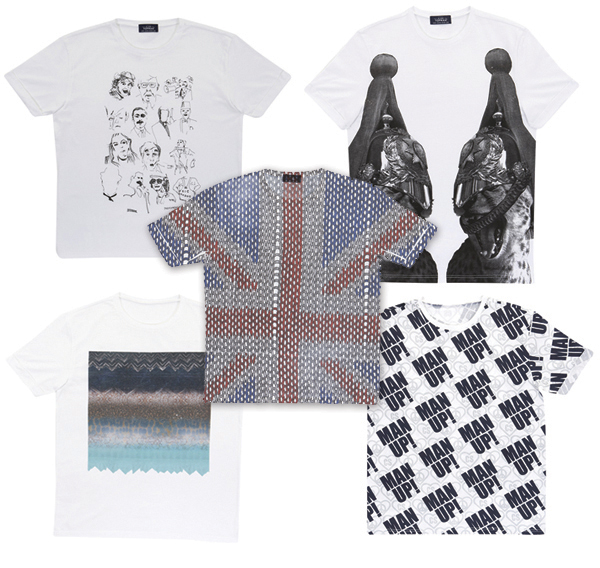 NEWS: THE US LAUNCH OF TOPMAN "MENSWEAR RULES BRITANNIA", JUNE 21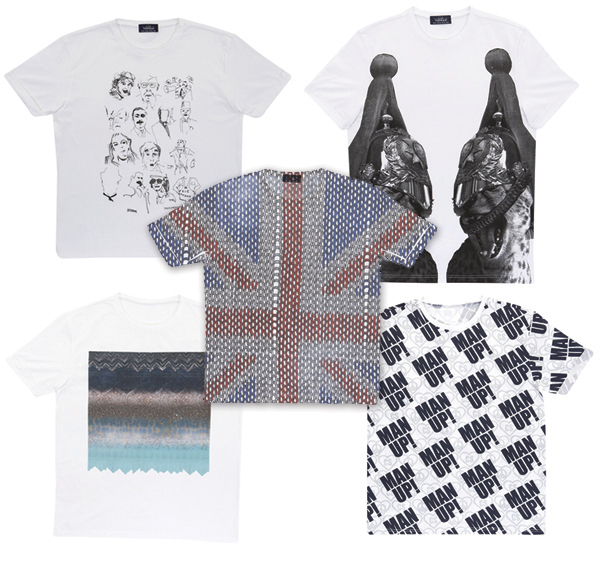 Among the many things we love about about Topman is their dedication to fostering nascent talent in fashion design. Case in point—their NewGen Men program where they select young designers to create items for sale in on the store and, in turn, send portions of the proceeds to those sales back into the development of said talent. Most specifically, to the British Fashion Council Princess of Whales Charitable Trust to support young designers. If you happen to live in the UK, you can already purchase their 2012 offerings but for those of us in other parts of the world, that ability will become enabled on June 21st via their brick and mortar and online shops. The T-shirts (which are detailed after the jump) will retail for $36-$50 with $8 of each purchase going to said charity above.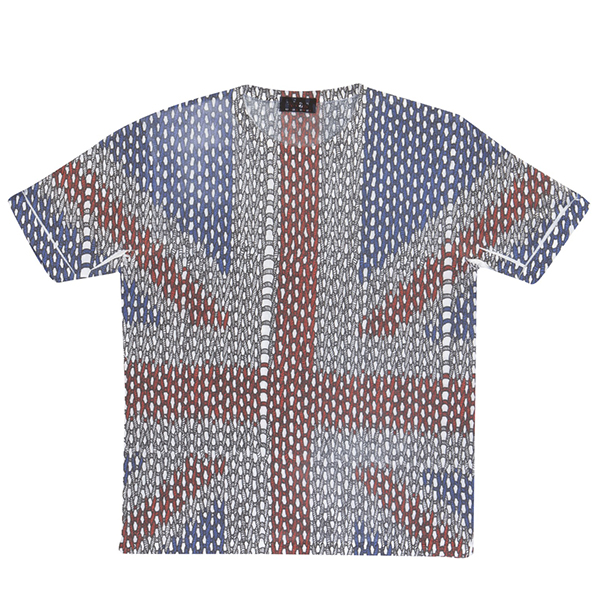 The Fashion Forward 2012 winner James Long, designed a print based around all the different layers and history of being British. On close inspection you can see that Long has subtlety worked the Union Jack flag into his print.
---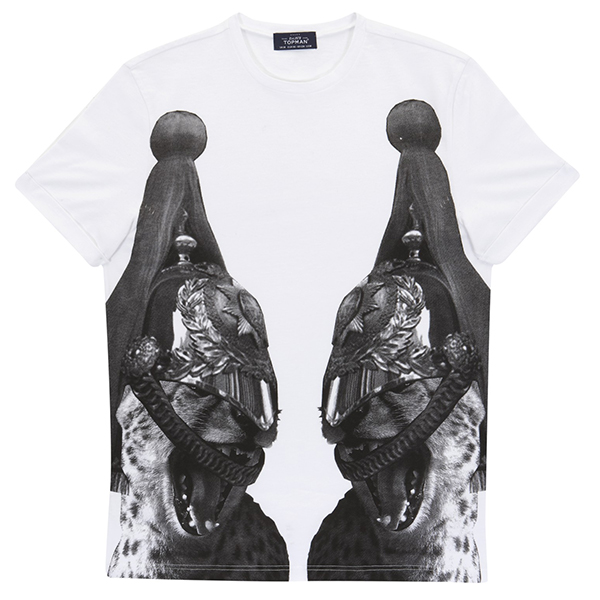 Describing herself as a true British patriot, Katie Eary explains 'Menswear Rules Britannia' means everything to her and she thinks her design sums this up perfectly. The print derives from two of her favourite things, the screaming cheetah (she loves anything from the feline family) and British military – in this case a Queen's guards hat.
---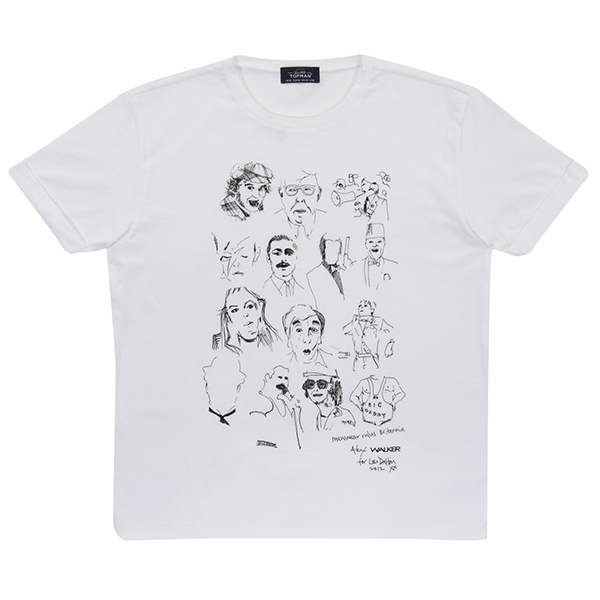 Lou Dalton commissioned Alex Walker to hand draw faces of British Icons for her quirky design. Sketches include Elton John, Freddie Mercury, David Bowie among a few, all whom she felt have influenced British popular culture over the years.
---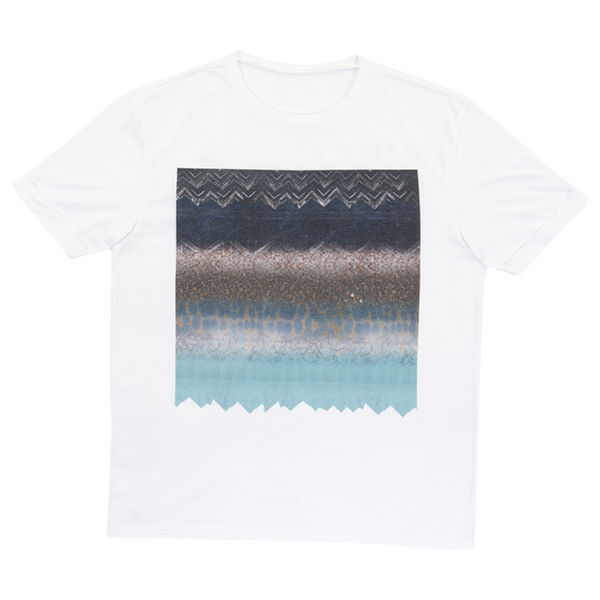 The newly recruited NewGen Men collective Sibling (Sid Bryan, Joe Bates and Cozette McCreery) designed a print that is reminiscent of a souvenir from a weekend away or a fun day out. It is a knitted twist on a celebratory, quintessentially English memento of youthful camaraderie. In the synonymously British colours of red, white, and blue this t-shirt screams 'Menswear Rules Britannia'.
---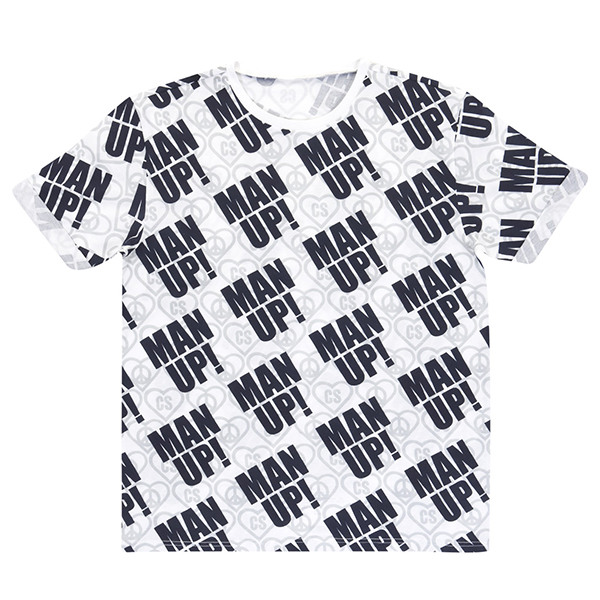 Renowned for re-working sportswear, Christopher Shannon has designed a t-shirt using his trademark all-over print design. This design uses a powerful 'MAN UP' slogan.