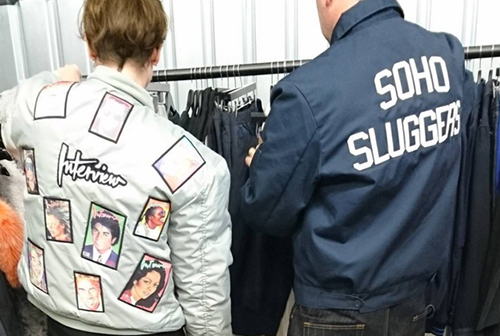 Weekly Instagram Roundup: John Varvatos, Fendi, and more
This week's complete social snapshot, distilled for your pleasure.
From the hottest celebrity parties to the regretful morning-after shots, ESSENTIAL HOMME's Weekly Instagram Roundup brings all of the hottest designer, model, and trendsetting pics from the week directly to you. After all, no one has time to scroll through anything but the best.
John Varvatos
Ever the music aficionado, John Varvatos revealed a look at the brand's partnership with Klipsch Audio, releasing a turntable and accompanying speaker to blast that gritty rock with the purest sound quality. Be sure not to miss that sneaky Mick Rock book either.
Fendi
Who wouldn't want to carry fashion god Karl Lagerfeld around with them? Fendi's latest, the Karlito collection, makes this a fuzzy possibility in a spiky, hands-off line of accessories and footwear that drips with self-actualized irony and a nod to the fashion industry's new hardened edge.
H&M
Known for pulling out all of the Kris Kringle stops with its holiday video campaigns—see last year's magic-fueled Sean O'Pry starrer—H&M wins at its own game with this year's Wes Anderson directed flick. Grab your popcorn and all aboard the festive holiday train.
Peter Lindbergh
Legendary photographer and director Peter Lindbergh unveiled his work for the latest Pirelli Calendar, a series of black and white shots of Hollywood's feminine royalty including Nicole Kidman, Alicia Vikander, and Lupita Nyong'o, a decadent flipbook of glitzy, tinsel-town monarchs.
Fenty x Puma
Puma owes much to Rihanna's badgal creative eye as its high-profile and higher-profit Creepers just went the shoe equivalent of triple platinum—winning Shoe of the Year for 2016 at the Footwear News Achievement Awards.
Baartmans and Siegel
Never leave the house without a statement-making bomber, so says Baartmans and Siegel with this behind-the-scenes shot featuring a pair of the brand's creations—a slight break from its buttoned-up Spring/Summer 2016 runway, yet staying true to that valuable too-cool aesthetic.
Follow ESSENTIAL HOMME on Instagram at @EssentialHomme.