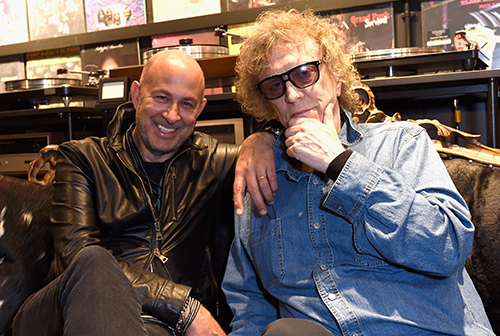 John Varvatos and Photographer Mick Rock in Conversation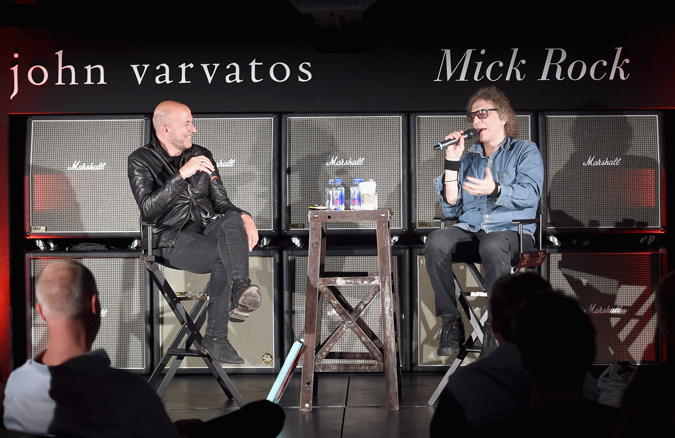 Image: John Varvatos.
Menswear designer John Varvatos and renowned music photographer Mick Rock recently sat down in conversation in London to discuss music, style, friendship, and the release of Rock's latest compilation, "The Rise of David Bowie, 1972 – 1973." The event, a gathering of British music aficionados and doters, began with an elbow-rubbing cocktail reception before ultimately moving to the Bowery level of John Varvatos' Conduit Street store – the design inspired by the former CBGB location, a rock-centric holy ground and site of Varvatos' current NYC flagship – for the talk and concluding book signing. The frank and intimate discussion touched on the vast history of music photography and what lead Rock to release such a visual, inspiring tome. Varvatos, who has worked closely with the photographer in the past and who is, judging by his namesake brand's latest marketing campaign, an avid rock enthusiast, led the discussion, saying, "Mick and I have been connected through our passions and friendship for many years. There is no one else on the planet like Mick Rock!" The book, which features an ever-changing hologram on its cover, press pictures, album jackets, and more, is a treasure trove of behind-the-scenes looks and immediately jaw-dropping visuals that focus on a career high for Rock's dear friend. A never-before-seen look at the photographer's Bowie portfolio of the Ziggy Stardust period, the book is a testament to two great icons at the height of cultural prowess.
"The Rise of David Bowie, 1972-1973" is available online now.