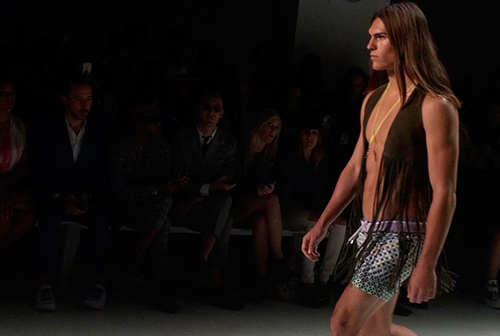 From Our View: NYFWM SS16 Part IV
Can't take off 30 days for fashion? No prob, that's our job!
Each day during Fashion Month, we're bringing you exclusive images on our Instagram of your favorite brands (and soon-to-be obsessions), straight from the front of the runway. Can't keep up? That's cool too, because we're also re-capping our favorite shows here online. Ready, set, follow us at @essentialhomme, and lez go! The last of New York Fashion Week: Men's.
Perry Ellis
Perry Ellis redefined suits and created a totally laid-back tailored looks.
Siki Im
Experimenting with drastic proportions and cuts, Siki Im added an avant-garde tone to fundamentally retro pieces.
Lucio Castro
Mix and matching patterns and fabrics, Lucio Castro created a curiously colloquial and easygoing line with a dab of the ethnic vibe.
J.Lindeberg
The modern cowboys made an appearance on J. Lindeberg's runway in suede jackets and fringed designs.
Parke and Ronen
The '70s made a comeback as Parke and Ronen introduced flower power and psychedelia to high-end swimsuits.
Polo Ralph Lauren
Polo Ralph Lauren did what they do best–bringing the classic American cool to everything from polished suits to jean jackets and flannels.
Follow Essential Homme on Instagram at @EssentialHomme.