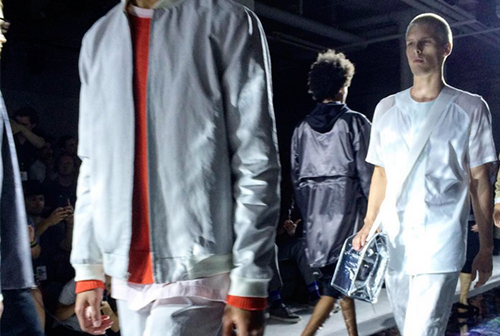 From Our View: NYFWM SS16 Part III
Can't take off 30 days for fashion? No prob, that's our job!
Each day during Fashion Month, we're bringing you exclusive images on our Instagram of your favorite brands (and soon-to-be obsessions), straight from the front of the runway. Can't keep up? That's cool too, because we're also re-capping our favorite shows here online. Ready, set, follow us at @essentialhomme, and lez go! Day three of NYFWM.
Orley
Old-world class meets new-world style with a knitted-lace top and high-waisted pant from Orley.
Tommy Hilfiger
A collection ready for the cool kids at school, Tommy Hilfiger gives a bad-boy edge to classic tailoring with accessories to match.
Rochambeau
Things get ethereal at Rochambeau's show, featuring other-worldly ensembles and a futuristic color scheme.
OVADIA & SONS
Blue proves to be the warmest color at OVADIA & SONS, its dark denim jeans matching perfectly with breezy blue layering on top.
Michael Bastian
Michael Bastian is ready for the beach with open-shirts and tank-top layers, complete with a thick woolen sweater for those chilly nights on the boat.
Tim Coppens
Tim Coppens provides over-large sleeves and longer pants for a collection that bucks that form-fitting trend.
Billy Reid
Street-wear gets a makeover at Billy Reid with wide-hoods and even wider brimmed hats.
Follow Essential Homme on Instagram at @EssentialHomme.