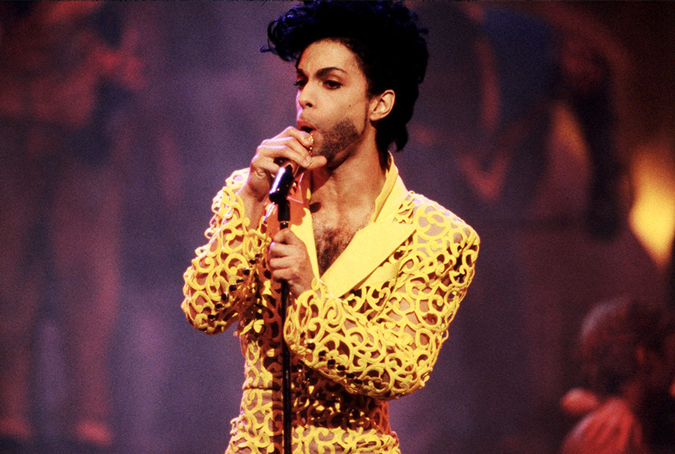 "Former rules don't apply": Prince's Late 80's Gender-Bending Style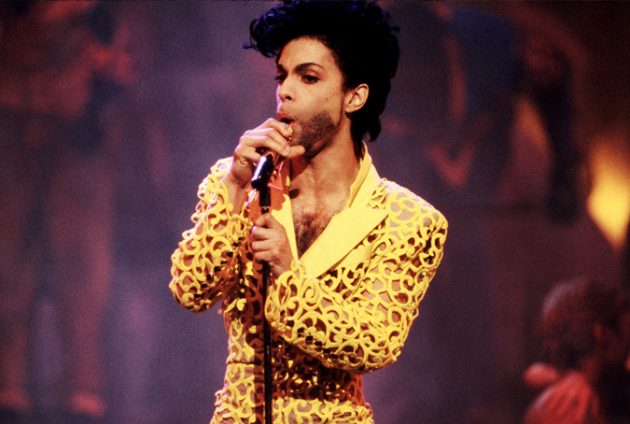 Image: Retna.
The most shocking thing about Prince's 1991 VMA performance wasn't the gyrating half-naked dancers or the sexually explicit lyrics of his single "Gett Off." Two minutes into the six minute long performance, Prince turned around, and every household tuned to MTV got a view of Prince's ass. His skin tight yellow jumpsuit stopped short just above his waist, covering Prince's assets in nothing but nude-colored lace. It remains one of his most remembered and cheekiest ensembles. The journey from the scantily clad street-punk, immortalized on the record sleeve of Dirty Mind, to the violet-hued regalia of the King-cum-Rockstar of Purple Rain, to the gender-ambiguous sexual preacher of the early 90s tracked Prince's evolution from prodigious funkmaster to innovative pop alchemist.
"Style is an accurate account of what's inside every heart," Prince sang on his 1996 album Emancipation. Like Little Richard and James Brown before him, Prince's creativity extended to his wardrobe, but his style truly had no precedent: his fearless embrace of femininity revealed an artist unafraid to make his body a temple to the androgynous. In his world, clothing was the outer expression of the heart, mind and soul— places where sexuality and spirituality fused together. And although he's most remembered for the Renaissance-punk looks of his tour de force Purple Rain, Prince continued to push the limits of "men's" wear throughout the 80s, as he transformed his unique blend of R&B into a mingling of funk, jazz, and psychedelia. Prince's clothes said a lot about the man behind the music, and the looks from his albums Parade, Sign o' The Times, and Lovesexy, and the ones seen in the accompanying music videos, show us an artist constantly pushing the boundaries of gender, genre and style.
The soundtrack to the forgotten star-vehicle Under The Cherry Moon, 1986's Parade is Prince's final record with his former band The Revolution and the first to find him becoming truly experimental in form and ambition. Shedding the Baroque looks of Purple Rain and Around the World In A Day, Prince strutted out in tightly fitted lycra pants and crop tops, adorned with large buttons, making his lean torso the center of attention. His color palette incorporated new shades of bold primary colors other than purple, such as indigo, lemon and tangerine. Crop tops were contrasted with an original twist on a classic suit design: a tightly hemmed waist, broad shouldered blazers and swathes of bright colors. Paisley, polka dots and metal studs make appearances on his jackets, vests and blouses, although solid colors are Prince's primary way to accentuate his petite frame.
In response to criticism that he'd abandoned his black audiences, Prince crafted the expansive Sign O' The Times, an "urban" funk record stacked side to side with sensual slow jams and political-spiritual sermons. Prince channeled Jimi Hendrix and the aesthetics of the late '60s for this era: shaggy fur coats, denim jackets with ironed-on peace sign patches, and fringe-lined bell bottoms. High-necked blouses with pussycat bows were paired with leather jackets, mod-esque suits and an array of chunky, gaudy necklaces. The pussy bow, though originally a staple of 60s runway looks from Saint Laurent and Chanel, had become closely associated with conservative prime minister Margaret Thatcher during the 80s. One has to imagine the First Lady was paying homage to the Iron Lady and not to Prince when she donned one earlier this year, although there's no contest as to who wore it with more flair.
A fusion of the looks from his previous eras, Lovesexy is Prince at his most flamboyant, with tongue planted firmly in cheek. Waistlines got higher, jumpsuits got tighter, and jackets got larger. Most of Prince's clothing was custom made, and the accompanying tour was a showcase for his constant creative impulse. He had costume designer Helen Hiatt emblazon his clothes with various letters and phrases. The album itself was an exercise in impulsive indulgence in which Prince funkily expressed a non interest in the confines of the gender binary. He was naked and posed like one of Botticelli's angels on the cover, and Prince extended this ambiguity towards the era's flashy suits and suggestively tailored rompers. Polka dots became the prominent motif of these looks, appearing on just about every article of clothing. Between his clothes, pillowy long hair and copious use of mascara and blush, Prince was embodying his own gospel as sung on the album: "It's time for new education/former rules don't apply."
Prince's mainstream success hit a snag after the less-than-stellar sales of Lovesexy, and he wouldn't return to the pop charts until Diamonds & Pearls three years later. But, by the time he'd appeared on stage at the 1991 VMAs, Prince had challenged the structures of fashion in pop with a kind of forward-looking vision matched only, perhaps, by David Bowie. Over the course of the 90s, even as his music became increasingly less pop and his image decreasingly palatable, his status as a style icon had been firmly cemented. The kind of gender-defying aesthetics we take for granted in contemporary pop, from Young Thug's dresses to Harry Styles's glam-rock jumpsuits, were all made possible by Prince's revolutionary norm-defying style. Prince asked us to look inside our heart, and dress the part. As far as men's style in pop goes, his rules are the ones to break.
Be sure to check out the limited-edition Prince merch, available online now until December 3rd.