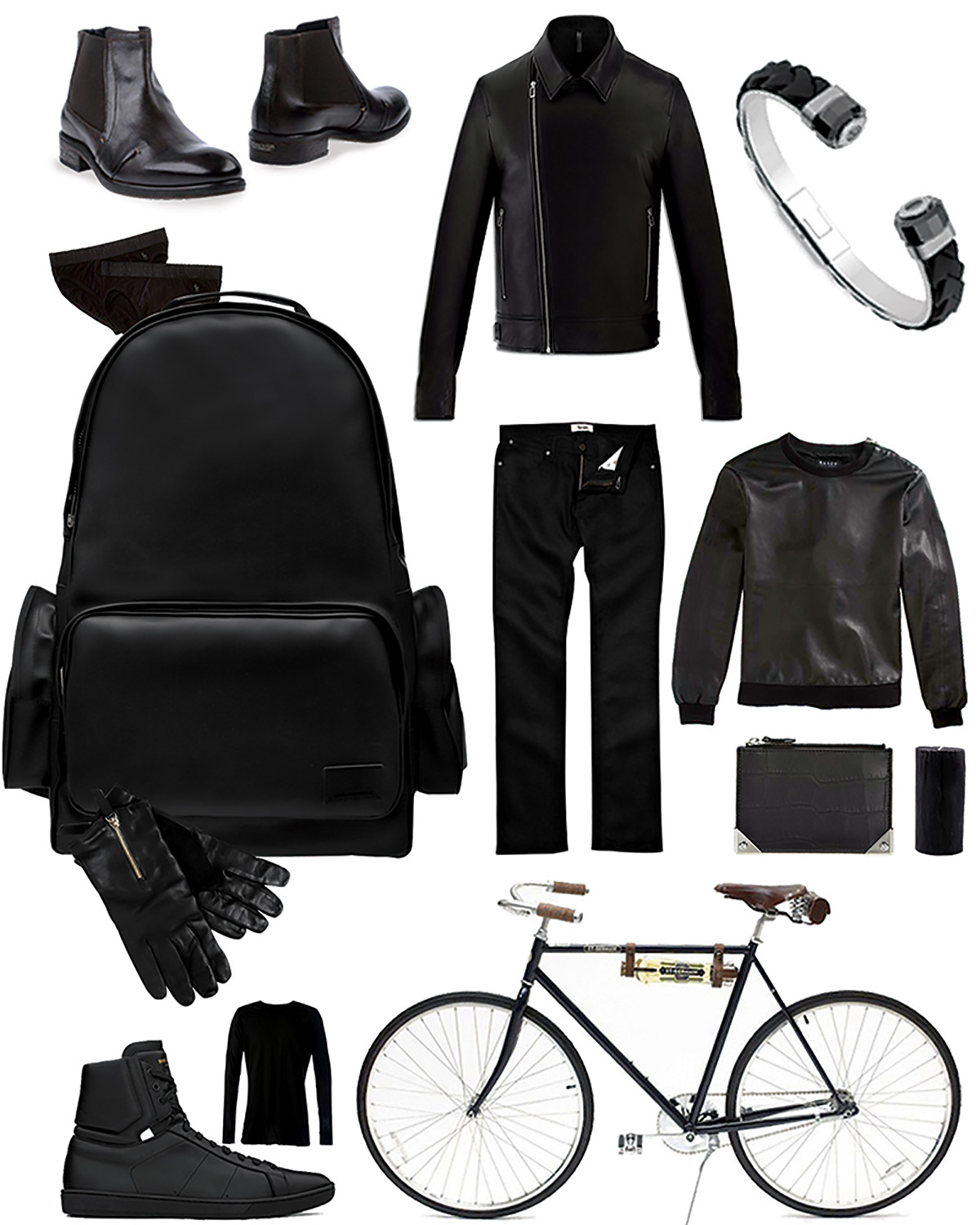 For the Guy: Black on Black Minimalism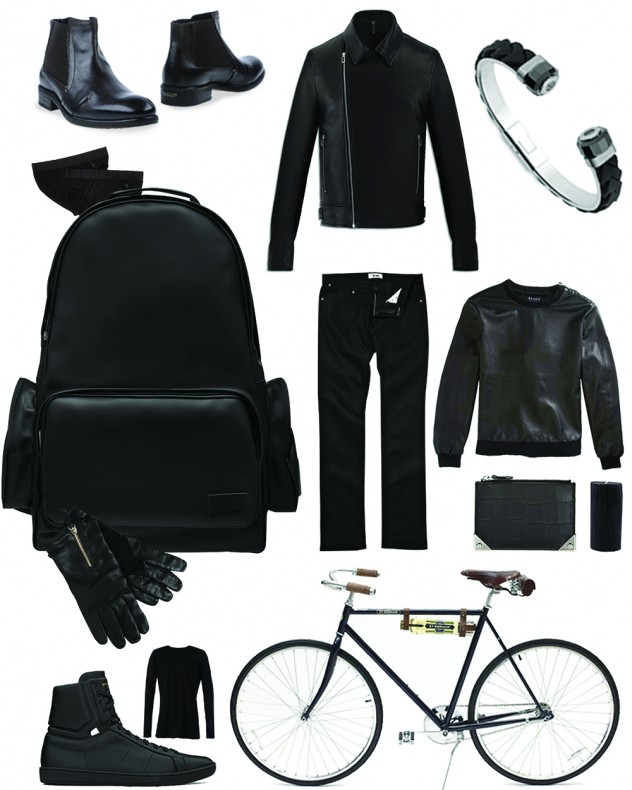 Whether you're an art gallery curator or a hip-hop mogul, we know how much you love to rock black on black. Here are few of our favorite items to give—or better yet—ask for, this holiday season:
C'N'C CoStUME NATIONAL Ankle Boots ($297): A modern take on the classic Chelsea Boot with textured soft leather, a rounded toeline, and square heel. Available online at Yoox and for purchase at CoSTUME NATIONAL boutiques.
Dior Homme Black Fine-Grained Wet-Look Lambskin Jacket ($4500): An asymmetrical-zip motorcycle jacket embellished with a Dior Homme stamp on the shoulders and an inherent edge throughout the entire piece. Available for purchase at Dior Homme boutiques and Saks Fifth Avenue.
Swarovski Revolution Black Leather Cuff ($180): A stainless steel and woven leather cuff with two Jet Hematite crystals that add just the perfect touch of attention to any wrist. Available for purchase at Swarovski.
Basco Leather Sweatshirt ($895): A fitted lambskin leather crewneck pullover that has a refined, yet athletic-wear feel. Available exclusively at Barneys New York.
Broste Pillar Candle in Charcoal ($17.60): A textured wax candle that hints at Tim Burton, but hopefully smells a whole lot better. Available online at The Good Hood Store.
St-Germain Vintage Parisian Bicycle ($1000): A limited edition vintage rework bicycle in black featuring a custom leather bottle holder, North Road polished aluminum handlebar, double alloy rims with stainless steel spokes and Brooks accents. Just don't drink and bike Available for a limited time online at St-Germain.
Rick Owens Drkshdw Level Long Sleeve Tee in Black ($328): Slim fitting with Owen's signature stitch detailing, and a below-the-waist length that adds drama without swallowing you up. Available for purchase at OAK.
Saint Laurent Paris Court Classic High Top Sneakers ($575): Black leather sneakers with a padded ankle and paneled side. Available for purchase at Saint Laurent Paris.
WANT Les Essentiels de la Vie Mozart Gloves ($295): Cashmere lined with a leather exterior and suede thumbs, these luxurious gloves are sure to keep your hands warm and your friends' hands jealous. Available online at Mr. Porter.
Kris Van Assche Black Vinyl Hiking Backpack ($615): Large enough to fit all the essentials and sleek vinyl with black stitching; you'll want this backpack for more than just the Mountain. Available online at Kris Van Assche.
Polo Ralph Lauren Slim Stretch Briefs ($36.50 for two): Low-rise and made from stretch cotton jersey, these briefs are as comfortable as they are subtle. Available for purchase at Ralph Lauren.
Acne Max Cash ($200): Black denim with a low rise and slim fit, these tapered jeans are perfect for work and play. Available at Acne Studios.
Alexander Wang Wallie Change Purse ($195): A black embossed crocodile flat coin purse with rhodium metal corners and side flat pocket that allows it to double as a wallet. Available for purchase at Alexander Wang.
To alleviate some of the stress of holiday shopping—or even just to help kill time at work, For the Guy is a new weekly column where we'll be sharing some of our most favorite gift ideas for every possible guy you know. With products ranging from designer ready-to-wear to ready-to-plug-in tech devices, we hope you and your love ones enjoy these as much as we know we will! Hint, hint.
Images courtesy of their respective brands.