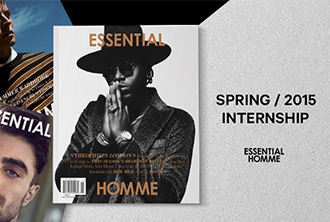 Essential Homme Spring 2015 Internships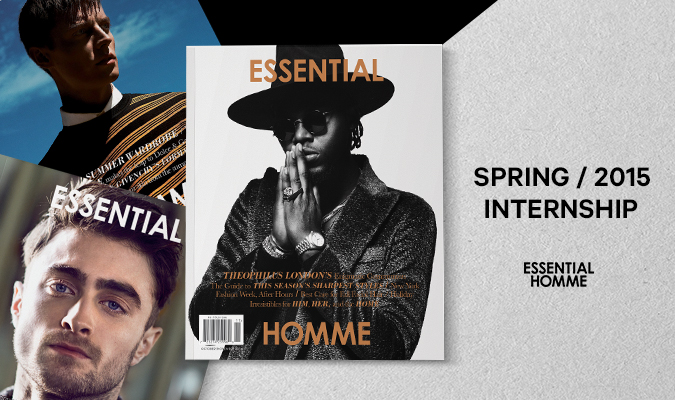 Image: Essential Homme.
Essential Homme is now accepting applications from talented students and young individuals to join our magazine's team across various departments this spring. Interns must be based (or should be able to easily commute to) New York City and are expected to be available at least two full weekdays a week for a three month commitment. Internships are unpaid, however school credit is available if needed.
EDITORIAL
Editorial interns work on both print and web formats, assisting editors with fact-checking, proofreading, market research, as well as pitching and writing articles themselves. Applicants should come from a journalism or media background and have excellent communication and writing skills, an understanding of the fashion landscape, and a willingness to learn. Additional responsibilities include: news writing, event coverage, and general administrative tasks. Please send one or two writing samples with email.
FASHION
The fashion department is seeking an intern to work closely with the creative director and the assistant to the creative director. Day-to-day responsibilities include (but are not limited to): maintaining the fashion closet, sample trafficking, assisting on photoshoots, helping editors with market research, and general administrative tasks.
ART
The art department is seeking a graphic intern to assist in the daily workflow of the magazine and online portal. Tasks range from designing website graphics, updating layouts, and retouching images. Candidates should have solid understanding of typography, Photoshop, Illustrator, and InDesign. Please provide a portfolio of recent work.
For consideration please submit a cover letter, resume, and any other required documents to joshua.glass[at]essentialhommemag.com.