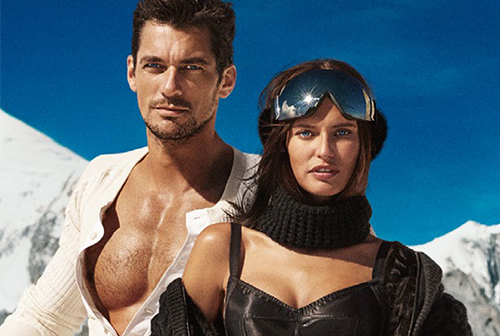 Dolce&Gabbana Continues Light Blue Campaign
Image: Dolce&Gabbana.
Dolce&Gabbana, ever the champion of progress and change, offers up a new look at one of its classic scents, Light Blue. Following up on last year's sultry Capri campaign—a steamy look at passionate love—the new campaign, Light Blue Winter, is a continuation of the love story that escalated into one of the brand's most tantalizing scents. Starring David Gandy and Bianca Balti, the visual prints, and accompanying video, follows the two as they traipse across the powdery snow of the Italian Alps, stealing kisses and embracing the fragrance's his/her duality. The location, vying for its place in the spotlight, is a scene-stealer, the first to take the brand away from the sandy beaches, ushering in a new landscape against which to shine. Pondering the ideals of both icy indifference and melted romance, the campaign, shot by Mario Testino, is a breathtaking look at not only the iconography, but also the man that made the Dolce&Gabbana fragrance a lover's must.
Dolce&Gabbana Light Blue is available online now.