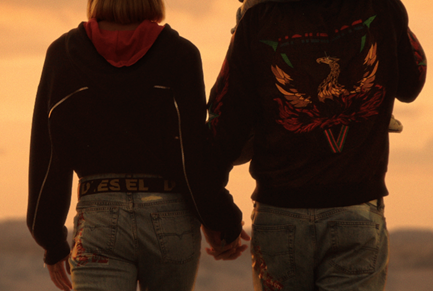 Diesel Wants You to Own Your Flaws Right Now
Diesel's romantic Go with the Flaw mini-film campaign marks a new chapter for the brand's mission statement by accepting beautifully flawed appearances. Idealized as pristine and unmarked, fashion is now looking back to embrace imperfections with brands like Diesel changing their entire ideologies to not only include imperfection, but center around them.
The video follows two darlings that fall in love and even produce a fruit of that relationship without realizing that both protagonists had major surgeries to fix obvious imperfections. Their son, however, still inherits both of their flaws. Yet the parents fully welcome his appearance, as most parents would and should of their child. Perhaps we all need a change of mind to thinking like a parent— always loving and never undermining.
Indeed, some of the world's most iconic personalities accepted their imperfections as their greatest asset. Just a look at Cindy Crawford's trademark beauty mark makes it obvious that uniqueness should encourage confidence rather than shame.
The video also welcomes the brand's spring/summer 2018 collection focused on the currently trendy 90's vibe, going back to the classic Diesel staples. The collection too is made for self-expression and contrasts to create a genuinely unique look for everyone.