Beolit 12 by B&O Play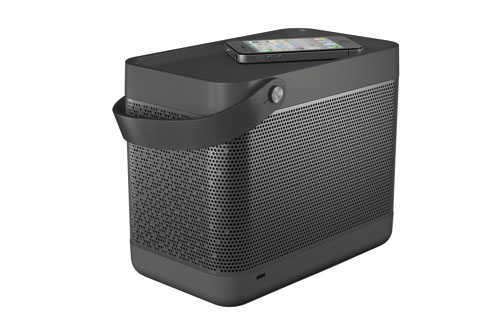 Danish audio technology company Bang & Olufsen has been beautifying homes of taste with their slick looking, smooth sounding machines for years but with the launch of their new brand B&O Play in January, they've finally began to turn their attention to portability. The sharp looking Beolit 12 is the very first offering from PLAY and from design to power to price, it sure doesn't disappoint.
Crafted as a tribute to Bang & Olufsen's transistor Beolit radios from the 1960's, it packs a powerful 120 digital Class D power amplifier system that individually drives two 2″ tweeters and a 4″ subwoofer inside a gorgeous aluminium speaker grill that wraps around the entire unit and is topped off with a full-grain Italian leather carrying strap.
It features Apple's AirPlay technology, allowing you to wirelessly blast your favorite tunes from your iPod, iPad, Mac or PC with iTunes. To boot, the rechargeable battery is strong enough to charge your iPod and iPad while spitting out crispy clear music for 8 beautiful hours.
At $799, you can't quite call it cheap, but its still the most affordable system in the Bang & Olufsen family.
As of now you can snag one for yourself in a standard dark grey, but keep your eyes peeled for yellow, blue and light grey options as they continue to roll out through 2012.
Poolside or even beachside, this little guy is a must have for all lovers of fine music and outstanding design.
Available at bang-olufsen.com and apple.com