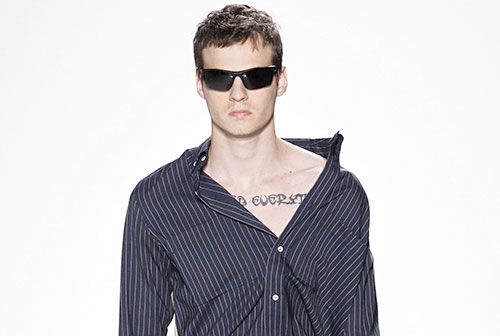 Trending Tunes: Tim Coppens SS17 Runway Soundtrack

Image: Tim Coppens.
Trending Tunes:
A true fashion experience as designers intended, Trending Tunes is the definitive collection of sleek, rippling audio that graces Spring/Summer 2017 runways the world over. Plug in to the longstanding pairing of music with sartorial art and let the beats inspire.
The mix:
Soundtrack from Tim Coppens' Spring/Summer 2017 runway show in New York for New York Fashion Week: Men's by Sebastian Perrin.
Track list in the following order:
01. "Gosh" – Jamie xx
02. "Starwatcher (Johnson Remix)" – Cannibal Ink
03. "Globus Hystericus" – Beak
04. "Green Machine" – Beak
05. "Spittin' Feathers" – Beak
Audio: by Sebastian Perrin, courtesy of Tim Coppens.

Neither ESSENTIAL HOMME nor Tim Coppens claim ownership of any of these songs. If you have ownership of music in this playlist and wish to not be included, please contact us at INFO [at] essentialhommemag.com and we will remove immediately.