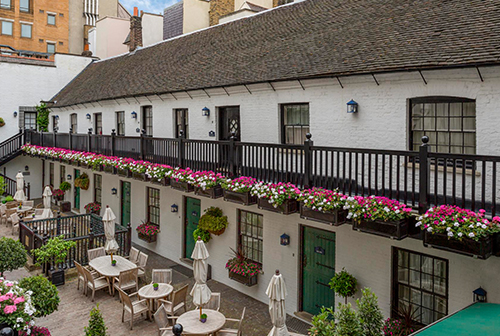 The Stafford London Unveils Remodeled Suites and New Restaurant
Image: The Stafford London.
Drawing inspiration from the inimitable charm of British country estates, The Stafford London unveils its redesigned Carriage House suites, a remodeling intended to make guests feel both at home and pampered in aristocratic luxury. Designed by Alexandra Champalimaud, the eleven suites embody a refined country style nestled in St. James's, one of London's most elegant and regal neighborhoods.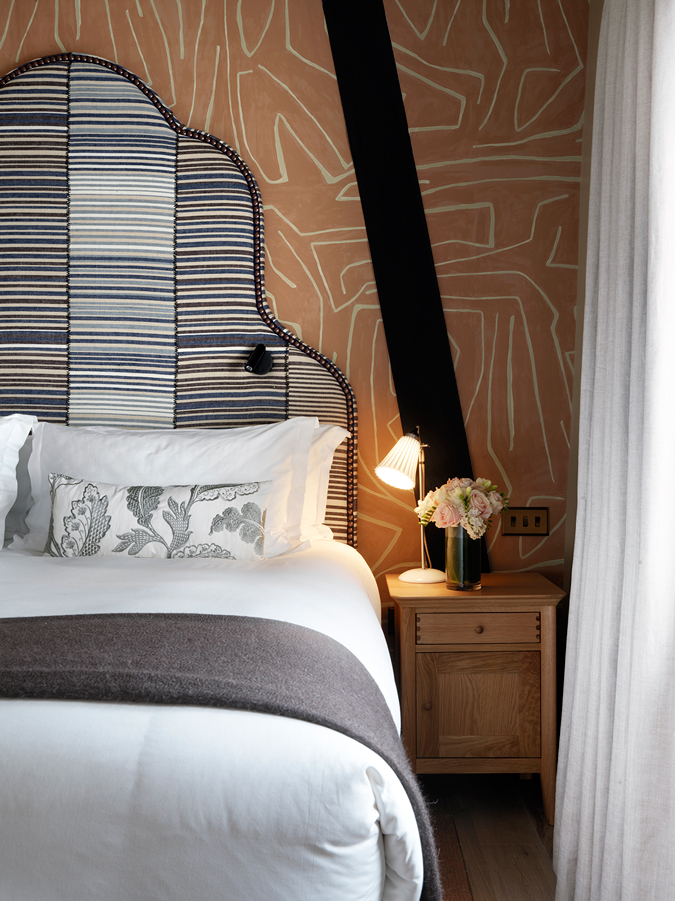 Image: The Stafford London.
Once the former stables of British nobleman and politician Lord Francis Godolphin, the suites emphasize space and comfort, combining modern art with elegant, traditional touches. Custom mirrors, wall coverings, and a mixture of tile and stone creates an English manor atmosphere, with warm tones for the bedding and upholstery. Commanding attention are the tall oversized headboards set beneath walls painted with a brush stroke texture, lending the rooms a personalized, handmade quality. A quiet, cobblestone courtyard divides the suites from the main hotel, an atrium open to guests and viewable from the rooms.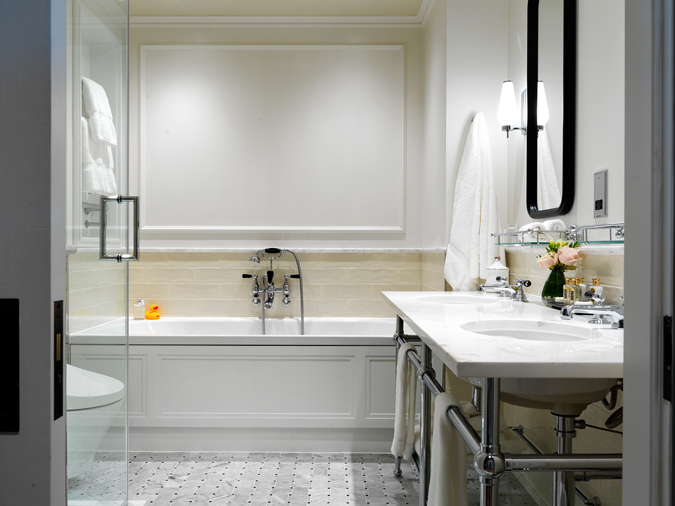 Image: The Stafford London.
Luxe five-fixture bathrooms offer double wash basins, deep-soaking tubs, and sleek glass showers, all encased in cream-colored stone walls and white marble floors. Enhancing the luxury are the heated towel racks and indulgent toiletry collection made exclusively for The Stafford London.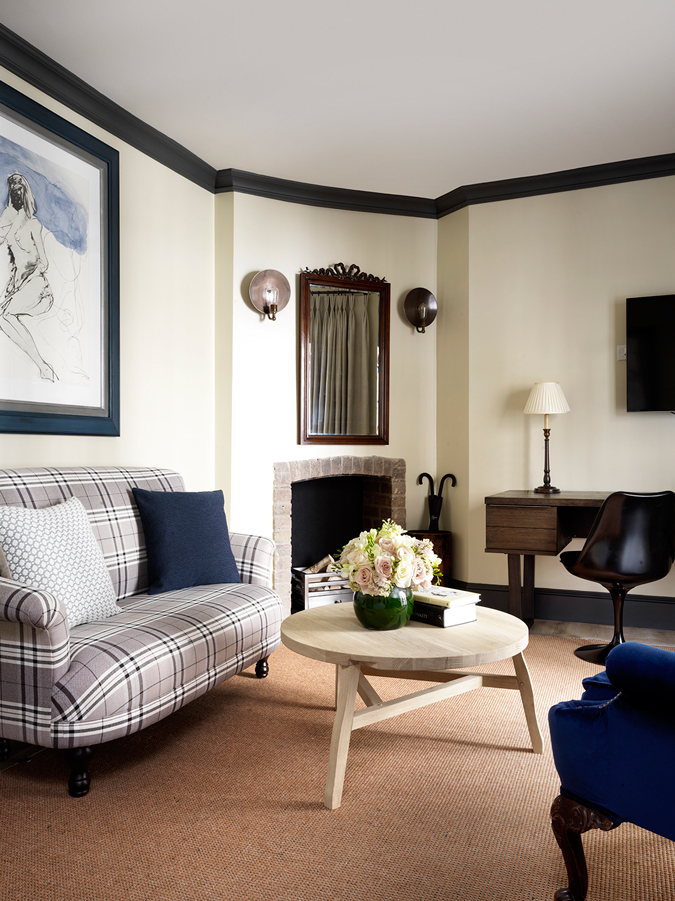 Image: The Stafford London.
The crowning jewel of the suites is The Gatehouse Room, formerly the hotel's cherished Guv'nors Suite. The multi-floor townhouse is available as a one-, two-, or three-story suite, the latter two featuring a dining area and private lift. Soft velvets layer into bold patterns, offering a finer, delicate, and supremely luxurious ambience. These rooms boast fireplaces, romantic four-poster beds, original hay hoists, and historic timbers from the wrecks of Royal Navy warships, an exceptionally unique and historic addition. "The heritage of our Carriage Houses has been honored and updated for the modern day," says Stuart Procter, the hotel's general manager. "With timeless touches that are sure to continue the suites' legacy of being some of the most luxurious accommodations in all of London."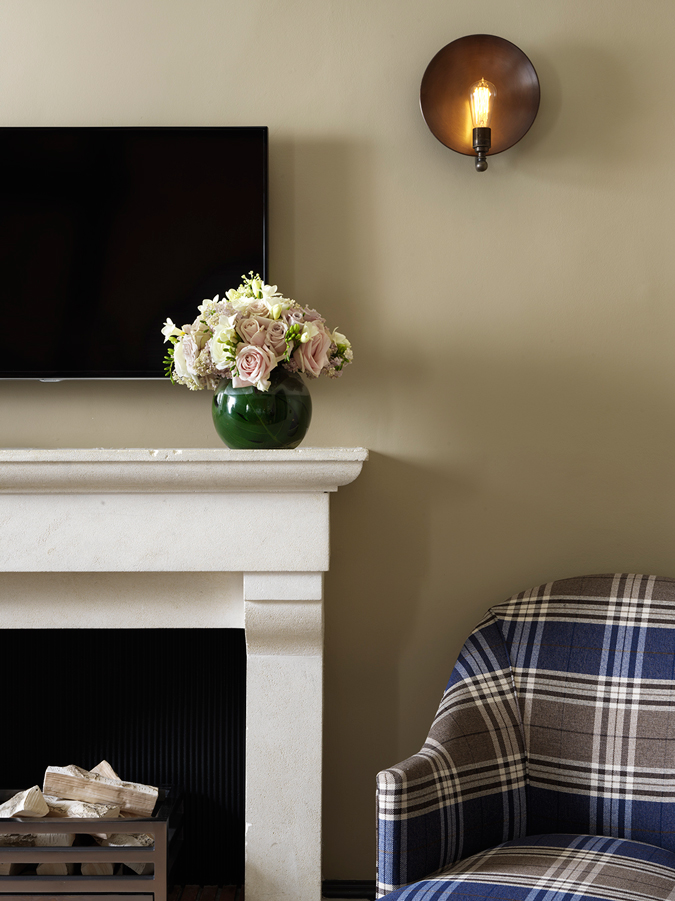 Image: The Stafford London.
Completing the ultimate Stafford London experience, the hotel also unveils its The Game Bird restaurant, helmed by renowned chef James Durrant. The restaurant's décor departs from the country charm of the Carriage House suites, instead opting for classic London luxury, boasting wood paneling, fire places, burgundy leather chairs, and marble pillars. Celebrating traditional British cuisine, the menu features such decadent tastes as Norfolk black chicken, Clarence Court egg, bacon jam, pickled mushrooms, Orkney sea scallops, and roasted cauliflower.
Historic, charming, and opulent, the Carriage House suites and The Game Bird restaurant are sure to make guests feel "more British than the British."
The Carriage House suites and The Game Bird restaurant are open now at 16-18 St James's Place, St. James's, London.