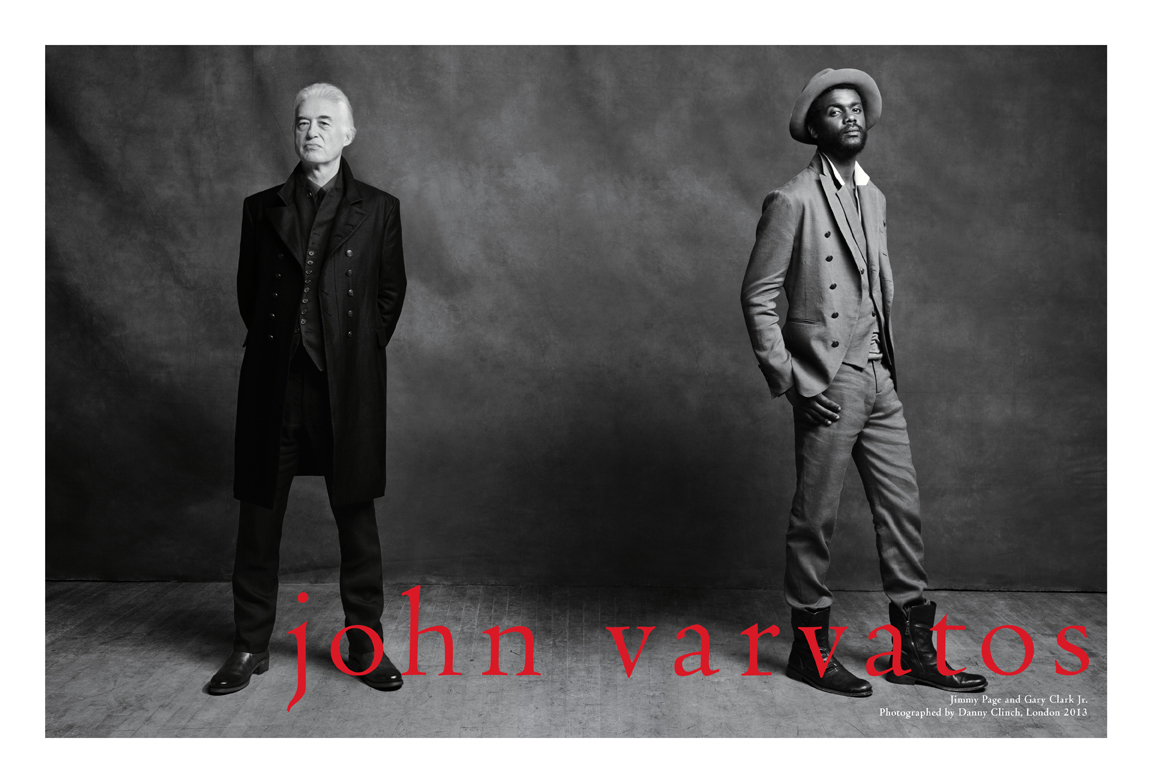 John Varvatos Spring 2013 Campaign Launch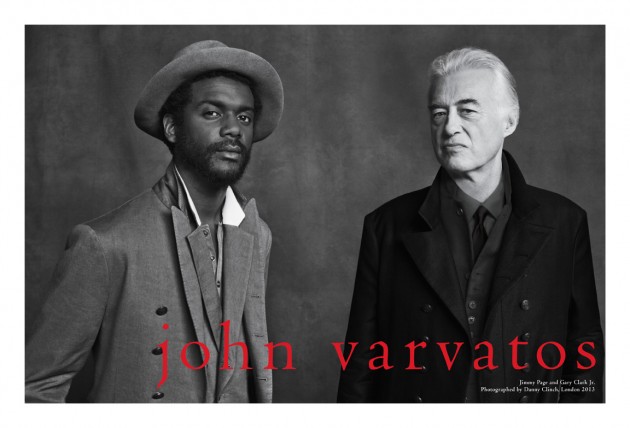 In the annals of  John Varvatos campaigns, we've seen legends like of Iggy Pop, Perry Farrell, Alice Cooper, Green Day, Franz Ferdinand, Slash, Ryan Adams…the list reads like an honor roll in the best Rock n Roll high school ever. Add to the list, Led Zeppelin guitarist Jimmy Page, who'll be the man in all the ads for this season, along side 28-eyar-old emerging American music talent Gary Clark Jr. The images were shot in London by Danny Clinch in the historic Rivoli Ballroom. More about the shoot and the men, after the jump.
"This time around we took inspiration from the portrait studio sessions of the past – straightforward, elegant, but still Rock and Roll. I have also always been a fan of the great portrait photographers – Irving Penn, Richard Avedon and David Bailey. They always had a simple elegance that worked well when musicians were their subjects. Classic never goes out of style," Clinch explains
According to Stephen Niedzweicki, Founder and Chief Creative Officer of YARD and longtime Varvatos collaborator, "This season, we kept the campaign very simple with beautiful, classic portraiture. In my mind, the subjects themselves were strong enough to create an impactful image. We had the legendary rock guitar god, Jimmy Page, alongside Gary Clark Jr., the next generation of a guitar-slinger. The beauty and strength of the image was brought to life through its juxtaposition and simplicity."
Self-taught from the age of twelve, English guitarist, songwriter and record producer, James Patrick "Jimmy" Page has been inducted into the Rock and Roll Hall of Fame twice for being a band member of The Yardbirds (1966-68) and Led Zeppelin (1968-1980). Led Zeppelin was one of the major driving forces behind the rock sound of the 1970's, influencing a host of other guitarists and countless future rock bands. Jimmy Page and surviving band members of Led Zeppelin were recently honored in Washington DC with President Obama at the Kennedy City Honors annual gala.
Born and raised in Austin TX, Gary Clark Jr. has played the guitar (like Jimmy) since the age of twelve and is described by the New York Times as being "the next Hendrix." Influenced by blues, jazz, soul, country as well as hip hop, this young musician is a natural triple threat guitar-slinger, emotive singer and involving songwriter. Gary recently joined The Rolling Stones on stage at their first American concert in six years in Brooklyn in December. He has also shared the stage with Eric Clapton, Dave Matthews Band, and The Roots and has recently recorded songs with Alicia Keys. His debut album "Blak and Blue" was released in October to rave reviews. Gary notes that "it was an honor to work with John Varvatos on his new campaign and to be paired alongside a legend like Jimmy Page for this shoot."